Back to the Trigun Factbook
Compare Canons: Manga: Vash the Stampede | Stampede: Vash the Stampede | 1998: Vash the Stampede
Information on the biology and appearance of Vash the Stampede in Trigun Stampede (2023).
Basic Physiology | Bounty | Clothing | Drain Gate | Earring | Energy Bullets | Energy Cube | Glasses | Gun and Marksmanship | Hair | Music | Personality | Plant Communication and Healing | Plant Lines | Plant Wing and Flight | Portal Gate | Prosthetic Angel Arm | Prosthetic Arm | Relationships | Roots and Flowers | Scars, Amputation, and Healing | Strength and Agility | Toma Equestrianism
ADD: https://lyricalchaos.tumblr.com/post/725043281099128832#notes
Prosthetic Arm
Vash's prosthetic arm is a creation of SEEDS03, specifically Brad's engineering. As Brad mentions in "Millions Knives", Vash repeatedly returns to SEEDS03 to have Brad repair his prosthetic when it breaks.
The prosthetic is composed of an unknown material of incredible durability and strength. It may be some kind of polymer or crystal, a transparent metal, or something else entirely. Whatever it is, it proves able to bear the weight of the massive ion cannon in "WOLFWOOD", cracking but staying otherwise intact.
In "NOMAN'S LAND", the prosthetic is referred to by Roberto as Lost Technology: advanced technology that largely died out after the end of the spacefaring age.
The hand of Vash's prosthetic appears to provide the full range of motion and ability of a living hand. It is highly detailed, even replicating fingernails. It is not clear what kind of tactile and sensory feedback Vash feels through the hand, though it is sensitive enough that he can use it to quickly load his gun with small .22 bullets.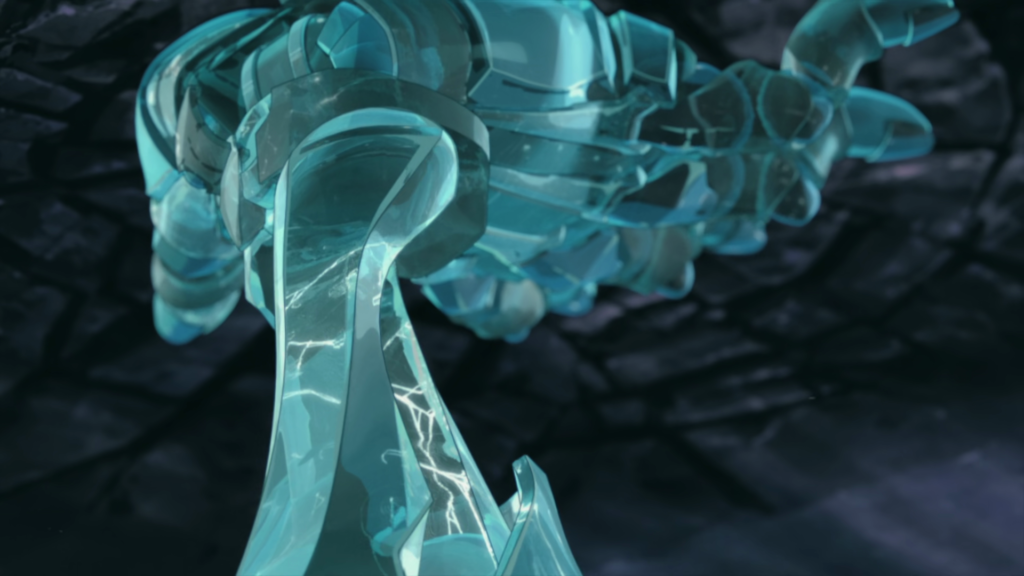 Back to the Trigun Factbook
Compare Canons: Manga: Vash the Stampede | Stampede: Vash the Stampede | 1998: Vash the Stampede