Back to the Trigun Factbook
Compare Canons: Manga: Vash the Stampede | Stampede: Vash the Stampede | 1998: Vash the Stampede
Information on the biology and appearance of Vash the Stampede in Trigun Stampede (2023).
Physical Characteristics: Basic Physiology | Drain Gate | Hair | Plant Markings | Plant Wing and Flight | Portal Gate | Roots and Flowers | Scars, Amputation, and Healing | Strength and Agility
Wardrobe and Accessories: Clothing | Duffel Bag | Earring | Energy Bullets | Energy Cube | Glasses | Prosthetic Angel Arm | Prosthetic Arm
Other: Bounty | Gun and Marksmanship | Music | Personality | Plant Communication and Healing | Relationships | Toma Equestrianism
Child Hairstyle and Color
As a child, Vash's hair features an undercut and an asymmetrical bowl cut. On the front, his bangs hangs down to his right side and the bowl cut is straight across the back with a slight curve. The top of his hair and his undercut and eyebrows are all the same rich blond. His lashes are black.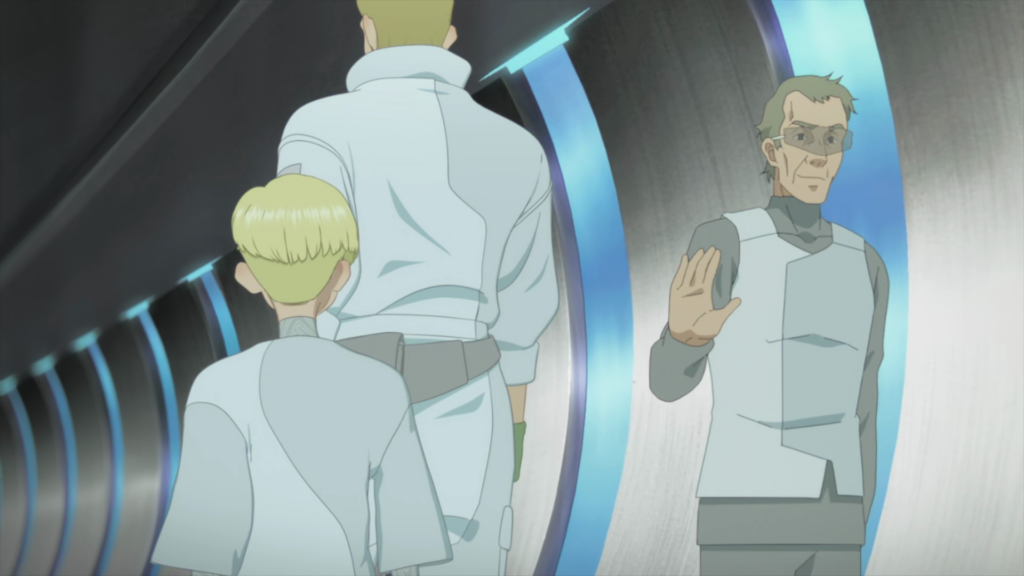 Teenage Hairstyle and Color
As a teenager, Vash's hair continues to feature an undercut, but his bowl cut has grown out into fluffy spikes that go in all directions. The top of his hair remains a rich blond, but his undercut and eyebrows have changed to a darker blond.
Adult Hairstyle
As an adult, Vash's hairstyle continues to feature an undercut. The top of his hair is long and forms soft spikes that are brushed forward on the sides and hang over his forehead, draping to the right. At the back of his hair, he has a star-shaped cowlick swirl.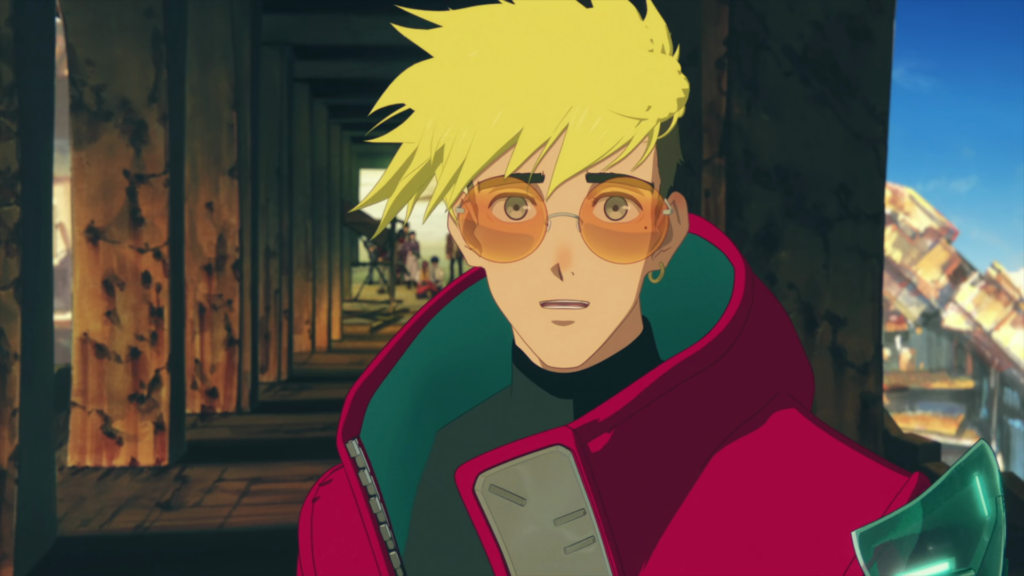 Adult Hair Color
When we see Vash as an adult, the top of his hair remains a rich blond, and his undercut remains a darker blond. However, his eyebrows have now turned black, though in some light they can appear to be brown. In contrast, Knives' hair and eyebrow color has not changed at all since childhood.
In the Trigun manga, and with the dependent plants killed in the Last Run in "Millions Knives", plants turning black is a sign of them running out of energy and dying. Vash's black eyebrows and possibly also the darker blond of his undercut imply that over 150 years, he has already used up a portion of his energy, likely from repeatedly healing dependent plants.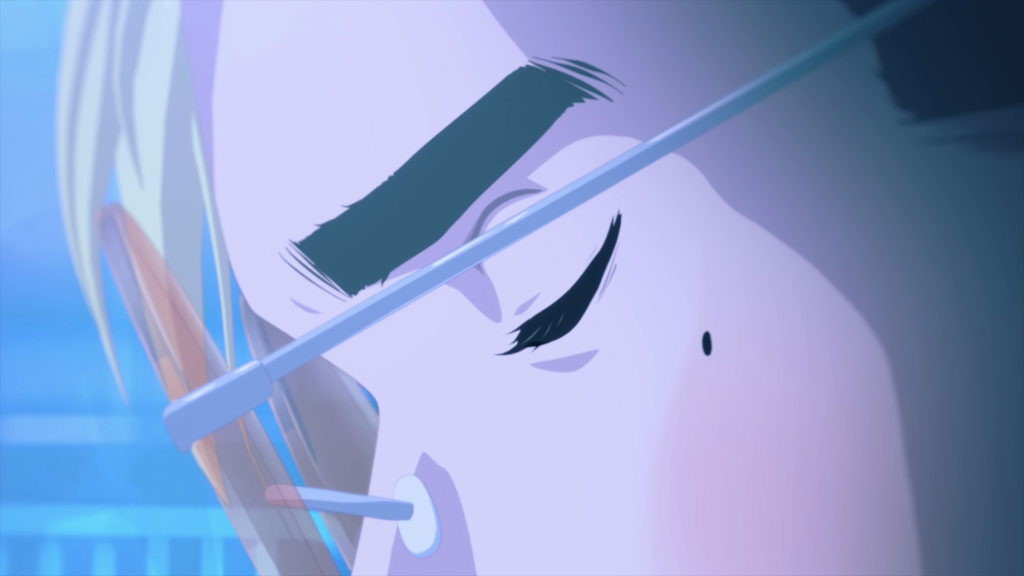 Powered-Up Hairstyle
When fully powered up in "High Noon at July", Vash's hair stands vertically, similar to his traditional hairstyle in the manga and Trigun (1998). The soft spikes of his hair stand upright, defying gravity, and only a few strands of bangs still fall over either side of his forehead.
Ericks Hairstyle
Two years into his life as Ericks, Vash's hair has grown long enough to reach his chin. His undercut has completely grown out. The weight of his long hair pulls it down so it hangs flat and straight.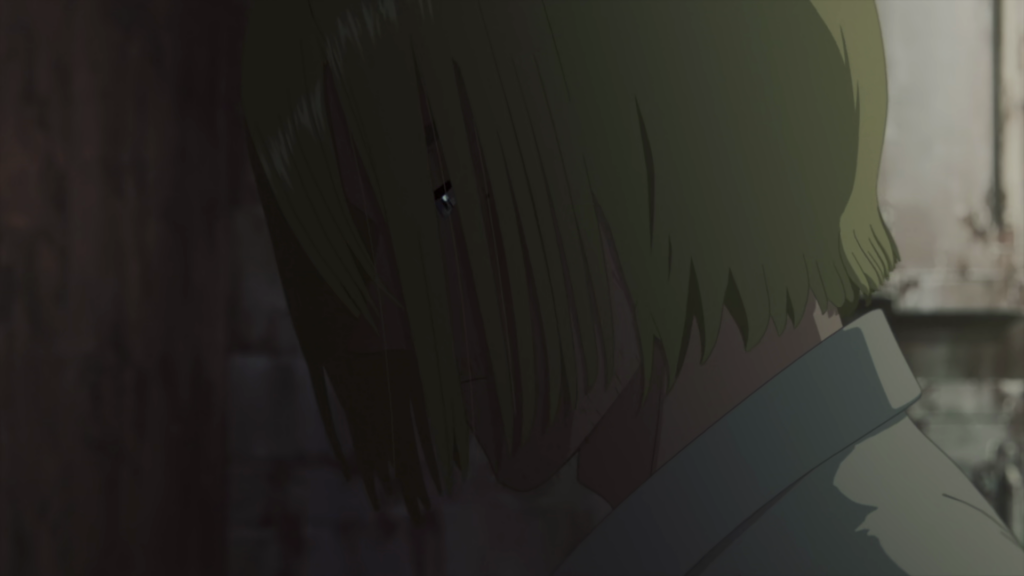 Back to the Trigun Factbook
Compare Canons: Manga: Vash the Stampede | Stampede: Vash the Stampede | 1998: Vash the Stampede