Back to the Trigun Factbook
Compare Canons: Manga: Vash the Stampede | Stampede: Vash the Stampede | 1998: Vash the Stampede
Information on the biology and appearance of Vash the Stampede in Trigun (1998).
Physical Characteristics: Angel Arm | Basic Physiology | Drain Gate | Hair | Plant Markings | Scars, Amputation, and Healing | Strength and Agility
Wardrobe and Accessories: Clothing | Earring | Glasses | Gun and Marksmanship | Prosthetic Arm |
Other: Amnesia | Bounty | Personality | Plant Communication | Relationships | Toma Equestrianism | Vehicle Driving
Compare Vash Canons: Manga: Plant Markings | Stampede: Plant Markings | 1998: Plant Markings
Reference Help: why-its-kai
Angel Arm Plant Markings
vash's revolver specifically causes the blue markings. when Knives takes Vash's revolvers and activates both angels arms on himself, the one from Vash's is grey and blue while the one from Knives' revolver is black and red. the colors seem more specific to the guns themselves
Other appearances: ep 18 goodbye for now, full flashback of the scene first seen in Diablo, ep 24 Sin, Legato triggers the angel arm on vash. the goodbye for now one is the full flashback of the first time knives activated it on vash and blowing up July. sin is the final part of the ep where legato gives vash the ultimatum of kill me or i kill all these other ppl more or less
Vash's plant markings are only visible on his angel arm. His angel arm is seen twice, first in "Fifth Moon" and then in again in "Under the Sky So Blue".
In "Fifth Moon", plant markings appear on Vash's angel arm but they are not illuminated. The markings appear in a craquelure style, a fine pattern of cracks on the surface. This is similar to how plant markings appear in the Trigun manga, and different from than the Chladni figure pattern style in Stampede.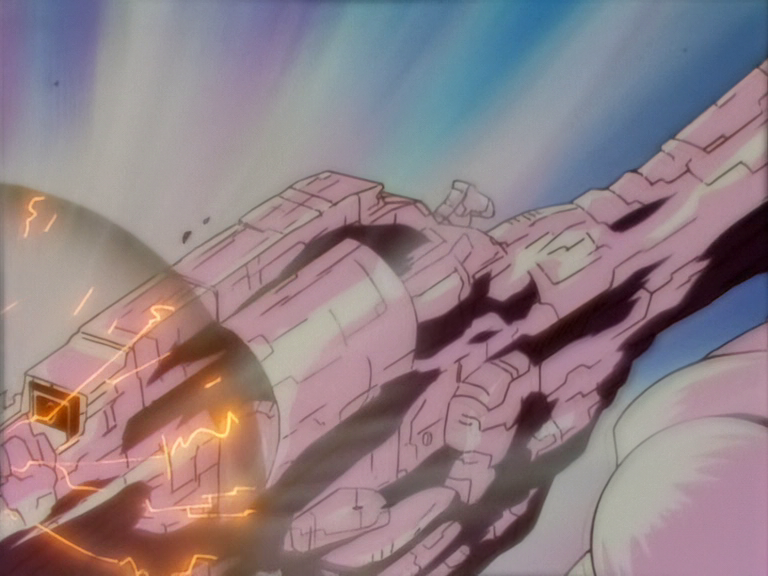 Blue Glow
In "Under the Sky So Blue", Vash and Knives face off with their angel arms. This time the markings are illuminated. Vash's plant markings glow blue, while Knives' glow red.
Note that this is a different color meaning than the red and blue plant glow in Stampede, where blue indicates a healthy plant and red an unhealthy plant.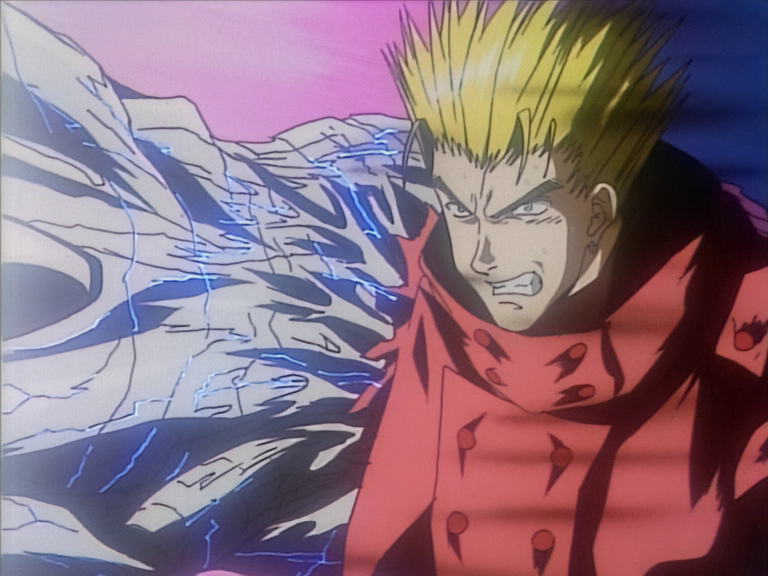 Back to the Trigun Factbook
Compare Canons: Manga: Vash the Stampede | Stampede: Vash the Stampede | 1998: Vash the Stampede