Back to the Trigun Bookclub Archive
Trigun Bookclub By Volume
Trigun: Volume 1 | Volume 2
Trigun Maximum: Volume 1 | Volume 2 | Volume 3 | Volume 4 | Volume 5 | Volume 6 | Volume 7 | Volume 8 | Volume 9 | Volume 10 | Volume 11 | Volume 12 | Volume 13 | Volume 14 | General Commentary

Trigun Bookclub By Member: alena-reblobs | aluvian | annaofaza | anxiety-elemental-kay | caffeinefire | deludedfantasy | discount-kirishima | domfock | dravencore | eilwen | fifthmooon | hashtagcaneven | hikennosabo | iwritenarrativesandstuff | lizkreates | makima-s-most-smile | merylstryfestan | mydetheturk | namijira | needle-noggins | nepentheisms | nihil-ghost | ocelaw | pancake-breakfast | rainbow-pop-arts | retrodaft | revenantghost | sunday-12-25 | the-nysh | weirdcat1213
Original Tumblr Post: Vash's Depression
Vash's Depression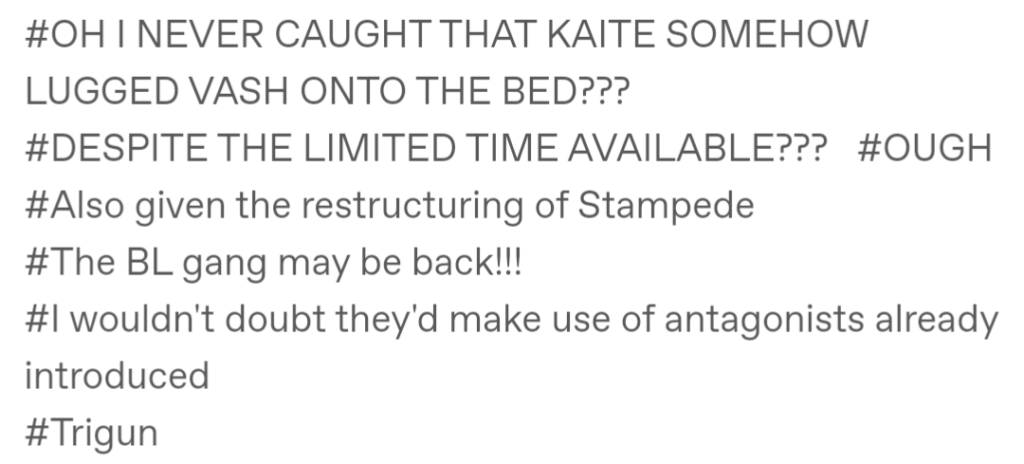 @revenantghost Ok, after seeing your tags and thinking about it… I have a theory that's gonna lean more into the depression of the series. And that theory is that Vash got on the bed himself.
Like, he might have realized Katie tried to knock him out, or maybe she actually did. Whether or not she succeeded is less relevant to this theory than Vash's awareness that she tried. And in a low moment, instead of trying to chase after her and figure out what she's up to, he just… pulls himself up on the bed and goes back to that nap he was gonna have before she dropped in on him in the bathroom.
I think it would make for a very natural flow into his thoughts in the dream he has. He tells Rem that everything in the world is so dry, even people's hearts, and between Katie's lies and attempt to repay his kindness by rendering him unconscious, she's very much demonstrating that very dryness he's talking about. The fact that even this desperate child would be so cruel and manipulative would wear at him in a place that's already been worn raw by all he's seen and experienced, so in a moment of weakness, he thinks that maybe, just maybe, pretending he can't do anything to help her is the more worthwhile option because she's hellbent on whatever she's doing and if he ignores her, then at least then he gets some (much-needed) rest.
IDK, this all seems at least as likely to me as Katie being both willing and able to lug Vash's lanky ass onto a bed.