Back to the Trigun Bookclub Archive
Trigun Bookclub By Volume
Trigun: Volume 1 | Volume 2
Trigun Maximum: Volume 1 | Volume 2 | Volume 3 | Volume 4 | Volume 5 | Volume 6 | Volume 7 | Volume 8 | Volume 9 | Volume 10 | Volume 11 | Volume 12 | Volume 13 | Volume 14 | General Commentary

Trigun Bookclub By Member: alena-reblobs | aluvian | annaofaza | anxiety-elemental-kay | caffeinefire | deludedfantasy | discount-kirishima | domfock | dravencore | eilwen | fifthmooon | hashtagcaneven | hikennosabo | iwritenarrativesandstuff | lizkreates | makima-s-most-smile | merylstryfestan | mydetheturk | namijira | needle-noggins | nepentheisms | nihil-ghost | ocelaw | pancake-breakfast | rainbow-pop-arts | retrodaft | revenantghost | sunday-12-25 | the-nysh | weirdcat1213
Original Tumblr Post: Chapter 9-10
I could sleep. I could play video games. Or I could Trigun Bookclub.
Trigun Bookclub it is.
Stream-of-consciousness thoughts for Trigun Vol. 1, Chapters 9-10 below. (More detailed thoughts will be their own posts.)
Chapter 9: Between Wasteland and Sky…
I love that the girls actually comment on how hot and uncomfortable those suits were.
Meryl is right; this is very non-standard for an insurance agent. It's even pushing it for a reporter.
Howwwww does Prada even exist out here?? How did they manage to transfer name brands this far away?? Did Mr. Prada (I know almost nothing about Prada) buy himself a cryogenic stasis chamber on one of the ships??? Where are they getting the materials? Why are they getting the materials?? Are they just… made out of Thomas leather??? I HAVE QUESTIONS.
Please apply the previous point to Gucci, and Fendi….
I don't have anything in particular to say about it, but I do like the title page spread.
Ok, what's going on with the proportions on this page. First, Katie only comes up to Vash's waist, and then she's a little below shoulder height when he's only barely slouching? Dude.
I think she asks a legitimate question about the functioning of his pain receptors.
Letting a plant overload is bad. Letting a Plant overload is worse.
My dude Mr. Hat Guy. You recognize the blueprints are valuable. Do NOT step on them! Rude.
Honestly, this shows a lot of maturity from Katie. Even if one is working to make things right, there are still consequences one must accept. And Vash… he seems to accept her decisions in this. Or maybe empathize with them, but I'm getting ahead of things.
I like this guy peeking around the text bubble.
Plant reveal! Though I feel like Vash's line might be misinterpreted to be referring to Katie instead of our new bubble lady friend.
I wonder if Plants are really ever in control. They're already century-old tech that (almost) no one understands, and so they're not really controlled so much as maintained.
Yep, hitting the angel imagery HARD in the manga.
Oooh, she's getting sparkly.
Vash is trying to help, but the fact that he just jumped into things and is like, "You guys do stuff while I take care of something that no one else knows how to take care of," is just creating confusion.
Plant lady is NOT happy….
Oh, these pages are beautiful. I love how calm yet determined Vash is as he approaches her. I love his wings showing, clearly for the reader's sake and not as something anyone around them can see. I love their hands mirroring each other on the glass. I love the way her expression changes from this…
…to this: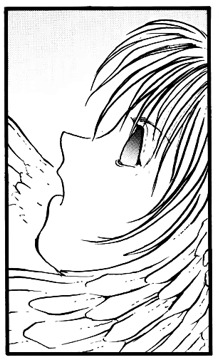 Putting the "dead" in "deadline" here, aren't we?
TBH, I LOVE that they gave taking care of the heat valve to Wolfwood in Stampede. I mean, I know he hasn't even shown up yet here in the manga, but having him show up sooner and then push his way through the people to handle it on his own really drives home both how much he's changed from being a "normal" human and how much he's willing to go through for a chance at protecting the orphanage. The… uh… the orphanage that isn't in this scene, either. Because different timelines.
Ok, I can't tell what the heck happened with the steamer. I'm glad I've seen the anime.
Aww, they're both all beat up. But now that Katie is awake, Vash's expression goes from serious to smiling.
Ohhhh, there's what happened with the steamer.
I like that Neon may not like Vash, but now, at least, he respects him.
I love this wide shot. Like, it may be nothing but barren wasteland, but Katie's pose is determined, and the sun has risen over the horizon. There's a lot of hope in it.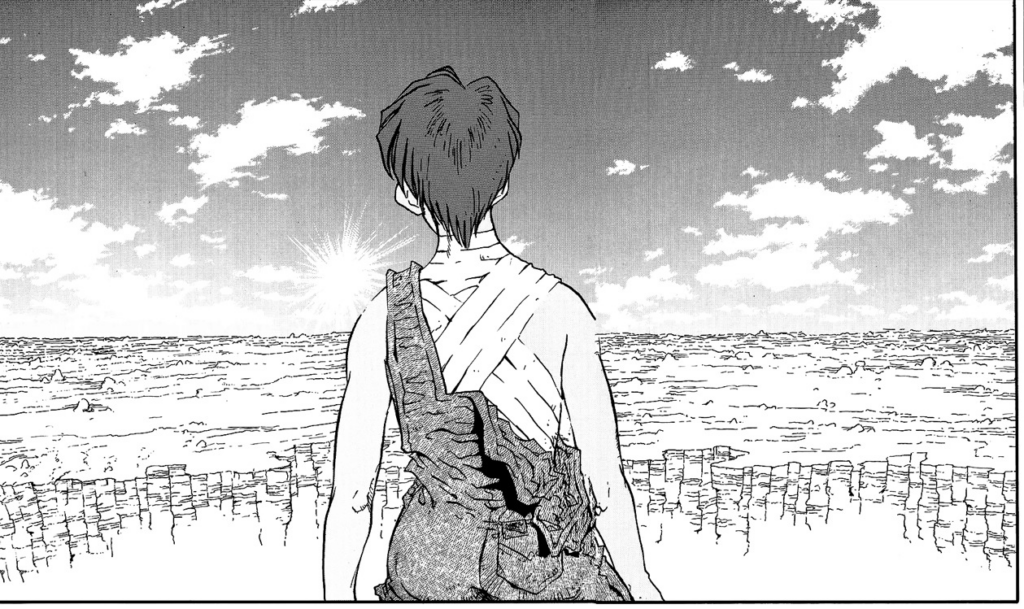 Can't not have music be part of the world in Trigun. It's very important. For real. Goes hand in hand with hope.
Hahahaha, Katie getting all defensive. Don't worry. Vash likes the tune, too.
He looks so flustered….
I love the arc coming full circle here with him once again thinking about Rem and why people keep living in spite of everything.
Of course that would make him tear up. And… of course Katie would misinterpret it an take offense. And Vash probably won't explain, because it's complicated and a permanent raw spot in his heart.
It may have arrived two days late, but it ARRIVED.
Chapter 10: Little Arcadia
Huh, I'd heard that this was originally three volumes instead of two. This must be the original volume break.
Ah, Milly and her giant family. Of which she's the youngest. Of course.
Staying up all night writing? No, I can't relate to that at all, why do you ask…
Awww, I love that her family adores her letters.
Good hell. That packet of letters she has is a BRICK.
LOL, Meryl not knowing what to write aside from, "It's dry." Girl. Your life is CRAZY. Tell them about that. Or just tell them about the mundane things, if you don't want them to worry. You can do it. I believe in you.
Oop, Vash's fangs are showing. Why ya gotta get him all flustered like that?
No wonder he's stressed. I'd be stressed if people were using me as a human shield while hurling insults at a gunman, too.
Don't put your finger on the trigger unless you're gonna shoot. That's Guns 101, Mr. Emo Gunman.
Bwa?! Sudden Insurance Girl Attack! x2!
This guy…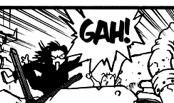 I love how Meryl is shouting technically true stuff about how dangerous Vash is while Vash himself is looking pathetic AF. I'm sure he's LOVING everything she's saying about how dangerous he is, too….
Yes, indeed, Old People. Meryl and Milly are definitely… different.
Poor Vash just hiding and gibbering in the bottom of the panel…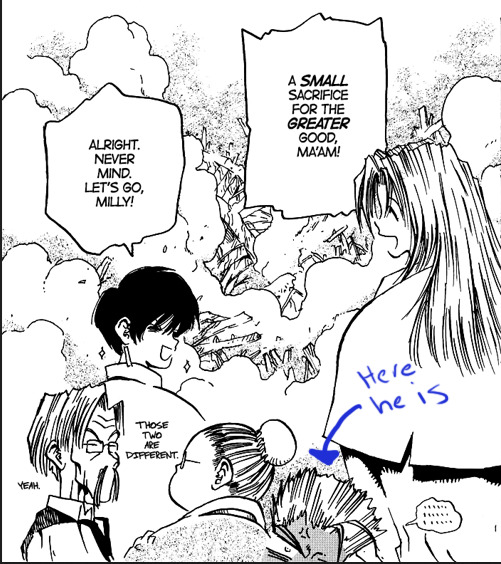 Vash may have soup brain, but Milly has ice cream brain. Which I guess is still a kind of soup if you put enough toppings in it and then let it melt for a bit.
"It's nothing really." Yep. Nothing. It just increases their frequency of getting into life-or-death situations and has them constantly having to do their best to mitigate both their charge (who is VERY good at both trouble and sneaking) and other people who aren't positively inclined toward their charge (understandable, but also it's a misunderstanding). NBD.
I like how, for once, Milly and Meryl are being propositioned for bodyguard work instead of Vash.
Aaaand now they're asking Vash.
That risk prevention policy sounds handy. I bet you can slide a lot of usually-unauthorized behavior under there.
Uhhhh… I feel like I should be extra-concerned about something if Vash is concerned about it.
Trees!
I do hope they find a way to weave this story into Stampede…
Plants (lower-case) belong to the people. PLANTS BELONG TO THE PEOPLE!!! Naturally.
Vash probably is genuinely impressed by all this.
That's it. That's the point of the story. That's what Vash is constantly trying to do. And biblically, something something mustard seed growing from being tiny-tiny to something huge and bountiful.
Ooh, rejecting people looking at the picture of his family. There's a story there. Especially considering that this chapter started with Milly writing letters to her own family.
Oh, gods. More Nebraskas….