Back to the Trigun Bookclub Archive
Trigun Bookclub By Volume
Trigun: Volume 1 | Volume 2
Trigun Maximum: Volume 1 | Volume 2 | Volume 3 | Volume 4 | Volume 5 | Volume 6 | Volume 7 | Volume 8 | Volume 9 | Volume 10 | Volume 11 | Volume 12 | Volume 13 | Volume 14 | General Commentary

Trigun Bookclub By Member: alena-reblobs | aluvian | annaofaza | anxiety-elemental-kay | caffeinefire | deludedfantasy | discount-kirishima | domfock | dravencore | eilwen | fifthmooon | hashtagcaneven | hikennosabo | iwritenarrativesandstuff | lizkreates | makima-s-most-smile | merylstryfestan | mydetheturk | namijira | needle-noggins | nepentheisms | nihil-ghost | ocelaw | pancake-breakfast | rainbow-pop-arts | retrodaft | revenantghost | sunday-12-25 | the-nysh | weirdcat1213
Original Tumblr Post: Chapter 5-6
I guess I have to finish volume 9 at some point. Might as well be now.
Stream-of-consciousness thoughts for TriMax Vol. 9, Chapters 5-6 below.
Chapter 5: Demon
Goshdarn, we just had to start with Chapel's stupid face….
IDK, the thing about combat experience is it's experience. You learn to act "without thinking" because you're making calculations so reflexively that there's no delay between thought and action. Just like anything else, it's a matter of practice. But perhaps Chapel means it's not the way he taught Wolfwood to fight, and is implying Wolfwood's picked up and integrated a different fighting style from elsewhere.
And now Chapel has to enter the fight himself instead of just sending others to do his will.
I bet Nightow had a blast designing all these different cross guns.
Ha! Chapel telling Wolfwood to mete out justice with the Punisher. I have thoughts on this… but more on them later.
Chapel is giving badass wheelchairs a bad name.
Considering how few Punishers are supposedly in existence (around a dozen counting the ones Livio has), and given his current standing with Eye of Michael, it's impressive how many are present at this fight. I was wondering when these guys would show up again, since they're apparently not the mercs.
Ah, they're here to make sure Chapel gets the job done of finishing off the traitor.
Wait, WTF?? They're bowing to… Livio??? I thought he was also kicked out of Eye of Michael. Are… are they actually carrying Punishers? Are these additional Punishers aside from the little ones Livio was weilding earlier. Are… are they just… carrying them for him?
Ugh, dramatic Livio pose. It's just *chef's kiss*.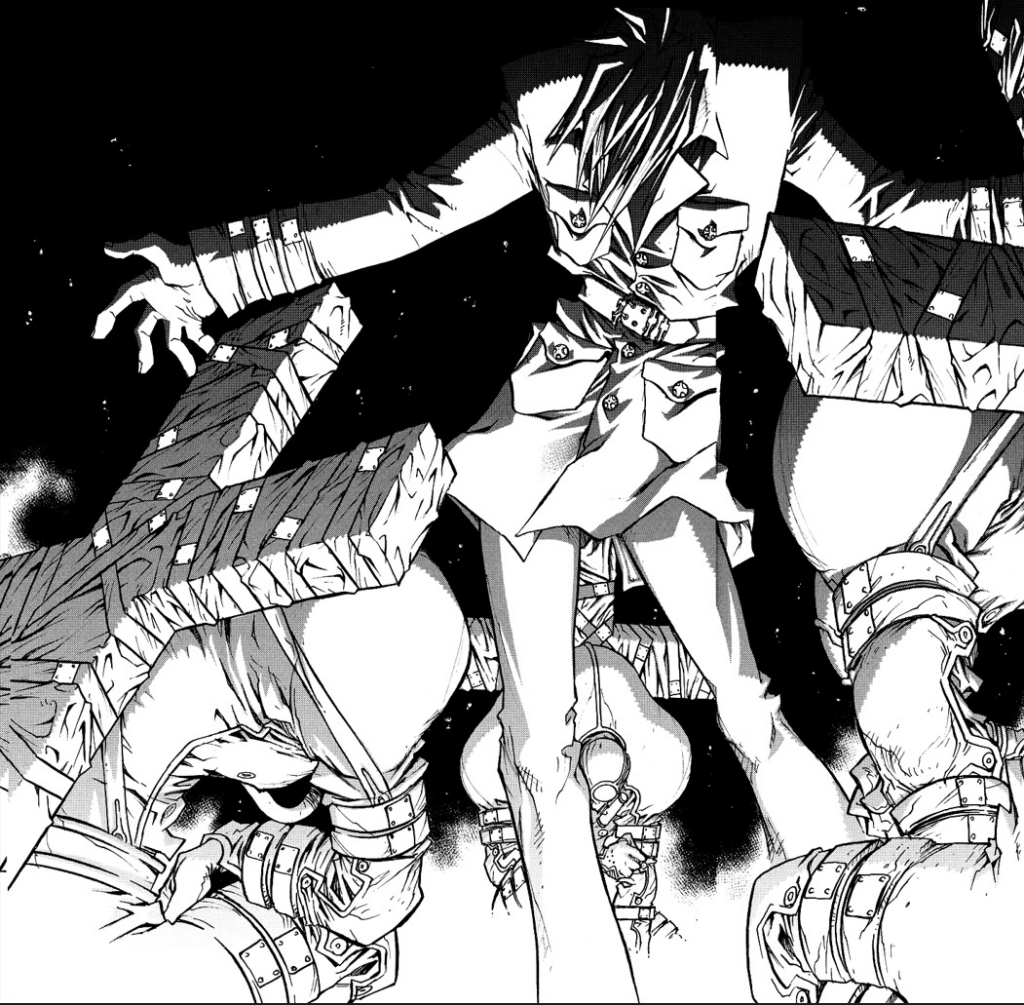 We finally get a view of the eye on the skull side, and Wolfwood immediately recognizes it as not being Livio.
Dude, he's catching bullets. That doesn't bode well.
Ah, yes. Three arms somehow. I get that one's synthetic, but still. Please insert Rev's meme of Nightow saying, "Hey, don't worry about it," here.
Yyyyyeaaaah, they were just holding onto the guns for him. That's… well, it explains a lot, but it bodes poorly for Wolfwood.
Ah there goes the mask. It seems to me that having a breakable mask fall off your face for dramatic effect every time you switch modes would be a bit wasteful.
Did… he have a bunch of hair attached to it, too? Weirdo. (Don't listen to me, Livio. I still love you even if you've got hair issues.)
Ah, there he is. Our New Friend. I just want to point out how much more deliberate his hair looks here compared to Livio's mop of chaos and depression. THIS looks like an intentional punk style.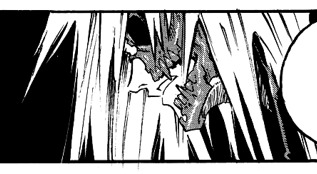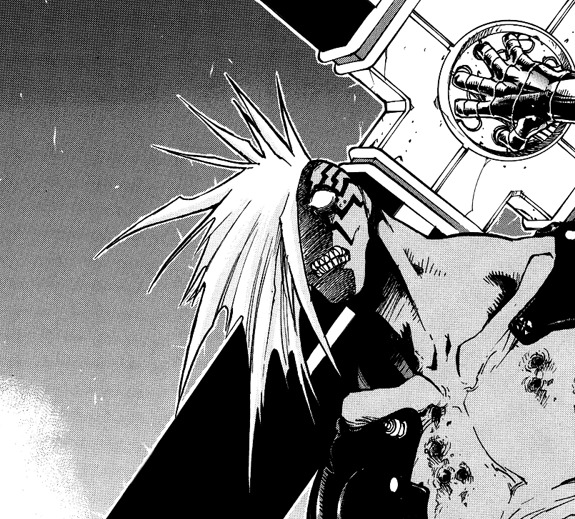 And with that, we've officially been introduced to Razlo.
Chapter 6: Fortitude
CW: Child abuse, DID
I know others in Book Club have more direct experience with Dissociative Identity Disorder (DID) than I do, so I don't want to speak to it too much since all my knowledge is book knowledge rather than experiential, but I do think Nightow should be given some credit for actually writing out that Livio's DID is a sort of defense mechanism stemming from childhood trauma. I feel like even today there aren't a ton of good mainstream examples of DID beyond, "Oh, quirky split personalities!" when it's a real condition with documented trends and origins.
Raz was the one who wanted to go find the Eye of Michael. Maybe he should have done some more research first.
I appreciate that he seems to be still healing from where Wolfwood shot him. Not sure I buy how thick his neck suddenly got, but it's a little late in the game for me to start complaining about Nightow's anatomy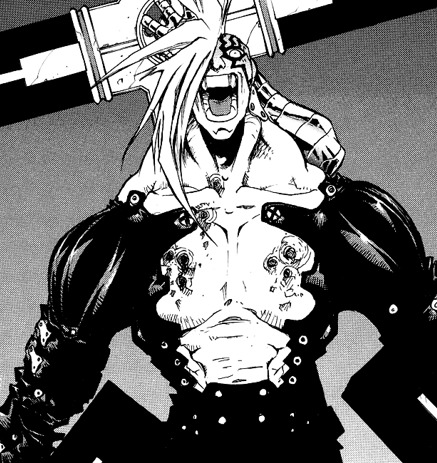 Dude, did he just murder-death the people who carry his Punishers?? Rude.
You know… it's not every day I see a character use body parts as chaff.
Gods, Raz's whole demeanor is soooo markedly different from Livio's. His mad grins remind me a bit of Legato. Not sure how I feel about that.
Ugh, Wolfwood…
The level of drama in this panel, though.
Ohhh, Raz's speech pattern is different than Livio's, too, isn't it? It's more rough and casual. Not like Livio's dripping with formality, but I'd guess in the Japanese he's at least base-level polite. Razlo is… most likely not. (If so, props to Overhaul for conveying that.)
Those thoughts from before are running into my thoughts on Chapel dressing down Wolfwood here as he gets ready to execute him… but more on those later.
Oh, Wolfie, don't give up on us…. He really does care for his brother Livio, doesn't he.
Yeah, Wolfwood has historically had too much self-preservation instinct to just jump on the bandwagon of someone who is living a lifestyle that's more precarious than the one he's already living. I have thoughts on this, too… but more on those later.
Heh, Wolfwood recognizing that Vash isn't immortal the way Chapel seems to think he is.
Ugh, all these memories of his moral conflicts with Vash…. They're tugging at the heartstrings.
In light of the words on this panel and my suspicions on where Wolfwood's thoughts are going, I just want to provide the following Bible verses:
"At that time the disciples came to Jesus and said, "Who then is greatest in the kingdom of heaven?" And He called a child to Himself and set him among them, and said, "Truly I say to you, unless you change and become like children, you will not enter the kingdom of heaven. So whoever will humble himself like this child, he is the greatest in the kingdom of heaven. And whoever received one such child in My name, receives Me, but whoever causes one of these little ones who believe in Me to sin, it is better for him that a heavy millstone be hung around his neck, and that he be drowned in the depths of the sea. – Matthew 18:1-6, NASB Translation
Gods, I could write an essay….
Ok, this panel. It's in Wolfwood's mind, and Vash is so big in Wolfwood's mind he takes up the whole page. It's a low shot, showing that Wolfwood is looking up to him, like a child looking up to an adult or an injured person looking up to their protector. And that's the pose Vash is in, too; his back might be turned to Wolfwood, but it's not in rejection but in protection, standing between Wolfwood and whatever might come their way. He has so much trust and admiration for Vash.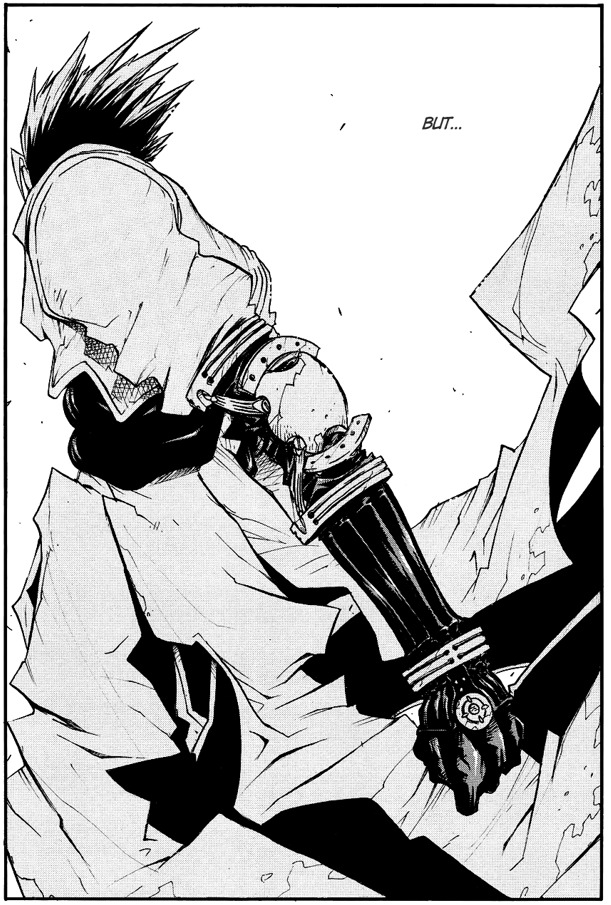 Hahahahaha, I love how the last page suggests, despite everything, Wolfwood's not quite dead yet.
My thoughts ended up being too encompassing. The curious can read them here.
Author Bonus Chapter
Who the heck are all these other characters? Are they mobbing Nightow??
Hahahaha, tiny Vash disapproving in the background…
That's right! Gotta do it!
You know, I still haven't watched Gungrave. Pretty sure people recommended it to me back when it came out.
Oh, noooooo, the scriptwriter had soooo many drinks! AND NO SLEEP!!!
Despite? Probably more like because.