Back to the Trigun Bookclub Archive
Trigun Bookclub By Volume
Trigun: Volume 1 | Volume 2
Trigun Maximum: Volume 1 | Volume 2 | Volume 3 | Volume 4 | Volume 5 | Volume 6 | Volume 7 | Volume 8 | Volume 9 | Volume 10 | Volume 11 | Volume 12 | Volume 13 | Volume 14 | General Commentary

Trigun Bookclub By Member: alena-reblobs | aluvian | annaofaza | anxiety-elemental-kay | caffeinefire | deludedfantasy | discount-kirishima | domfock | dravencore | eilwen | fifthmooon | hashtagcaneven | hikennosabo | iwritenarrativesandstuff | lizkreates | makima-s-most-smile | merylstryfestan | mydetheturk | namijira | needle-noggins | nepentheisms | nihil-ghost | ocelaw | pancake-breakfast | rainbow-pop-arts | retrodaft | revenantghost | sunday-12-25 | the-nysh | weirdcat1213
Original Tumblr Post: Chapter 3-4
It's too hot tonight. Please send ice cream.
At least I'm guaranteed more cool Livio and Wolfwood panels. For now.
Stream-of-consciousness thoughts for TriMax Vol. 9, Chapters 3-4 below.
Chapter 3: LR
Aww, Miss Melanie is doing what she can for the kids despite the situation.
They know the situation is bad, though. Kids are smarter than we give them credit for.
I'd bet Miss Melanie is faster than people would guess. And I'd bet the kids know it, even if they forget from time to time, because they've been on the receiving end of it.
Wolfwood sure left an impression on the orphanage if they're still asking for him all these years later.
I'm just… gonna savor this panel.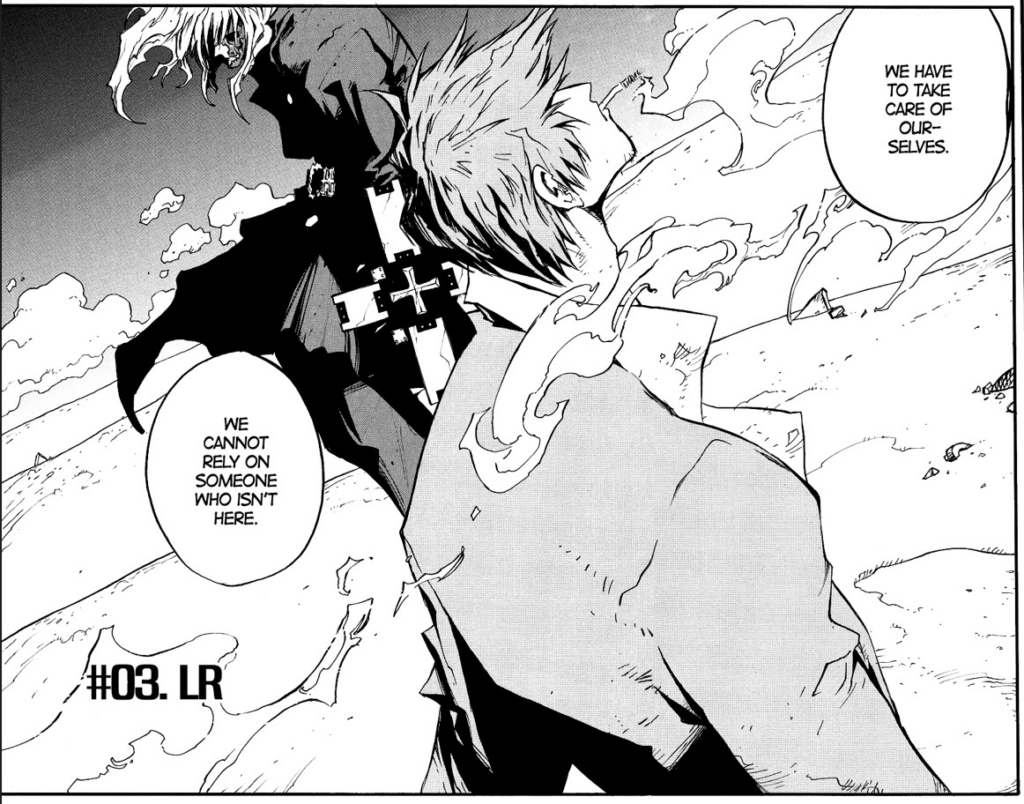 Also, I can't help but wonder with the way the text is placed. Like… it's Miss Melanie speaking, but with Wolfwood in the foreground looking wistful and in a precarious situation, I find myself wondering if he's thinking something similar, but about Vash.
I'm honestly a bit surprised Livio's giving Wolfwood the smoke break. Surprised, but glad, since Wolfwood's taking full advantage of it. He's in no rush to try and take down Livio. There's nothing he's going to savor in this fight.
Livio backstory!!! I like the part where he apparently sees Wolfwood as trustworthy enough for it. Or… possibly dead enough for it.
This is no place for a tired, lost, and frightened child.
Razloooooooooo
Gods, my boy needs a hamburger or something. He's way too skinny here.
It would be somewhat upsetting to continually find letters in your own pocket with no concept of where they came from.
Heh, someone means business.
Iiiits Razlo. Hi, there, buddy… The R to Livio's L. Bold move when the Japanese language doesn't distinguish the two.
"I've been silenced." That sounds… involuntary.
Looks like the smoke break's over.
Livio's smiling, but we don't get to see his full expression. Just the skull mask.

Livio with them high kicks. Even Wolfwood looks impressed.
Ugh, no killing Livio, Wolfwood! Not allowed!
Chapter 4: At the Verge of Death
Oof, that was a good, clean shot, looks like.
The mercs aren't happy. They're just now realizing their place in the order of things here.
Dude, headshot like that?? Wolfwood…
Ok, this is interesting, 'cause it implies he expects Livio to get back up despite getting shot in the head.
Chapel's too happy about this, the sick fuck.
Stampede Spoilers: It's interesting that they kinda gave this emotional beat to Legato in Stampede. Like, they seem to be writing out Chapel anyway, what with wrapping Eye of Michael more tightly under Knives/Conrad, and Legato's the obvious choice for someone who would get a kick out of the sadism of it all. Plus, of course, it allows that nice parallel language that he uses about not understanding the value of a love between brothers in Stampede. (I'm still not over that line. It's just *chef's kiss*. I hope anime-onlys get a chance to appreciate it after season 2. I hope it makes them twitch as much as it makes me twitch.)
Ah, here are the Eye of Michael guys. These are separate from the mercs. I get it. Not sure they'll stand much of a chance if Livio's down for the count.
Uhhh… maybe we need to forget what I just said about Livio being "down for the count."
You know, Bungo Stray Dogs has an interesting episode about what happens when you continually return individuals from the verge of death like that….
Oof, Wolfwood….
Ugh, this does not look good.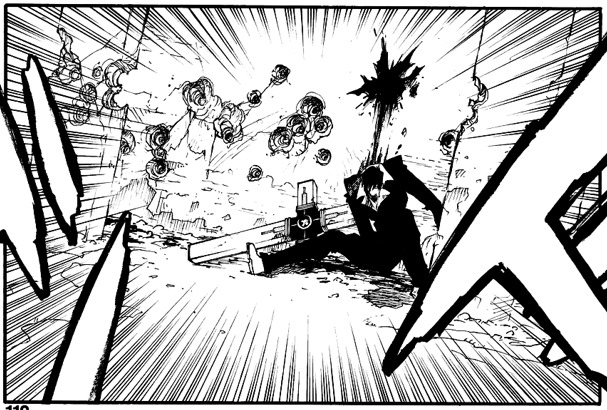 Did Livio just try to kabedon Wolfwood with his foot??
Livio's having thoughts. Common, buddy. You can figure this out.
How to Take Your Medicine Like a Badass: A Guide by Nicholas D. Wolfwood
Speaking of, he's gonna run out of it fast at this rate. Somehow I doubt Eye of Michael's gonna be open-handed with giving him more.
A:LKAJD:LAKJD:LAJDL:FH: I have too many feels about this panel. The genuine fear in Wolfwood's face as he embraces Livio to pull a move he's not sure is the right one out of pure desperation. Someone save them.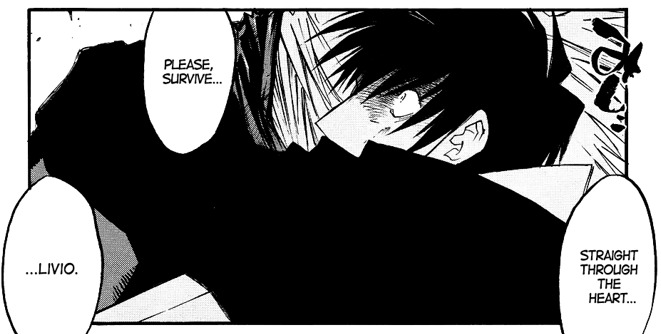 FRACK! That's all the time I have for this tonight. That's… fine. That's ok. No need to rush. No need to rush….