Back to the Trigun Bookclub Archive
Trigun Bookclub By Volume
Trigun: Volume 1 | Volume 2
Trigun Maximum: Volume 1 | Volume 2 | Volume 3 | Volume 4 | Volume 5 | Volume 6 | Volume 7 | Volume 8 | Volume 9 | Volume 10 | Volume 11 | Volume 12 | Volume 13 | Volume 14 | General Commentary

Trigun Bookclub By Member: alena-reblobs | aluvian | annaofaza | anxiety-elemental-kay | caffeinefire | deludedfantasy | discount-kirishima | domfock | dravencore | eilwen | fifthmooon | hashtagcaneven | hikennosabo | iwritenarrativesandstuff | lizkreates | makima-s-most-smile | merylstryfestan | mydetheturk | namijira | needle-noggins | nepentheisms | nihil-ghost | ocelaw | pancake-breakfast | rainbow-pop-arts | retrodaft | revenantghost | sunday-12-25 | the-nysh | weirdcat1213
Original Tumblr Post: Coping Series: Wolfwood
Coping Series: Wolfwood
I think chapter 2 of TriMax Volume 6 might just be my favorite thus far. Everything in it hinges on this one iconic scene.
This isn't the first time Wolfwood has pointed a gun at Vash's head. Maybe it won't even be the last. But it holds a bit more weight here because just a few pages ago, we saw a flashback where Wolfwood pointed his gun at someone else's head.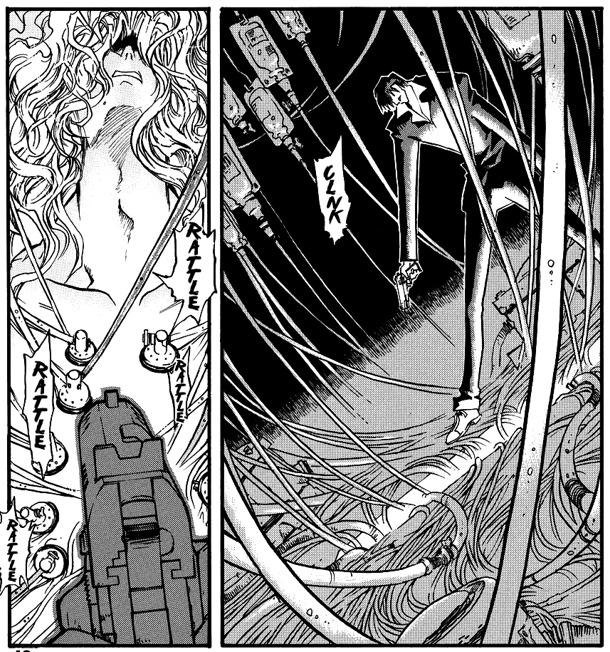 His hand shakes as he aims at Knives. His breath is heavy, and the memory of the Fifth Moon incident is fresh in his mind. He knows if he can just pull the trigger, he can end it here. This being of destruction will be gone, and maybe this time his fancy scientists won't be able to bring him back.
But then Knives does Plant things, and under the weight of it Wolfwood finds he just can't follow through. He fears his own death too much, and Knives will surely kill him.
When he points his gun at Vash, it's different. His hand is steady, his breath calm. The memory of everything that happened at the Dragon's Nest is fresh in his mind; just this morning he warned Meryl that she and Milly should remember that, despite his ideals, Vash is still a loose cannon that they'd do well to avoid. He thinks to himself that if he can just pull the trigger, if he can just take out the less intimidating of the brothers, then one of these monstrous twins and half of the problem will be gone.
This time, there's no crushing sensation of oppression. There's no air of fear and malice. There are no threats or memories of twisted promises. There's only a look, wary and concerned…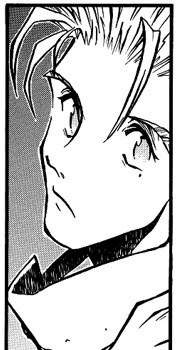 …but even by the time this happens, Wolfwood has already lowered his gun. He's decided not to pull the trigger, not because of an immediate threat on his life, but because… well, it's Vash.
Wolfwood surely knows that if he pulls that trigger, he catastrophically fails his mission, and whatever consequences might await him on the far side of such a failure aren't going to be anywhere near pleasant. But it doesn't seem like it's fear of Knives that makes him lower his gun. At the very, very least, Wolfwood knows no one stands a better chance at taking down Knives, but he also knows Vash. He's seen Vash's fake smiles and knows his real ones. He understands Vash's ideals despite very much not wanting to and not knowing how he could possibly accept them for himself. He's fought side by side with Vash, and been standing at his back since day 1.
And before this night is out, only a few minutes after pulling a gun on Vash, Wolfwood's right back there again, moving in tandem with Vash, being a human shield so they can accomplish Vash's goals together.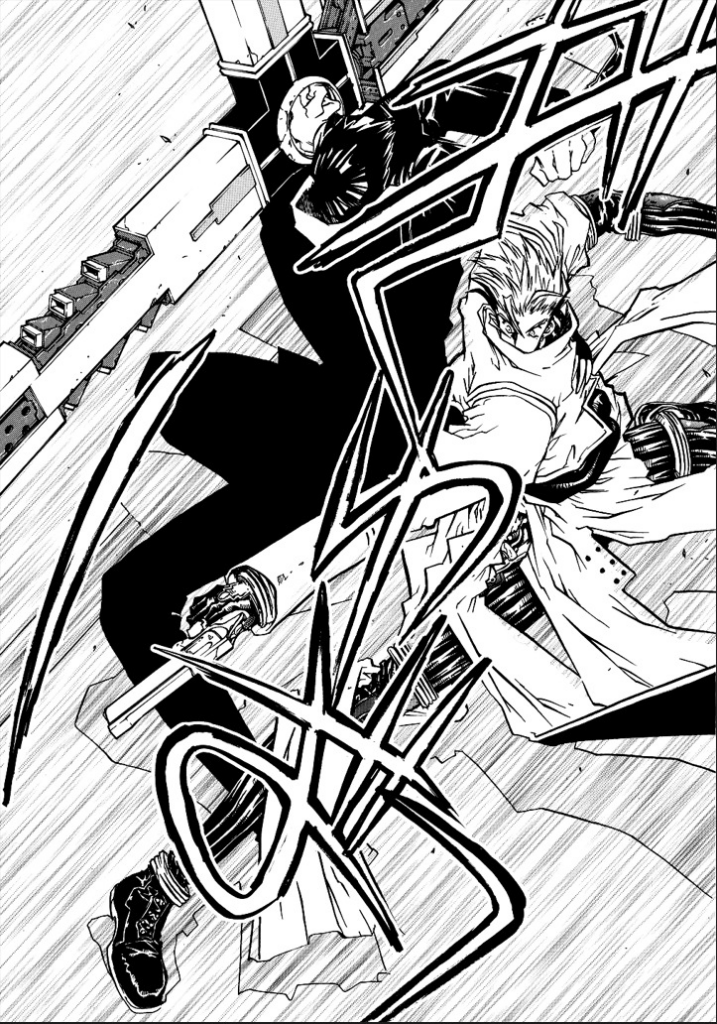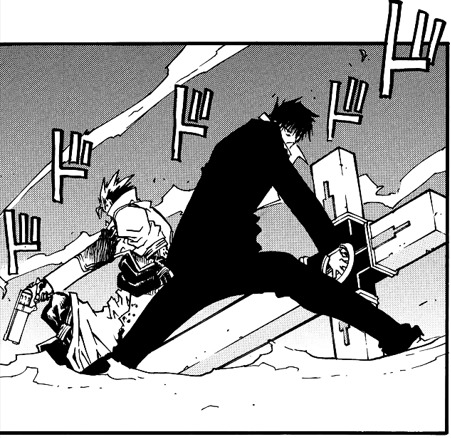 It's only when the fight comes to a close that Wolfwood realizes that's what he's been doing. He didn't put any thought into falling in step behind Vash, didn't dwell on the fact that Vash trusted and moved with him during the fight. It's only afterwards, when they stop to catch their breath, that he realizes Vash hasn't looked his way through the whole battle. That Vash didn't need to look his way through the whole battle.
Not only did Vash trust Wolfwood at his back, but he knows Wolfwood well enough to move intuitively around him, not hesitating and always understanding what Wolfwood's about to do. And at that moment, Wolfwood realizes two things:
First, that there's no way Vash didn't notice when Wolfwood pointed a gun at him. If Knives could figure it out while half dead and barely knowing Wolfwood, then Vash, who's awake, alert, and has spent plenty of time with Wolfwood, can surely figure it out.
And second, that when he's fighting back to back with Vash, nothing else really matters. All his (quite legitimate) fears about what Vash is and how dangerous he can be, about Knives, about finishing his job, about what he himself has become… they all melt away. He's where he needs to be, where he should be, and that's all there is to it.