Back to the Trigun Bookclub Archive
Trigun Bookclub By Volume
Trigun: Volume 1 | Volume 2
Trigun Maximum: Volume 1 | Volume 2 | Volume 3 | Volume 4 | Volume 5 | Volume 6 | Volume 7 | Volume 8 | Volume 9 | Volume 10 | Volume 11 | Volume 12 | Volume 13 | Volume 14 | General Commentary

Trigun Bookclub By Member: alena-reblobs | aluvian | annaofaza | anxiety-elemental-kay | caffeinefire | deludedfantasy | discount-kirishima | domfock | dravencore | eilwen | fifthmooon | hashtagcaneven | hikennosabo | iwritenarrativesandstuff | lizkreates | makima-s-most-smile | merylstryfestan | mydetheturk | namijira | needle-noggins | nepentheisms | nihil-ghost | ocelaw | pancake-breakfast | rainbow-pop-arts | retrodaft | revenantghost | sunday-12-25 | the-nysh | weirdcat1213
Original Tumblr Post: Chapter 5-6
Totally cheating and writing this post early. IT'S THE ONLY WAY.
Stream-of-consciousness thoughts for TriMax Vol. 6, Chapters 5-6 below.
Chapter 5: Colorless Expression
Vash's careless pose with a cheerful smile is a very harsh contrast to the revelation at the end of the last chapter.
I wonder who got that photo of July going up. Also, shout out to the tiny, tiny headshot of Vash in the newspaper.
Never underestimate the cruelty potential of little old ladies. Especially if they think they have nothing to lose.
Is Vash going to church??
LOL, not if this kid has anything to say about it.
I dunno. I think Meryl might be onto something. Or maybe just noticing it for the first time. Maybe some of both.
Vash looks like he's praying. Or falling asleep.
Aaand there's tired Vash looking like Knives. Ugh, someone take care of him.
Very rude of them to bring guns into the house of God AND to then suggest murdering someone with them right then and there.
I read this guy's name wrong so from now on he's Justin Baby.
Never trust a Haliburton. They're always up to something.
Meanwhile, Wolfwood is in noodle bliss. I'm sure that's gonna last and he's gonna get to enjoy the whole bowl undisturbed.
Yep, he got a whole three panels before a cacophony of news about Vash's latest shenanigans interrupted his meal. You can see his peace and quiet melt out of his being.
Vash was already feeling pretty freaking depressed over all he's done. That's why he went to the church in the first place. This is not helping.
Wait, has Vash been drinking?? Buddy, don't you know alcohol's a downer? It's not gonna help with the depression. Even Wolfwood thinks this is a bad idea. Looks like he still has the moves, though.
Ohhhh, babygirl doesn't look so good.
Wolfwood and the girls know what's up, and Wolfwood in particular looks less than thrilled about it. First his soup, then sloppy mess Vash, and now his boss.
Vash, babygirl, what's going on in that spiky head of yours right now??
Wolfwood has clearly had enough of this morning's shit.
There's so much going on on this page, with characters overlapping without any panel breaks even though they're clearly not realistically positioned around Wolfwood. It's like our priest man is drowning in them. And then there's Vash, alone in the lower left corner, the last place you're likely to look when reading manga, and the only one set out from everyone else. ;_;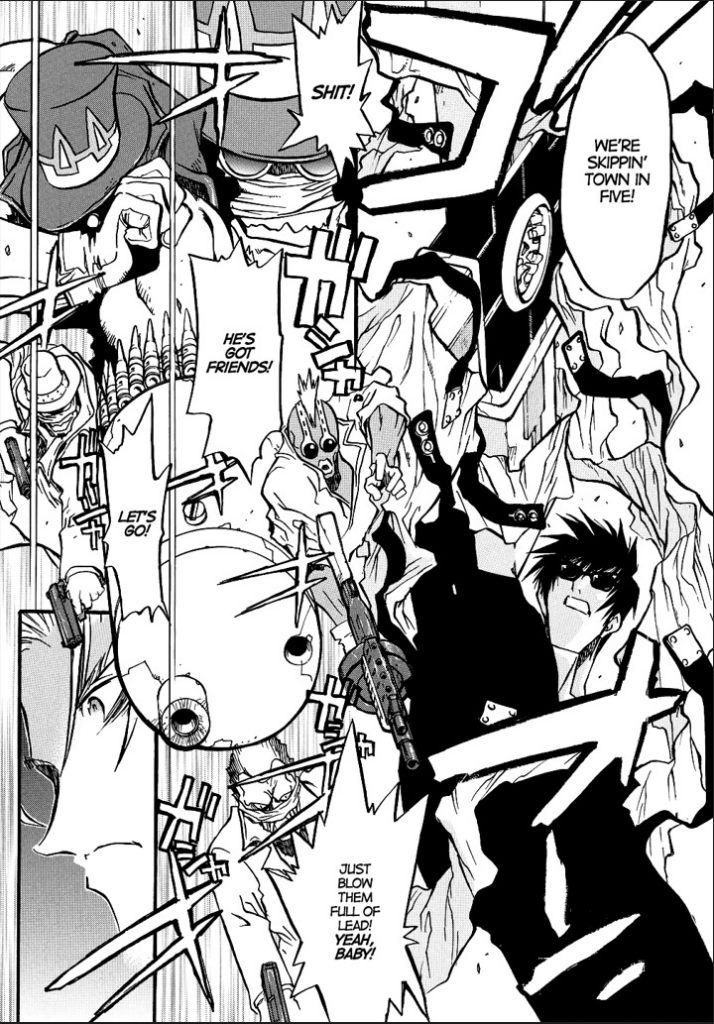 "Needle-noggin-isms." Heh.
Dude, this guy has Mad Max speakers.
Drunk or not, Vash still has mad skills.
He burned some of his power to catch that bullet. That's… he's really not in a good mental place, is he.
Meryl just goes into a full-on panic at the sight of it. Can't say I blame her, all things considered. No one was as up close and personal with that last encounter in the Dragon's Nest as she was.
Uggggghhhhh, Vash knows he's messed up.
Guys, I shoulda stopped three chapters ago. This chapter's depressing AF.
God bless Wolfwood. He's doing his best to protect Vash while abiding by them Needle-noggin-isms.
Milly's just straight up carrying Meryl, isn't she?
Vash, noooooo, this huuuuurts.
He's got too much he's trying to carry, and now he's just lost. Thank God for once he's not alone. He's got people around him right now, and that… that might be enough. Even one person having his back might be enough.
WHICH IS ALL HE'S GETTING APPARENTLY BECAUSE VASH CAN'T BEAR TO WORRY MERYL ANYMORE AND MERYL'S IN NO SHAPE TO DO ANYTHING.
Heh, the kid is trying his best to fight the adults. Good for him.
And Wolfwood, trying his best to lighten the mood. Awkwardly.
Chapter 6: Seeds Voyaging to the Stars, A World Inside A Pod
How DARE you show me their smiling faces after that. How dare. I'm in no mood. D:<
Oh, good. It's Knives. I think.
Ok, I love how in every one of these panels, the dark streak in Knives' hair is somehow hidden. It gets called out once on its own, but when we're looking at Knives' face, it's not there. It just kind of deepens how incredibly important it is.

The games are over. Now Knives has to find a different way to save his brother… and himself. Or risk them both dying in the process.
I wonder what Legato will think of his boss's new look….
I thought Elandira was down with Knives' plan because she had no issues with it for some reason, but now I think she's just here for the chaos and not really much more invested in who wins than Zazie is.
Ooof, Vash catching sight of his reflection. That face looking back at him is always his brother's.
Yeah, Wolfwood's run out of patience for this shit. He might punch Knives in the face if he had the chance right now. This… this is how he shows he cares about Vash's well-being.
Ooohhhh, is Vash getting echoes of what happened there?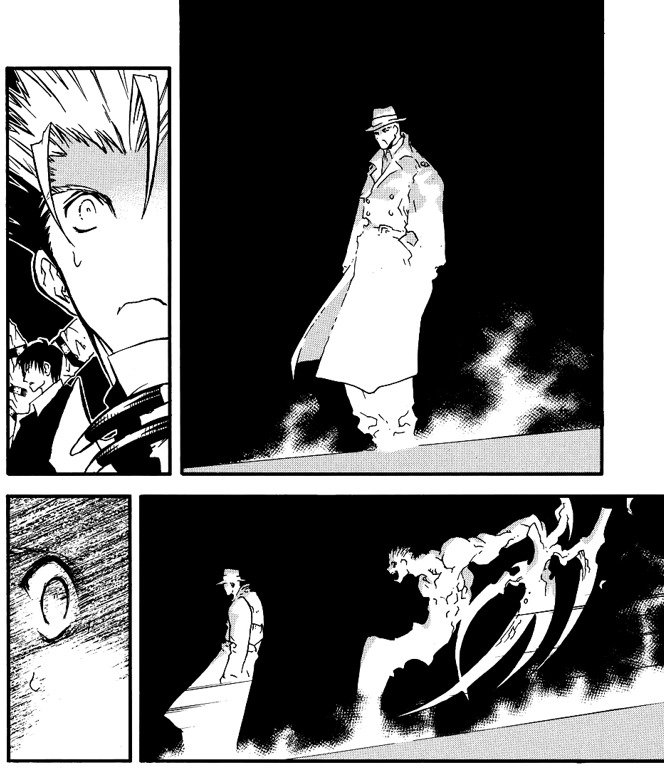 Seeing his sister's corpse isn't sitting well for Vash, either.
Hells, even before the fall, we have Vash just floating around by himself. He has a whole-ass happy, non-genocidal brother and a caring surrogate mom, and our introduction to him here is him by himself, touched by nothing, backdropped by the void of space.
Hahahahaha, the boys look so confused.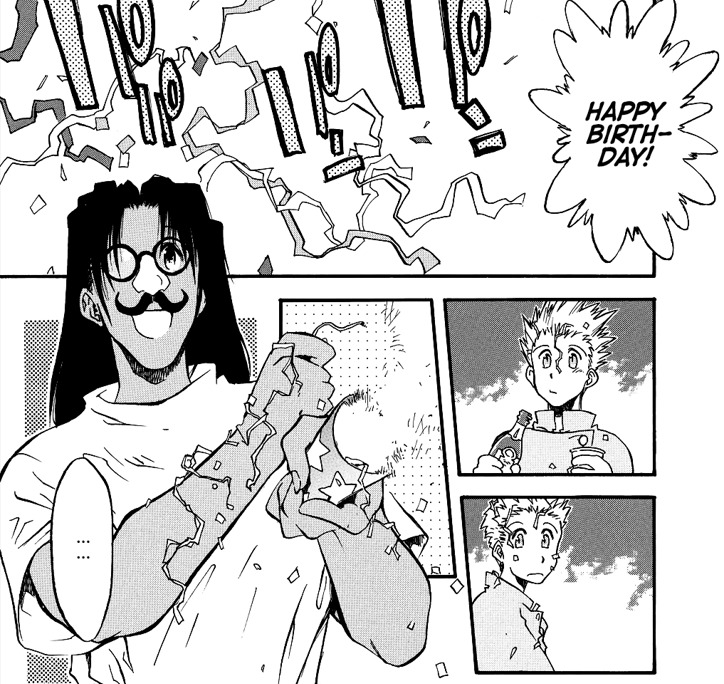 Interesting that Rem is wearing a silly mask at this awkward birthday party when we were JUST TALKING ABOUT how Vash plasters a fake expression on to try and paint things a brighter color. I'm sure it has no significance whatsoever, especially with Rem awkwardly dodging Vash's question about what's the matter by saying how incredible a year it's been.
OMG BABY KNIVES!!! You can't look at this and tell me Knives didn't adore Rem at least as much as Vash did.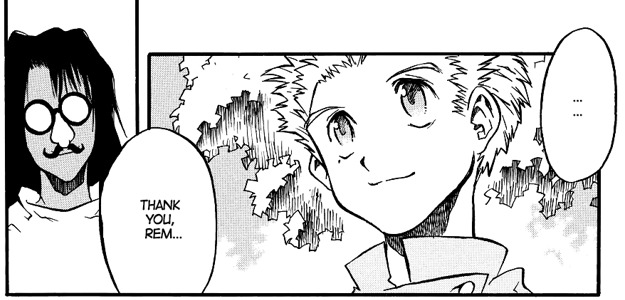 She adores them, too, despite how much she must feel like she's grasping at straws trying to figure out how to take care of them.
I love that every version of Trigun thus far has had a birthday scene for the boys with Rem.
Fishing them out of the plant bulb must have been a task.
Hahahaha, definitely a shortcut. In so many ways.
The boys aren't fooled. I know the boys are hyper-intelligent and all, but even normal kids often pick up on micro-emotions like this.
Ugggghhhhh, they both loved all the people on the ships. THEY BOTH LOVED ALL THE PEOPLE ON THE SHIPS!!!
Their conversation…. They both want to be friends with the humans, even if it takes effort.
Knives, maybe you should lay off some of the war movies.
I like to think they created Plants the way the Quarians created sentient AI in Mass Effect. They were just trying to do something that didn't include making a conscious intelligence, and then something went weird that no one understands, and now Plants.
Blaring space ship alarms are not a preferred wake-up method. Especially when you're on the spaceship.
Is Rem trying to hide the twins from the crew??
Cliffhanger ending?! Booooooo….
Author Bonus Chapter
Uhhhh, ok, I'm just gonna note the kana here…
…isn't exactly a sound effect like all the rest of the kana on this page. This is literally the word for "pants" (ズボン, zubon) repeated several times.
Why they're all shouting "pants" at a pro-wrestling event is beyond me. Maybe 'cause the guys often don't wear pants.
Tiny, tiny Nightow in the audience. You know, I would have never guessed he was into pro wrestling given the IMMENSE AMOUNT OF DRAMATIC POSTURING AND WRESTLING OUTFITS his characters wear all the freaking time.
Gods, I recognize some of those signs. I didn't even like pro wrestling….
"Check my monkey ass directly into smackdown hotel!" LOL
"Ah, this reeks of effort!" Classic Nightow.
LOL, I could see him trying to buy all the figurines for himself. Gotta admit, if someone made a figurine of the main character of something I published, I'd buy it, too.
I will never get over Nightow asking McFarlane to do an "American Check" on the gun. The legacy of my country, folks.
"Please detail this area as it pleases you." Good to know Nightow is paying attention to those small details when he draws. /s
Actually, he did bother to emphasize the need for the ear piercing and the mole, which is good.
Somehow, I don't think he regrets the chain too much.
Hahahahaha, he imagines the place like some sort of evil lair.
Ohhhhh, nooooo. New Jersey?? Gods, this must have been a thing for someone who wasn't very familiar with U.S. geography. This was in 2000, too, apparently, which means (for all you young 'uns) that the internet was notoriously unreliable for looking up stuff like this. This was back in the day when a lot of teachers banned the use of internet sources because it was just assumed they'd be wrong. Assuming your teacher wasn't afraid of the internet entirely because they heard people could find naughty images on it.
They make figurines via DARK RITUALS.
Good to know I'm not inexcusable. I may not have many figurines, but manufacturing processes have always intrigued me.
LOL, "san kyu." San kyu for writing it, Nightow. You bastard. I'm going to cry myself to sleep over fictional characters tonight because of you.
This song started playing around the time I finished up this volume, and it seemed fitting, so I'm gonna put it here.