Back to the Trigun Bookclub Archive
Trigun Bookclub By Volume
Trigun: Volume 1 | Volume 2
Trigun Maximum: Volume 1 | Volume 2 | Volume 3 | Volume 4 | Volume 5 | Volume 6 | Volume 7 | Volume 8 | Volume 9 | Volume 10 | Volume 11 | Volume 12 | Volume 13 | Volume 14 | General Commentary

Trigun Bookclub By Member: alena-reblobs | aluvian | annaofaza | anxiety-elemental-kay | caffeinefire | deludedfantasy | discount-kirishima | domfock | dravencore | eilwen | fifthmooon | hashtagcaneven | hikennosabo | iwritenarrativesandstuff | lizkreates | makima-s-most-smile | merylstryfestan | mydetheturk | namijira | needle-noggins | nepentheisms | nihil-ghost | ocelaw | pancake-breakfast | rainbow-pop-arts | retrodaft | revenantghost | sunday-12-25 | the-nysh | weirdcat1213
Original Tumblr Post: Covers + Chapter 1-2
Tired and headachey, but not yet ready for sleep, so I will read more Trigun.
Stream-of-consciousness thoughts for TriMax Vol. 4, Chapters 1-2 below.
TriMax Volume 4 Covers
Knives looks so nice on the cover, you could almost forget he's a villain.
My Japanese isn't good enough to translate Nightow's chicken scratch without putting in more effort than I'm going to tonight, so I'm pretending that Vash is crying because he's hungry and really doesn't want to give up this, the perfect bowl of ramen, to someone else.
Ey! It's a tiny Zazie! Also, that looks like Ninelives again on the back cover, and if he shows up in this volume in any useful capacity, I might have to break something.
Also also, saxophone! I wonder how Midvalley's spine is doing…. (Better than Legato's, probably. That boi's gonna have back pain for life.)
I'd be screaming if there was a cockroach on my neck, too, Wolfwood.
"Killer Horn Blues." I WONDER who we'll see in THAT chapter!
Chapter 1: Countdown
Jessica, are you not like 15?
Does… does Vash know he's your sweetie? Has he agreed to this??
LOL, Vash brought the boys. He knows better than to be alone with her. Brad looks happy, at least.
Wait, does "the boys" here include Twolives?! How in the world!??!
Pretty sure the LAST thing Brad wants to do is insult Jessica's food.
LOL, Wolfwood looks like his brain farted out at the idea of a satellite with intergalactic communication abilities. Vash is probably right to try and clear up the situation, despite Wolfy's protests.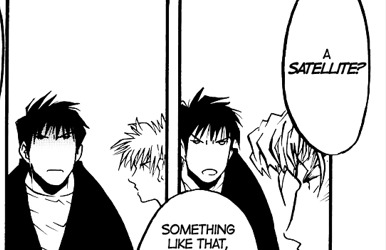 Oh, hey! I recognize that globe!
Interesting that it took them like 50 years just to get the comm signal working enough to send messages to earth.
Something something casual clothes Wolfwood!
Meryl wearing fringe!!!
This is… actually a really nice prayer.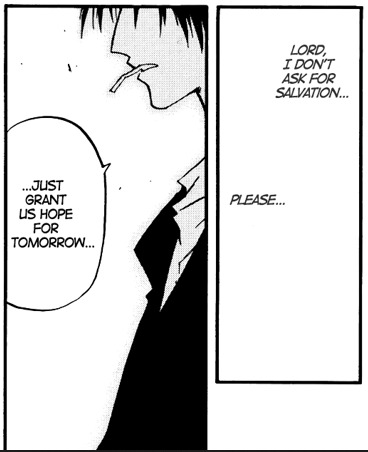 Oop, machine go *bing!*
Uhhhhh… I hope the Earth ship is gonna bring supplies if it's heading this way, given how little the people here have.
Casual boys! Casual boys!!!
LOL, the girls are already drunk somehow….
Luida, thanking those who put in so much work but didn't quite make it to the day….
Heh, Vash's drinking tie has made an appearance.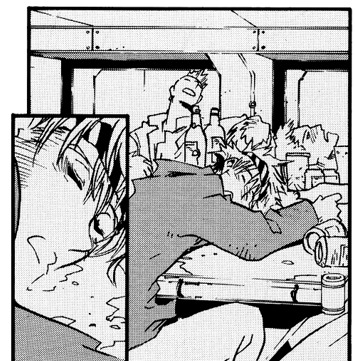 Whoa. Angry Knives face jumpscare. Why's he gotta be like that??
Welp, that sobered Vash up real quick.
He was trying to make an angel arm in the last volume! Knives, sir! Put. That. Away!
Something sharp seems to be moving very fast….
Ohhh, Knives picked up the signal and isn't pleased.
He… he might make good on his threat. He has the ability. Also, glad he doesn't have his stupid helmet and that chest spike anymore. Also also, he needs to finish belting those belts on his one leg.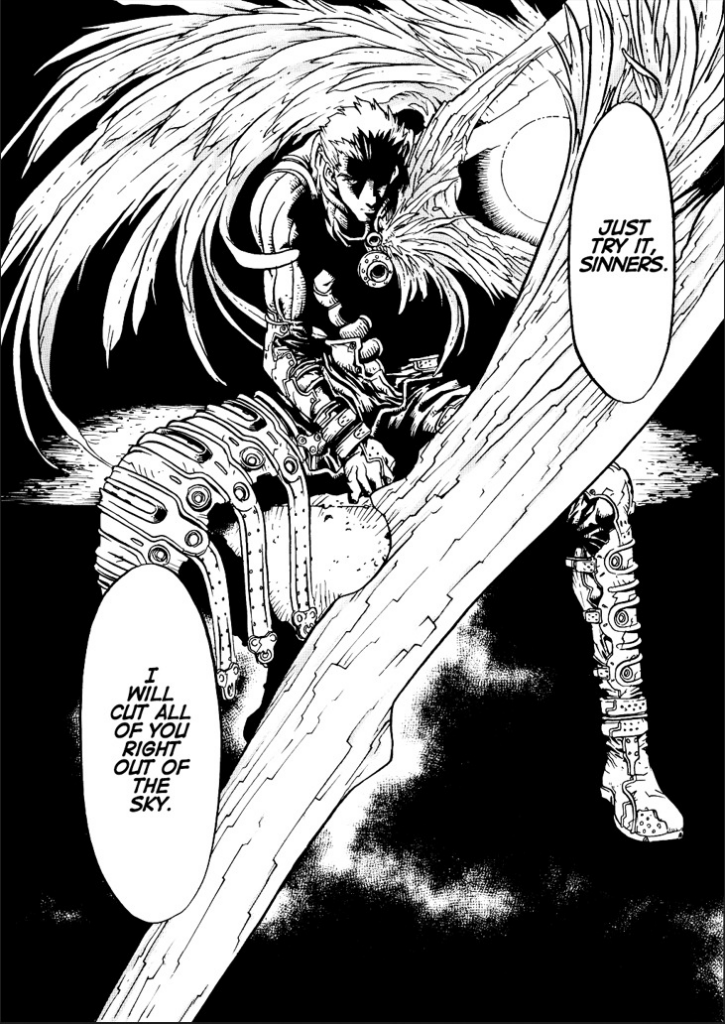 Brad might still be a bit iffy about Vash, but at this point, Vash trusts Brad. Their relationship has come a long way.
I honestly don't blame Vash for wanting to sneak out before Jessica notices. If I had someone that clingy forcing me into an uncomfortable romance situation, I'd skedaddle, too.
LOL, Wolfwood freezing outside. Insisting he comes along. Not giving Vash a say in the matter, really.
Jessica. Honey. Move on.
Chapter 2: Killer Horn Blues
So, we've gone through about half the Gung-Ho Guns at this point.
Looks Like Midvalley's band really killed it onstage, huh?
Heh, for all the weirdness in the Gung-Ho Guns, it seems like Midvalley and Hoppered get along pretty decently.
Ohhh, is this flashing between present time and when Midvalley was recruited?
Knives looks eerily similar to Vash here. His expression is almost kind. He looks like Vash when Vash is tired.
Dude. Midvalley. This is not a good way to live one's life.
Midvalley might have saved his bandmates' lives by telling them to stand down. He might be belittling himself for not noticing a bad deal when it comes his way, but in this flashback, it seems like he actually did recognize it, and perhaps just didn't know what to do about it.
Knives, knife collector. I like it.
I like how in the spread of the Gung-Ho guns here, Wolfwood's cross is unmistakable. Just in case for some reason the reader forgot, they're taking the time to remind you that this is where Wolfwood was some volumes back. Though, notably, Wolfwood himself doesn't appear to be in this shot? Or at least not recognizably. There's a lot going on here so maybe I'm just not seeing it….
Midvalley understands that someone interested in genociding the human race isn't going to stop once his elite chosen have wiped out the last of the others. He knows his life is forfeit as soon as the job is done. And he has no idea how to get out of this deal.
Eyyy, it's sopping wet cat Legato!
There we go. The reveal of what exactly Wolfwood's role is in all this, as assigned by Knives himself. I'm sure this will bode well in the long-term for Vash and Wolfwood's relationship and nothing bad will happen to either of them because of it.
Hahahaha, Legato didn't know. He feels left out. Unlike Midvalley, he somehow thinks he might be of value to Knives. He wants to be of value to Knives so bad. And it just makes him more of a monster.
Ah, Midvalley didn't manage to save is band after all….
Some part of him really, really wants to take out Knives. Even if the attempt will kill him.
For some reason, I suspect Knives knows Midvalley's feelings on this. I think Vash would know if their positions were switched. And Knives can figure it out, too.
I'm gonna pretend Wolfwood is jealous of Rem, this unknown woman who Vash is obsessed with, because he's misreading the situation and overly attached to Vash.
"A few million miles without water." LOL
Wolfwood's brain is too far in work mode right now. Stop it, Wolfy.
I hope that car is the girls.
YUUUUUUUUSSSSSS
Meryl flaunting her water as they drive by is priceless.

Heh. No more solo missions for the Gung-Ho Guns against Vash. They're losing too many of their numbers that way.