Back to the Trigun Bookclub Archive
Trigun Bookclub By Volume
Trigun: Volume 1 | Volume 2
Trigun Maximum: Volume 1 | Volume 2 | Volume 3 | Volume 4 | Volume 5 | Volume 6 | Volume 7 | Volume 8 | Volume 9 | Volume 10 | Volume 11 | Volume 12 | Volume 13 | Volume 14 | General Commentary

Trigun Bookclub By Member: alena-reblobs | aluvian | annaofaza | anxiety-elemental-kay | caffeinefire | deludedfantasy | discount-kirishima | domfock | dravencore | eilwen | fifthmooon | hashtagcaneven | hikennosabo | iwritenarrativesandstuff | lizkreates | makima-s-most-smile | merylstryfestan | mydetheturk | namijira | needle-noggins | nepentheisms | nihil-ghost | ocelaw | pancake-breakfast | rainbow-pop-arts | retrodaft | revenantghost | sunday-12-25 | the-nysh | weirdcat1213
Original Tumblr Post: Chapter 6-7
Well, it's a good thing I tried to get ahead earlier in the week because it took this long for me to get to the last part.
Stream-of-consciousness thoughts for TriMax Vol. 4, Chapters 6-7 below.
Chapter 6: The Bystanders
Falling ships and giant worms. Looks like we're off to a great start here.
Ok, I really hope we get a worms-eye view of The Fall in Stampede. I'm not gonna hold my breath given that they've kinda already covered it and they just don't have a ton of episodes to work with, but I love love love the idea that we get this backstory from the perspective of the planet's native, sentient, and very inhuman inhabitants.
You know what, Zazie? I dunno what this face is supposed to be, either.
Ah, the Japanese inclination to apologize for everything.
Oh, gods. Nightow's gonna intersperse this backstory with the boys fighting, isn't he? *SIGH* I wouldn't normally complain, but Nightow's fights are, far more often than not, hard enough to follow to begin with.
For as twisted as his body is, Hoppered's hands look very normal. I don't know what I was expecting.
Ohhh, Hoppered's beef is about July. Shoot, I saw someone make a comment about one of the cops in Stampede during July, and now that makes sense. Like, at the very least, that cop's line was a callback to this scene.
Ah, the innate trouble with translating the two-syllable Japanese "待って" (ma'tay) to the monosyllabic English word "wait." Personally, I would have gone with "W– Wait!" but I'm not the one doing translations here.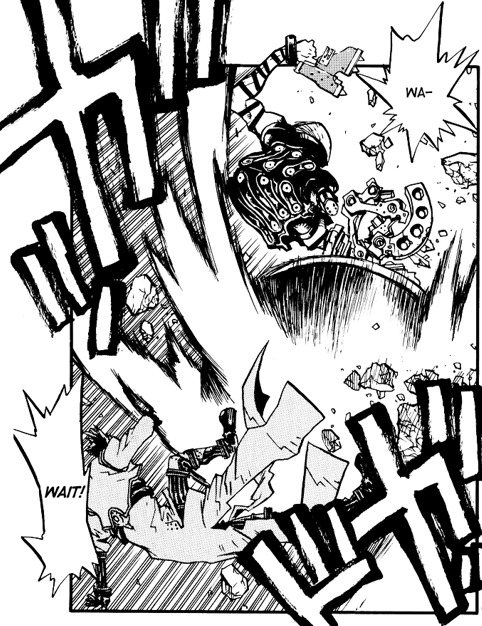 Vash is denying it because he can't imagine wanting to destroy a city, but Hoppered is right; he just doesn't know.
Is… is Hoppered crying?
Eyyyy, old-school Hoppered! Looks like he was a bit of an odd one even before he joined up with the Gung-Ho Guns.
Ah, there's that term "independent." But the way Zazie's presenting it is making me think about it in whole new ways. Stampede brought it up in a way that made me think of them as having a freedom other Plants don't, but this interpretation has me thinking of the innate alone-ness of both Vash and Knives, what that means to them, how they deal with it and how they make it a part of their being. Knives revels in it and lets it feed his sense of superiority (much to Legato's dismay, I'm sure). Meanwhile, Vash… I wouldn't say he resents it, but he finds it very lonely, and it doesn't make him feel superior so much as it makes him feel very Other.
And here's the first place we have it straight-up said that they're Plants.
Ah, so the Bystanders referred to in this chapter title are Vash and Knives. I thought it might end up being the worms. But hey, no reason the title can't work both ways.
And then ANGEL ARM?!?! Ohhhh, Zazie's story's being interwoven with Hoppered's. This is July. How was I supposed to know that without metagame knowledge??
Ok, this panel is great, 'cause it was only a few pages back that Zazie noted they have the innate ability to sense others' emotions. It just adds a level of intimidation on the whole thing.
Hahahaha, Midvalley. I guess I shouldn't laugh at his suffering, but he tried to kill Wolfwood, so eh.
There's something innately ridiculous with him being like, "Time to pull out the BIG GUNS!!!" and then immediately being like, "Aw, man! My instrument's busted or something…."
"He's almost too pathetic to kill at this point." Rude.
Black-suited moron? Wolfwood?
Yeah, it's Wolfwood.
Milly to the rescue! Again!
LOL, he's doing better than he looks.
But not as good as he thinks he's doing.
The Adventures of Big Girl and Short Woman by Nicholas D. Wolfwood
Uhhhh, who's the person with the light?
Hahahaha, Zazie looks sooooo unimpressed with Midvalley right now.
Zazie has a point, but I think he's preaching to the choir here.
Where tf did Midvalley get alcohol from all of a sudden? Also, is the alcohol called "Drifter"? If so, that's kinda cool. Something something meaningful names for alcohol in this series.
Oop, Zazie's worm sense is tingling!
Chapter 7: Hopeless Sinner
CW: Suicidal ideation
Oh, Vash. This look has me really worried for you.
"Sinner" is generally the word Knives uses for humans in this series. I wonder, though, if it might be being used to apply to Vash here.
Ohhh, babygirl looks soooo troubled. And then looking up and seeing the hole in the moon…. That's not gonna improve his mood.
Ah. He remembers. And… you know… in this shot, he looks amazingly like Knives.
Heh. Hoppered just… sort of peering over him. Like he's checking on his wellbeing. It's the opposite, but the casualness of it is deceptively calm.
I'm… honestly not quite sure what Hoppered did to silence Vash here. Slap him, I guess?
Ooooof. Vash just straight up embraces the killing urge inside him. He looks it straight in the face and says, "Yeah. This is a part of me." But in the same breath he rejects it, says it's not something he wants because he doesn't want to go down that path. He doesn't want it so bad he'd take his own life to keep it from taking over.
Gods, he's sooooo sad. Even Hoppered feels bad for him.
Hoppered still wants him dead, and still wants to die, as well. TBH, this feels more like he empathizes with Vash to some degree. Something something double suicide.
Uhhhhh, sudden light??
Yeah, I dunno what happened here, either. Vash got knocked somewhere?
*sigh* Wheeeerrrrre does Wolfwood think he's going???
Did… he just gut-punch Milly????
Yes. Yes, he did.
He deserves booing. But I love how he just… caves. I bet he didn't really want to leave and was only gonna do so to get Milly out of there. But Milly didn't want to go peacefully and so here we are.
I really feel like Midvalley should get a strap for his sax. It seems like that would be useful. And this series can't have too many straps, belts, etc.
If five seconds is all it takes, why isn't Vash dead yet? Hmmmmm???
Uhhhhh, what's with this crazy airship??
Ohhhhh, shit. I have enough spoilers to know who that is.
This chair, though. It looks like a musical instrument.
Author Bonus Chapter
I have no idea what Nightow is rambling about here with this Barbarian Bonehead All-Stars nonsense.
Ohhh, so this isn't Kuroneko. This is Nya-Kun. My bad, I got them confused.
"My emotions are overflowing into rambling!!!" Hahahahahaha, I know we all do this from time to time, but it just feels very Nightow.
Ohhhh, something got lost in translation here. I've watched enough Attack on Titan to know that apparently Nightow replaced a word here with the pronunciation for "heart," but there's no corelary on the page.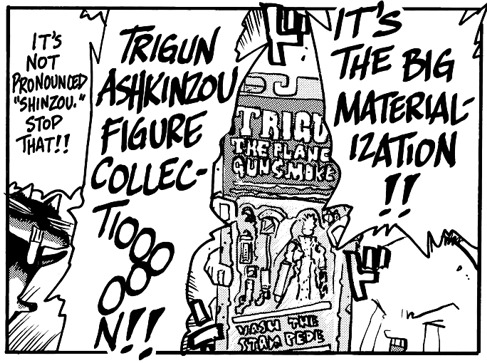 I had heard about Nightow's love of action figures.
"They gather at the ocean with pleasant feeling." This sounds like something that was translated too literally from Japan. The phrase doesn't quite work in English.
"The meaning of their name in Japanese is 'omocha buzoku.'" This tells me nothing about the meaning of their name in Japanese. I am very confused.
Ah, he addressed the difference in the planet name from the manga to the anime. Sort of.
Haaaahahahahaha, ok, Story Time. A couple weeks ago I was at Anime Expo with @sweetpotoooooooos, and she went to a panel by Studio Bones (one of the old-timers as studios go) on one of the days when I couldn't attend. She said that during the panel, Bones mentioned that when they first got word of just how popular Fullmetal Alchemist (the original) was in the U.S., they thought they were being lied to. The numbers seemed too high. (As someone who was into anime at that time, I can verify that four of their five titles preceding FMA were talked about in the community, but only Wolf's Rain actually aired on Adult Swim where it could reach a broad audience… and… well, let's just say Wolf's Rain is not as good as FMA. (It does have an excellent Yoko Kanno soundtrack, though.)) FMA was first broadcast on Adult Swim in 2004. Trigun was first broadcast on Adult Swim in '03. The idea that anything anime would be popular enough to warrant action figures in the West would have absolutely been mind-blowing to any mangaka, and much more so one as in love with figures as Nightow.
Mata nee, minna-san!