Back to the Trigun Bookclub Archive
Trigun Bookclub By Volume
Trigun: Volume 1 | Volume 2
Trigun Maximum: Volume 1 | Volume 2 | Volume 3 | Volume 4 | Volume 5 | Volume 6 | Volume 7 | Volume 8 | Volume 9 | Volume 10 | Volume 11 | Volume 12 | Volume 13 | Volume 14 | General Commentary

Trigun Bookclub By Member: alena-reblobs | aluvian | annaofaza | anxiety-elemental-kay | caffeinefire | deludedfantasy | discount-kirishima | domfock | dravencore | eilwen | fifthmooon | hashtagcaneven | hikennosabo | iwritenarrativesandstuff | lizkreates | makima-s-most-smile | merylstryfestan | mydetheturk | namijira | needle-noggins | nepentheisms | nihil-ghost | ocelaw | pancake-breakfast | rainbow-pop-arts | retrodaft | revenantghost | sunday-12-25 | the-nysh | weirdcat1213
Original Tumblr Post: Covers + Chapter 1-3
I still have Thoughts on Volume 2, but I think it's time to start Volume 3. Maybe the Volume 2 thoughts will sort themselves out better in the meantime.
Stream-of-consciousness thoughts for TriMax Vol. 3, Chapters 1-3 below.
TriMax Volume 3 Covers
Eyyyy! It's blonde Milly!
I kinda miss Meryl's long hair….
His life as a what?!?!
Whyyyy is Vash getting punched on the alternative version of the cover?? Hasn't this boy been through enough pain???
LOL, Milly eating the food from Meryl's chopsticks.
I just wanna point out that the kanji all over the alternate front cover just says "meat" over and over again. Sasha Braus would be proud.
Nooooo, send the puppet guy awaaaaaaay! No more puppet guy! *cries*
Yes, the puppet guy bothers me more than the otherworldly horror on the bottom of the back cover. And more than Legato, who is arguably also a puppet guy.
I'm a lot less sure about all the untranslated Japanese on the alternate back cover, but it looks like Wolfwood is saying something about meat, and the text bubble on the bottom left just says, "Meeeeeeeaaaaaat."
LOL, tiny poorly drawn penis on the giant monster-guy.
Chapter 1: Reservoir Dogs
Awww, look at everyone being deceptively happy! Even Kuroneko's making an appearance! (Also, yes, this is Wolfwood's happy face.)
I love how calm Vash looks here despite everything. Wolfwood, on the other hand, seems to have some different thoughts. But… he's actually onto something. That level of calmness despite everything is and should be terrifying. (I colored it because Vash is so pretty.) (Also, I legit forgot the smudge on his face was blood until I started coloring this.)

Pretty sure this guy is giving Wolfwood major tit window envy.
Heh, the real reason Wolfwood is swearing is because everything Vash has told him is messing with his head. What would normally be a point-and-shoot choice for him has suddenly become complicated with Thoughts.
Not sure what happened here. Something exploded… and… Wolfwood threw up??
Well, that cleared some stuff up for WW. Though I get the idea this guy can eat a LOT of lead before it gives him an upset tummy.
LOL, "Takin' out his hands is like disarmin' him." I'm not sure if the pun works in Japanese, but it's funny in English.
No no no no no! Put Puppetman BACK WHERE HE CAME FROM!!!
I don't even mind his horrible body-moosh-horror abomination as much as I mind Puppetman himself. (I know he's "Puppet Master," but he doesn't deserve enough of my respect for that.)
Is… the abomination trying to do a video game cheat code on Vash?
Shoot all the things, Vash! I dunno what you're shooting, but as long as you do, that's what matters!
Cool guy pose.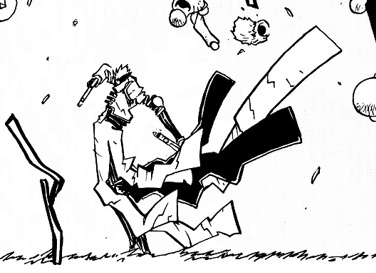 Awww, sad Vash. When this battle is over, someone needs to give him the biggest of hugs. He's earned it. He needs it.
WTF, bat wings??? From where?!
Oooh, creepy comparison shot of Vash plus Knives. I approve.
Dude. Now the creepy guy is digging trenches in his own face with his own hand. While wearing gloves. What the hell. Please get rid of him.
Untainted material?! Make him your puppet?!? Where's Wolfwood with his murder-cross? I need some murder to happen here.
Oh, he's in a hole.
"Yer name might remain, even long after ya die… but yer ideals join ya in the grave." I love this line. It reminds me of a favorite of mine from Mass Effect's Samara: "Only your actions will be remembered. May you choose them well."
I like how, all throughout this scene, Wolfwood's got the Punisher on a little leash like it's a boogie board or something.
Holy crap, the girls are here, too??? This is not a safe place for the girls. Or for anyone, really. But particularly people without some sort of superhuman something going for them.
Saved, by terrified toma causing delays!
Chapter 2: Cement
Legato, you freaking dork. Glad you're enjoying being carried everywhere in your weird coffin-iron maiden thing.
Heheheheheheh. Wolfwood the traitor. <3 you, Wolfie….
LOL, Wolfwood's absolute casualness at this accusation is beautiful.
Dude. Ninelives needs some dental work pronto.
For as much as he resents certain aspects of his life, Wolfwood really seems to revel in certain kinds of carnage. He's nothing but focus and falling bullets in this fight.
One must wonder, does the Punisher ever run out of ammo? Does Wolfwood even know that machine guns are best used in short bursts, or is he just that good at "pray and spray"?
Ninelives clearly ate ALL his vegetables as a kid. WW's looking a bit worried.
RIP Wolfwood's ribcage.
And the Punisher is so far away, too….
Ha! Pocket Pistol!
I just wanna say that despite this guy having a cat-like name, Ninelives is a disgrace to cats everywhere. He's nothing like a cat and that's not a compliment.
You know… using a big-ass industrial factory-type door to keep out the giant murder monster is a pretty good plan at this moment.
LOL, Wolfwood, you cheeky bastard.
I dunno if taunting Ninelives is a great plan, even if he's missing an arm. Congrats on finishing your disarming procedure, though, Wolfie!
Or is he the dumbass who dove right in and is now torn apart in this place…?
I don't have any idea why this chapter is called Cement. Like, usually I can make some sort of connection, but this one is lost on me.
Chapter 3: No Escape
Wait wait wait. Did that disembodied arm just CRAWL ACROSS THE ROOM AND OPEN THE DOOR?!?! Gods, someone kill it with fire, please.
This is just… so Wolfwood. You do you, my lovely foul-mouthed murder-friend.
I feel like Vash heard all that and is mad because Wolfwood is trying to kill someone again.
Gods, why did Nightow have to make Vash SO PRETTY in this arc??
Ew, Ninelives is gross. He's just gross. Puppetman is creepy. Ninelives is gross.
He's called Ninelives. Maybe you just have to kill him nine times….
Uhhhh… Ninelives has EYES in his belly?? PEOPLE IN HIS BELLY?!?! LIVING BELLY PEOPLE?!?!?!?!
For some reason, Wolfwood cocking the Punisher here amuses me. (The sound effect is "ga-kin".)
Scenes like this make me kinda glad this isn't in color. Then again, I got through Attack on Titan, Chainsaw Man, and Hellsing Ultimate despite all the guts and stuff, so *shrug*.
SO. MANY. GOOD. VASH PANELS. Ugh, I just want to pour them on pancakes and eat them all up.
Ugh, Vash knows as soon as he sees them. He has no choice but to know. The situation means there's no way it could be any different. But part of him would still hesitate.
Also, the baby pulling a gun is REALLY darkly hilarious.
This whole business is really mucking with Vash's instincts, and Puppetman knows it. Can we please throw Puppetman into Mount Doom now???
Wait, who's Emilio??
Ugh, I have to call it here for the night. I just want to get past this. I want Vash to get past this.