Back to the Trigun Bookclub Archive
Trigun Bookclub By Volume
Trigun: Volume 1 | Volume 2
Trigun Maximum: Volume 1 | Volume 2 | Volume 3 | Volume 4 | Volume 5 | Volume 6 | Volume 7 | Volume 8 | Volume 9 | Volume 10 | Volume 11 | Volume 12 | Volume 13 | Volume 14 | General Commentary

Trigun Bookclub By Member: alena-reblobs | aluvian | annaofaza | anxiety-elemental-kay | caffeinefire | deludedfantasy | discount-kirishima | domfock | dravencore | eilwen | fifthmooon | hashtagcaneven | hikennosabo | iwritenarrativesandstuff | lizkreates | makima-s-most-smile | merylstryfestan | mydetheturk | namijira | needle-noggins | nepentheisms | nihil-ghost | ocelaw | pancake-breakfast | rainbow-pop-arts | retrodaft | revenantghost | sunday-12-25 | the-nysh | weirdcat1213
Original Tumblr Post: Chapter 7-9
Ugh, too sleepy. Almost done with manga. Can't fall behind now….
Stream-of-consciousness thoughts for TriMax Vol. 13, Chapters 7-9 below.
Chapter 7: Catch-As-Catch-Can
Yeah, don't overdo exercise training, kids. Not only is passing out DEFINITELY not good for you, but you can get seriously injured even if you have a spotter. Even if you only get a minor injury, it can put your training back weeks or months.
Awww, Livio looks so young here! Look at his short, floofy hair! I hope he grows it out a bit again. Maybe not quite like he had it before, but yeah.
Do people actually do finger push-ups, or is that just something for badasses in animation and comics?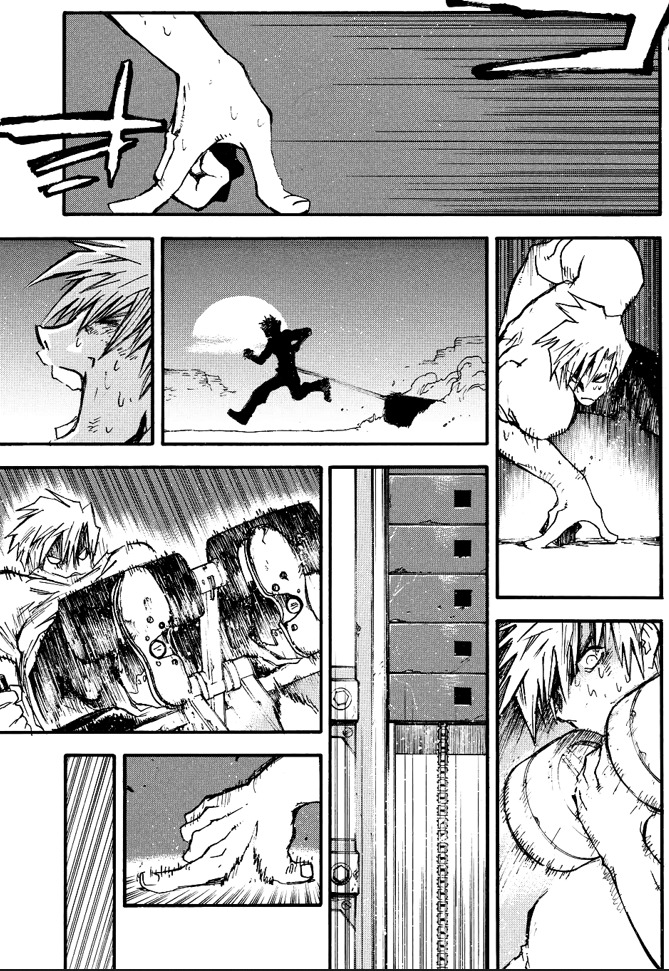 Aw, man! He got to wear a Wolfwood outfit? I feel robbed.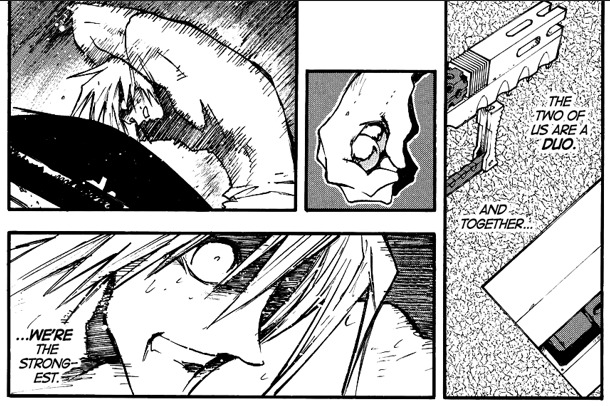 Ah, she's doing that thing again. I think.
Oh, what? Elendira's finishing move is a really big nail? Lame.
She's really putting lot into all this, though, isn't she? She looks a bit rough.
Oh, shoot. It's the nuke.
She senses something. I WONDER WHAT.
Yeah, it was Livio.
I like his simple mentality here. Very straightforward.
NO! No one's allowed to drink vials anymore! NO MORE VIALS!!!
Him? Wolfwood??
Chapter 8: Tipped Wings
CW: Gore
TBH I don't know how the hell Livio won this fight. Assuming he technically won at this point.
Heh. Yeah. "Him" was Wolfwood. But of course Livio knows him as Nicholas.
Aaaaand we're back to my favorite wet cat, Legato Bluesummers.
How does he know Elendira has been defeated? Did he have a little feeler in her? Was he skimming her brain kinda like when he had a little mind convo with Vash?
Dude. I thought you wanted to win this. You guys can't both die to each other in this fight. I will genuinely be annoyed if that happens.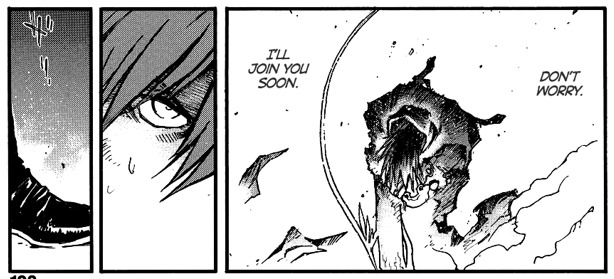 Guernica? You mean the flail thing? That thing had a name???
Heh. I appreciate Legato calling Vash a force of nature here. After all, he is the Humanoid Typhoon.
Awww, look at baby Legato raiding the leftovers from July. Also, hasn't it been like 25 years since July? Just how old is Legato??
Ohhhhh, this is where Stampede got his character design. Like, yeah, they straightened his hair, but I recognize that short little jacket.
Welp, Knives has seen better days. Actually, this is a lovely turn on the way Rem is often paneled with Vash. Instead of a small Vash and a dominating, hopeful figure of Rem, we have a small Legato with a very, very broken Knives dominating the upper third of the panel.
Yes, because the thing Legato needs is another reason to have a psychotic break.
Geez, he's just… scooping up Knives' guts to try and… what, shove them back in? Carry them with them?
He's soooo sad, too.
Knives. What. The. Fuck. Just let the boy cry, idiot. He adores you. Also, talking while you're half corpsified is creepy. Cut it out.
Aww, Vash is still trying to save him. Gods, I wish Vash had found him instead.
Goodbye, weird machine gun doll flail thing. We barely knew thee.
Oh, dang. Legato got the jump on Vash.
Chapter 9: VS
I have no idea what's going on here. At least it led to weird, dramatic Legato pose?
Legato, no. This is not how it should be. This is not how anything should be.
Mmm, Wolfwood memories.
Vash is right. This isn't a fight anymore. But I think Legato knows that.
Oh, would you look at that. Thanks, literally the first panel on the next page.

Ok, but did Nightow have to draw his fingers this sexy here??
Legato's trying, but he's not getting through Vash's defenses.
Huh. Interesting that the Earth Fleet guy with his vastly broader knowledge of Plants would state Vash is a rarity. I like that all his sisters seem very fond of him, though.
Chronica is bitter about Domina. It might have been a bit of a mistake for Knives to off her.
Knives says this, but Chronica knows this, so… I wonder what she's actually planning here.
Wait, just who are they attaching a cable to??
Of course Milly and Meryl would have Vash's back.
Hahahaha, this really highlights the contrast between the two characters.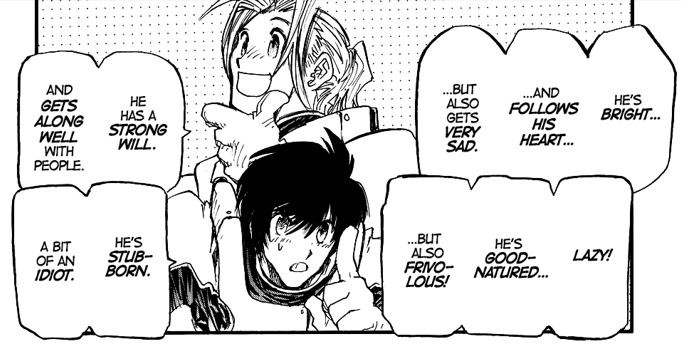 Love and peace, yo.
Gods, Legato just keeps coming at Vash. He's getting ripped apart by Vash's defenses, but he just keeps at it.
What? Vash? What are you doing?? You… you need that box, don't you???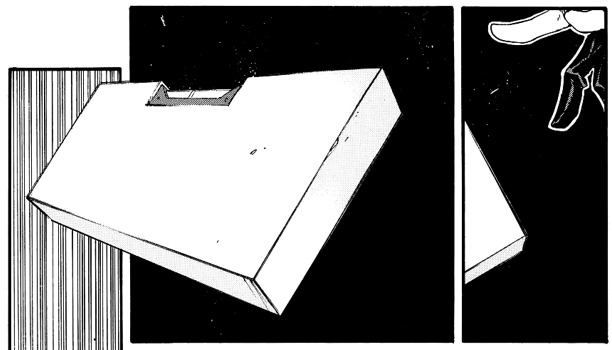 Ohhh, they're doing shonen battle showdown pose. It's on now.
Aw, dammit. I guess it's on in the next (and final!) volume.