Back to the Trigun Bookclub Archive
Trigun Bookclub By Volume
Trigun: Volume 1 | Volume 2
Trigun Maximum: Volume 1 | Volume 2 | Volume 3 | Volume 4 | Volume 5 | Volume 6 | Volume 7 | Volume 8 | Volume 9 | Volume 10 | Volume 11 | Volume 12 | Volume 13 | Volume 14 | General Commentary

Trigun Bookclub By Member: alena-reblobs | aluvian | annaofaza | anxiety-elemental-kay | caffeinefire | deludedfantasy | discount-kirishima | domfock | dravencore | eilwen | fifthmooon | hashtagcaneven | hikennosabo | iwritenarrativesandstuff | lizkreates | makima-s-most-smile | merylstryfestan | mydetheturk | namijira | needle-noggins | nepentheisms | nihil-ghost | ocelaw | pancake-breakfast | rainbow-pop-arts | retrodaft | revenantghost | sunday-12-25 | the-nysh | weirdcat1213
Original Tumblr Post: Covers + Chapter 1-2
Not really ready to move on from Vol. 10 yet, but here we go anyway.
Stream-of-consciousness thoughts for TriMax Vol. 11, Chapters 1-2 below.
Volume 11 Covers
I see Nightow decided not to give spoilers for Vash's hair here.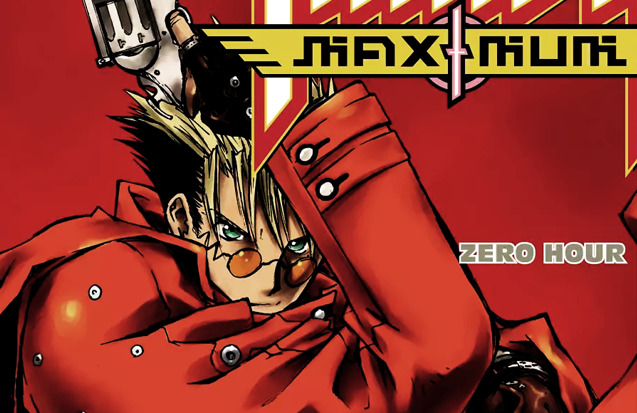 That rabbit looks less than happy… but I think Vash deserves to hug a bunny right now.
Looks like we're gonna get some Milly and Meryl again in this volume! Hooray!
Also Legato. Maybe someday he'll evolve from a bagworm into a bagworm butterfly??
And Zazie, whom we haven't seen since like Dragon's Nest.
And… shall we say, a new blond lady friend??
You know, I never actually read the text on the back cover. It's an old habit after having the blurb on the back of a book give me major spoilers once.
I'm pretty sure no one really knows what's going on with the fake back cover here, including Nightow. I hope everyone's enjoying their duck lips.
Slap-Stick Days? Are those really a thing this manga can have at this point? Or is this just another setup so we can end the chapter on "Slap-Stick Days/End"?
Chapter 1: Zero Hour
Awww. His darkened hair makes me sad.
Whyyyyy do I have to start this out looking at Chapel's stupid mug again??
Ah, Legato… has looked better.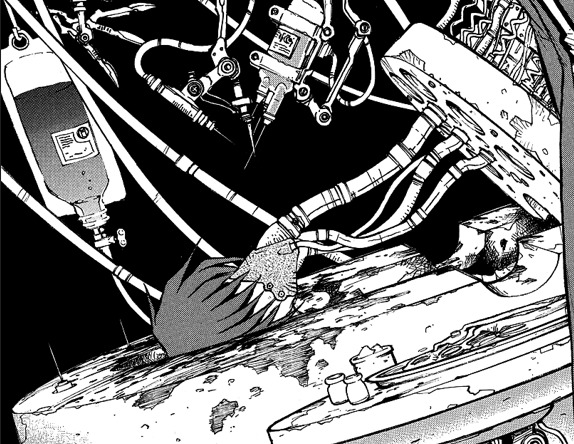 "Chapel and the old man are both dead." As in… Wolfwood Chapel and Old Man Chapel??
Ohhhh, geez. I didn't realize just how separately they treated Livio and Razlo. But I guess he really is both Double Fang and Trip of Death.
"Falling out like teeth." Man, they never stood a chance. They've been decimated for a while now.
Wait, when did Legato get shot in the spine? I thought… ohhhh, Wolfwood. Nevermind, I was thinking this was, like, part of his everyday treatment when he's not in his little metal cocoon. Then again, I don't know how he'd have received any treatment like this over the seven months he was holding down Vash. Hells, I don't know how he went to the bathroom during the seven months he was holding down Vash.
Oooh, I was wondering if this element would come up. Zazie looks pretty pleased with their chosen path.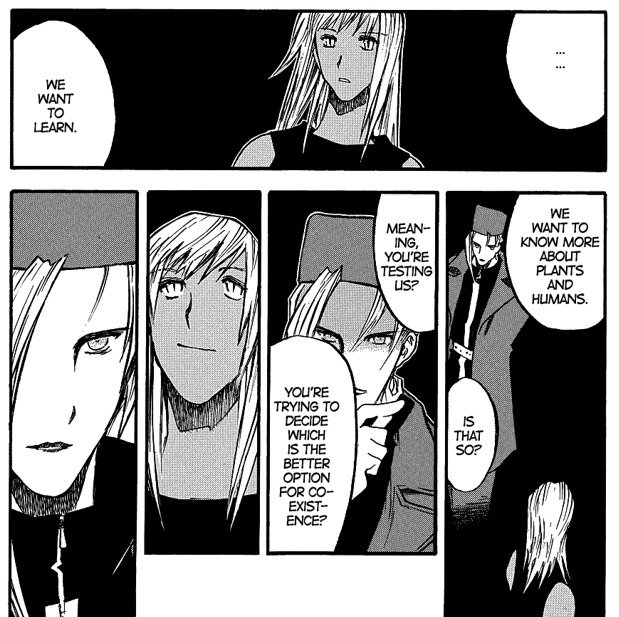 Knives, you crazy abomination, what are you doing now??
It's a good thing Livio knows how to drive given Vash's history behind the wheel.
Is that a Bentley?? How did they get a Bentley??? How in the hell would that be practical on a sand world??? (I assume it came from the same place as the Prada bag Meryl wants to get.)
Ugh. Vash does not want to answer Brad's questions. This is the face of a man who's tired of thinking about it. He's been thinking about it waaaaaay too much, and he was just kind of hoping for a minute's distraction from his brain thoughts. But he knows he has to explain, even if he doesn't want to.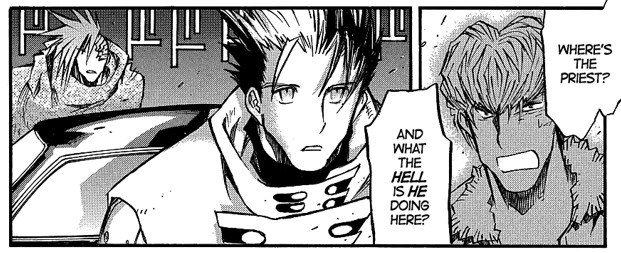 Livio has so many cute little expressions in these pages. They give me life.
I get where Brad's distrust comes from, but Vash doesn't have the heart to deal with it right now. He's doing his best, but he's so tired. Emotionally, I mean.
I love how Vash takes Brad's objection and immediately counters with a real-life example.
Oh, I love the firmness bordering on anger here. Like Livio suggesting Vash is being too trusting with him specifically is an insult to Wolfwood's memory. Gods, babygirl is sooooo angry and hurt by all this right now.
LOL, Brad's anchor tattoo. I know this is kind of a joke panel, so now I'm wondering if he actually has one.
Livio apologizing. I think he really would bleed more as penance for Wolfwood, if he could. Like, he'd accept more grievous injury than Brad can do to him and wouldn't seek retaliation because if it's not fair, it's not fair in his favor and not in theirs. They have a right to seek retribution. To a point, though. He doesn't seem suicidal.
Oh, an ion cannon, eh? I'm sure this will go well for them and not get decimated by Knives from 100 meters or something.
Ohhhh noooooo. They're gonna Last Run a bunch of plants to power this thing.
That's sooooo many plants.
Yeah, as if Knives wasn't pissed enough.
Huh. I honestly didn't expect the Plants' will to come into play here.
I love how insect-y the plants look on this spread.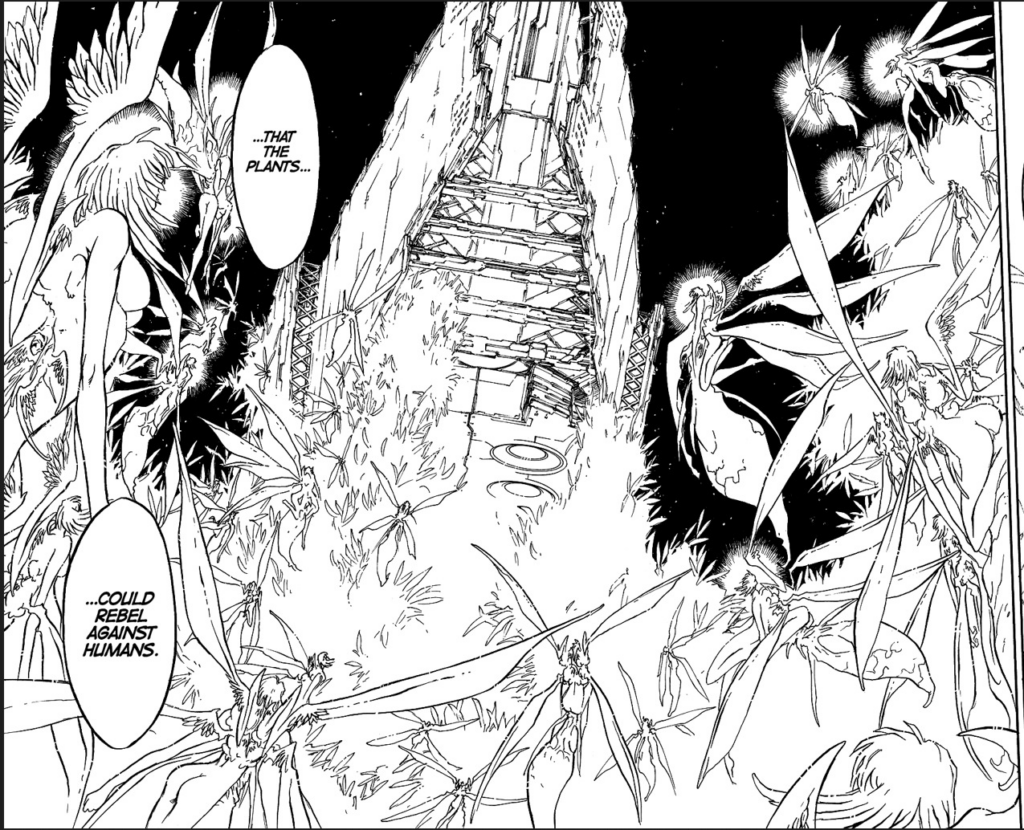 I mean, they've had over a century to rebel, and it seems like they've only done anything similar in isolated incidents. They seem to genuinely want to help humans. But this particular instance is rather unique. At the very least, they don't seem positively inclined toward Knives.
Ooh, space friends. I'm sure that will go smoothly.
Chapter 2: Slap-Stick Days
Oof, they're down to one major city. That's bad.
This old guy with the guitar. I do like how music is inextricable from the Trigun story.
Luida coming out to talk with the authorities elsewhere really is a Big Thing.
Eyyyy, it's the return of long-haired Meryl!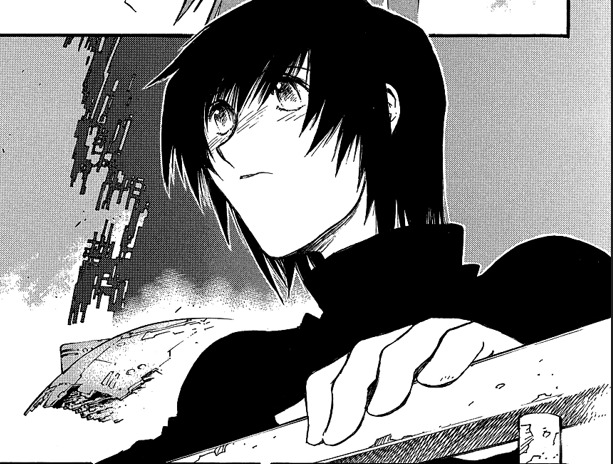 Still just as cheeky, I see.
Milly is so cute with her hair like that.
"It's descending into a complete state of lawlessness." Hate to break it to ya, but this planet has hardly been a bastion of law and order. Sure, it might be better than just after the Great Fall, but still.
I swear, if this is more Nebraskas…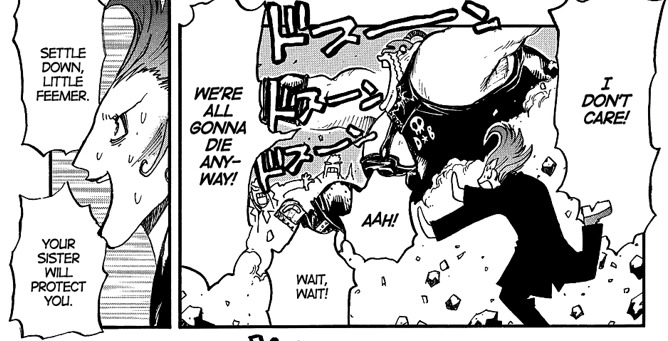 "Oh no! It's the feds!" This line is so cliche. It's beautiful.
Vash!?
It is Vash! One air-dropped Vash, to the rescue! Meryl and Milly look like they're about to die of pure shock.
That's ok. Vash is gonna die of pure shock at seeing them, too.
When I turn the page, will they be punching him, hugging him, or screaming at him (affectionately)? Some combination of the above?
Welp, a full melt-down with tears of relief wasn't on my list….
(Loving the girls' new outfits, btw. Very practical.)
Hang on, I just need to drink in this page for a bit.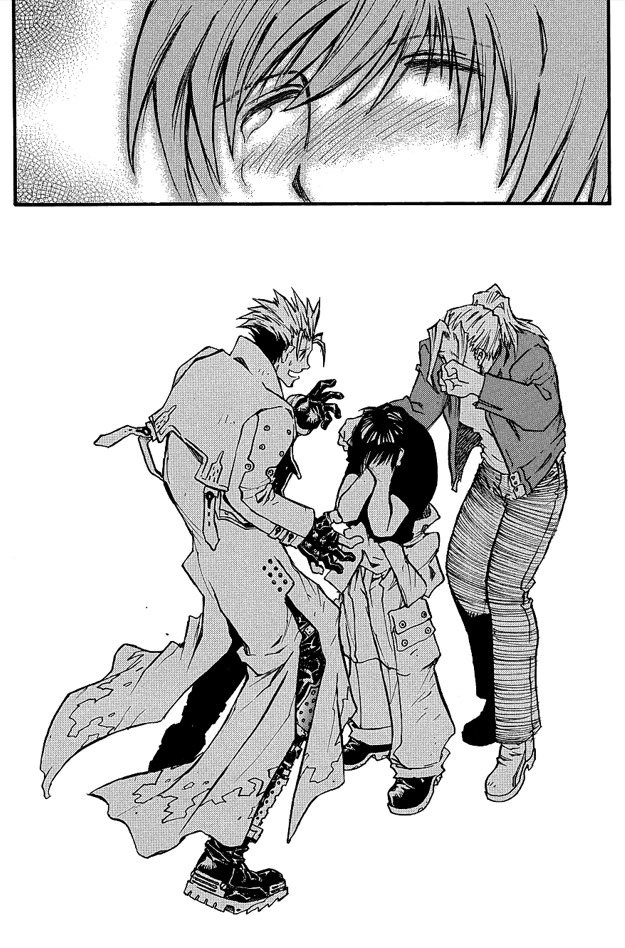 Ok, I'm good. Moving on.
Hahahaha, good job, radio nerd.
This is gonna give a LOT of weight to Luida's claims with the other authorities. I wonder what Knives will make of it.
Ah, there he is. Heeeeyyyy, Kniiiiiives. Buddy…. You… you don't look like yourself so much anymore…. You doing ok? Need a break, maybe? A glass of water? Tea? Hard liquor?
Yeah, pretty sure the ark isn't actually space-worthy anymore. I hope he's providing some atmosphere for his atmosphere-breathing peons.
IDK, man. You might have great plans, but you have NO idea what these people are capable of. They just dropped out of some sort of hyperspace. They're clearly working on the kind of technology humanity would have if they hadn't crash-landed violently on a resource-less planet and been forced to scavenge everything they could get their hands on just to survive. All I'm saying is maybe don't count your chicks before they've hatched, Knives-kun.