Back to the Trigun Bookclub Archive
Trigun Bookclub By Volume
Trigun: Volume 1 | Volume 2
Trigun Maximum: Volume 1 | Volume 2 | Volume 3 | Volume 4 | Volume 5 | Volume 6 | Volume 7 | Volume 8 | Volume 9 | Volume 10 | Volume 11 | Volume 12 | Volume 13 | Volume 14 | General Commentary

Trigun Bookclub By Member: alena-reblobs | aluvian | annaofaza | anxiety-elemental-kay | caffeinefire | deludedfantasy | discount-kirishima | domfock | dravencore | eilwen | fifthmooon | hashtagcaneven | hikennosabo | iwritenarrativesandstuff | lizkreates | makima-s-most-smile | merylstryfestan | mydetheturk | namijira | needle-noggins | nepentheisms | nihil-ghost | ocelaw | pancake-breakfast | rainbow-pop-arts | retrodaft | revenantghost | sunday-12-25 | the-nysh | weirdcat1213
Original Tumblr Post: Chapter 5-6
Now that Bluesummers is back on the playing field, I'm a bit scared of what's to come. He better not hurt my precious Livio.
Stream-of-consciousness thoughts for TriMax Vol. 11, Chapters 5-6 below.
Chapter 5: Get Ready, Get Set
HAhahahahahaha, Knives is double-D's….
Chronicaaaaaaa!!! I've been waiting to meet her since I heard about her in Stampede! Look at her, sitting there all pretty with her hot tea.
"This kind of problem"? This suggests they've dealt with it before, or at least have taken the possibility of it into consideration.
Well, if fusing with other plants gets around the black hair phenomenon, then Knives should be fine. That's… a… good thing….?
Yeah, I'm beginning to think the dependent Plants are legit trying to overwhelm Knives with their own consciousnesses to sort of save him without killing him. Kind of like what he's doing, except there's a LOT more of them, and they're a LOT less violent.
Uhhhh… did this guy just lob a coin at them and then… die??
LOL, Vash is being way too dramatic about this. You can't tell me that, in all his years on a planet with a decreasing population, he never learned to recognize a dead body.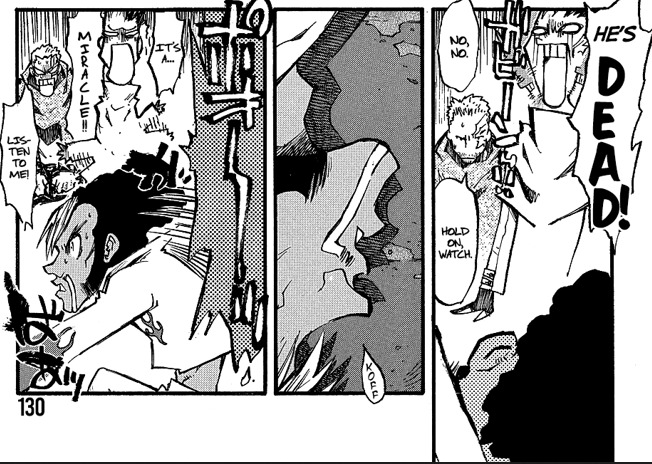 LOL, random question about clams vs. fish. Where are they getting either of those on this planet? From Plants??
Ohhhh, Zazie. That explains a lot. Zazie's done with Knives right now. And since Zazie's worms, being shredded up by Legato isn't exactly gonna stop them.
I like the little worm halo. You know, so we know it's dead.

LOL, panic and descending chaos. I approve.
LOL, EVERYONE is crying. Worm panic causes tears.
I wonder if Stampede will introduce control worms or if they'll just stick with the extensive spy network.
Dude, Meryl and Milly did a thorough search of the device and didn't realize it has an audio playing function embedded in it??
Wait, he's connected to Legato now?? That's so impractical. What if Legato was still in a coma? Or taking a leak? Or had his mouth full of beef that he was slurping up??
Also, whyyyy does he have a new weird iron maiden puppet thing?? Do I want to know? I feel like I don't want to know.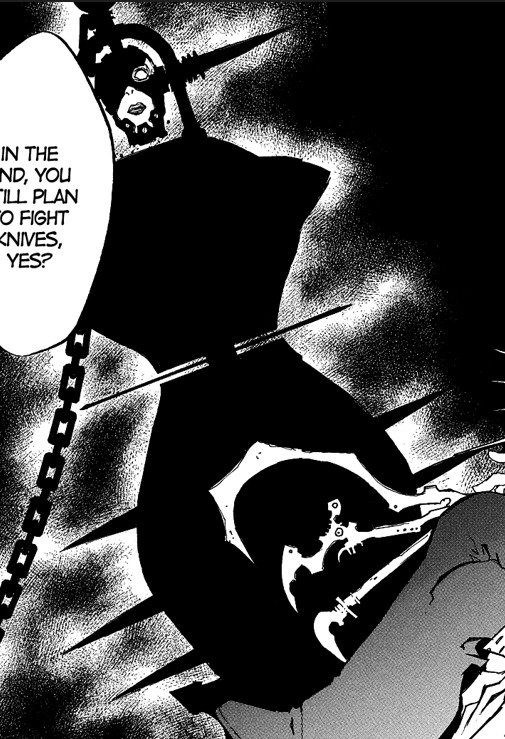 Man, I get Vash's depression over this. But Livio is here to cheer him on!
Oh, gosh, Livio…. You aren't a monster, my friend. You're just a person.
"That bitch"? Strong words. Does he mean Elandira?
Ah, yeah, he does.
I… do not know if Livio can actually handle Elandira. She's pretty unhandle-able.
Ok, this right here is a good moment for Livio.
LOL, did Vash hurt his hand giving Livio a friendly pat?
Vash is the resident Plant expert here.
DIY explosives. Not concerning at all. Luida looks ready to smack him if he gives the wrong answer here.
Wait, Luida hears the voices of the Plants? What does that mean??
Ohhh, NM, that was Vash speaking.
"Is it possible for something created by humanity to completely break away from their creators?" Let me direct you to Exhibit A: Vash the Stampede, and perhaps more convincing Exhibit B: Millions Knives. Yes, I realize there's room for debate on how much either of them have "broken away," but they definitely have a will that is independent of the will of those who created them.
Ohhh, these are Plant thoughts. That makes them a LOT more significant.
Aww, Vash calling the Plants in the arc "the girls."
How the hell is Vash gonna keep both Knives and Legato in check? That didn't work out so well for him last time.
OMG everything about this. Thank God these two are finally hugging it out. They need this.
Milly telling Vash that Meryl can still get sad. Good on her. Anyone can still get sad. Being able to get sad isn't a sign of weakness.
Ugh, them kissing their fists and then bumping them. This is why people ship these two.
"Who's that helping us? Vash the Stampede, you say? Hmm, sounds familiar, but I just can't place it." Something something social strata. This guy's never been low enough on the totem poles to keep abreast of bounty hunter knowledge.
FYI, the untranslated Japanese across the top here is basically, "What the hell?!" or "What was that?!"
Ohhhh, that stupid-ass military general doesn't look like he's prepared to comply.
The Earth forces are not happy about Knives. Including Chronica.
Aaaand Livio's hunted down Elandira. I'm sure this will go smoothly.
Chapter 6: That Which Can Be Protected
Why do I feel like this volume is gonna end on a major cliffhanger?
Oh, hey! Baby Livio!
That's right! You've protected others before, and you can do it again!
What, you guys just gonna stare at each other all day? I mean, that's not necessarily bad. I'm just asking.
She looks kinda sad.
That… is one giant nail.
Yeah, she's pretty scary. The only thing that gives Livio a chance here is how crazy his regenerative ability is.
How did she know where he would stand so her nail landed in the right spot?
TBH, Elandira doesn't seem to like most people, regardless of gender. Have we met anyone she likes? She tolerates Zazie and Wolfwood, and didn't seem any more positively inclined than that toward any of the other Gung-Ho Guns. She hates Legato. She's dedicated to Knives, but she doesn't seem to like him. He's her boss and is gonna take her to Armageddon. It seems more transactional than anything else.
Ooh, low blow, Elandira. Very in character for her, but… but… I, the reader, don't want to hear people insulting Wolfwood like that.
Mmmmm, this is not a secluded fighting spot. That's… problematic.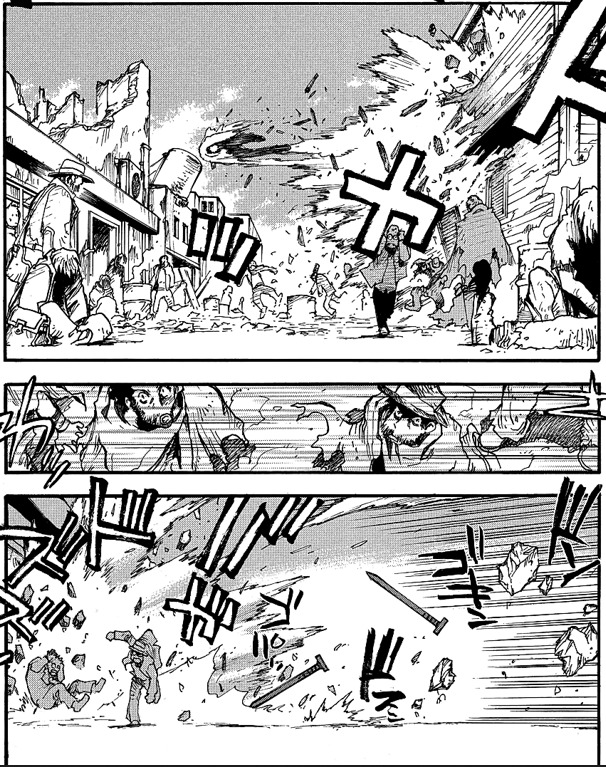 "I was going to let you go because we're all going to die anyway." Hahaha, she's such a nihilist. I would have loved to have seen her in a more casual, less murder-ful setting. She would LOVE running her own drag bar, I think.
Hahahaha, all the random civilians being like, "You guys are too rowdy! Get out!" Good for them. Also, they clearly don't know who they're talking to.
Noooooo! Stop hurting my Livio! He needs to be protected, not FILLED WITH GIANT NAILS!!!
Ok, this is interesting. It sounds like some part of her wants to hope, or maybe did hope at some point in time, but the world beat it out of her a long time ago. She sounds… like Livio in the Before Times.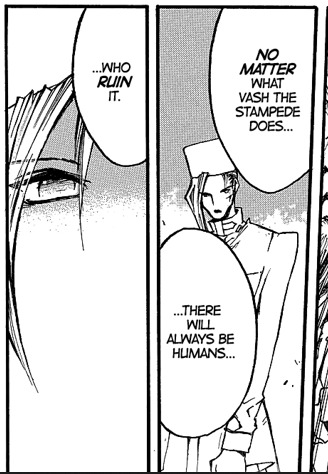 Man, I thought that looked like a nuke, but I didn't want to assume something about this world's tech like that.
How did she get the key for the bomb??
Hey! I recognize that hat!
Awww, of course he was protecting kids! And now these kids are gonna have the kind of trauma one gets from seeing someone who was trying to protect you brutally stabbed through with a bunch of nails.
Aww, Livio's decided kids are cute. Good for him.
They just met him and they're so worried about him! Oh, I think I should probably be worried about him, too, but for some reason I'm not? IDK, I just think he'll pull through.
See? He's fine. And apparently about to try to adopt half a dozen kids.
Oh, they have a mother-type person. Good. Livio's life's a bit dangerous right now to be looking after a bunch of kids. Maybe when things settle down.
He seems hesitant to accept this gift, but he also knows this act of gratitude is important to her.
Hahahaha, this little hat kid is determined. Scared, but determined.
Oh, man. When do you think Livio last felt his heart soar? This is giving me the feels.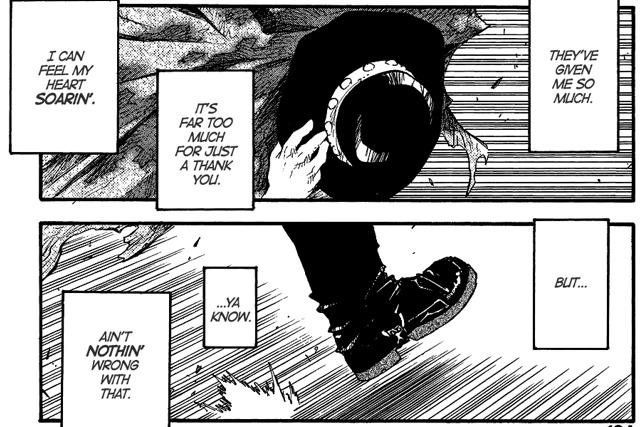 Ohhhh shit, it's his old crush! Also, six years my ass.
Hmm, not so cliffhanger after all. Nice.