Back to the Trigun Bookclub Archive
Trigun Bookclub By Volume
Trigun: Volume 1 | Volume 2
Trigun Maximum: Volume 1 | Volume 2 | Volume 3 | Volume 4 | Volume 5 | Volume 6 | Volume 7 | Volume 8 | Volume 9 | Volume 10 | Volume 11 | Volume 12 | Volume 13 | Volume 14 | General Commentary

Trigun Bookclub By Member: alena-reblobs | aluvian | annaofaza | anxiety-elemental-kay | caffeinefire | deludedfantasy | discount-kirishima | domfock | dravencore | eilwen | fifthmooon | hashtagcaneven | hikennosabo | iwritenarrativesandstuff | lizkreates | makima-s-most-smile | merylstryfestan | mydetheturk | namijira | needle-noggins | nepentheisms | nihil-ghost | ocelaw | pancake-breakfast | rainbow-pop-arts | retrodaft | revenantghost | sunday-12-25 | the-nysh | weirdcat1213
Original Tumblr Post: Chapter 3-4
It's hot. I'm hoping for chibi Livios to make things feel better.
Stream-of-consciousness thoughts for TriMax Vol. 11, Chapters 3-4 below.
Chapter 3: The Noise of Thunder
Good to see these people are giving Luida credit for her knowledge now.
They think they're gonna be saved… but yeah, the ark and Knives are definitely a threat right now. We'll see how that goes….
Awww, Vash looks happy! Excited, even.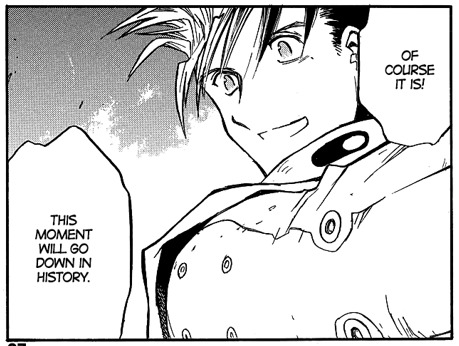 Ohhhh, Luida's not happy that he expended more of his power.
Awww, Livio looks all depressed and sad again. Someone look after this man.
Ah, everyone's favorite question right now. And, of course, there's no helping it. When your right hand is suddenly gone, people who know you are bound to have questions.
!! My boy Livio was gonna just fess up right there, set himself up to take all their ire and sadness and frustration so Vash didn't have to deal with the question. He was gonna step up and do his best to handle it himself!
I have mixed opinions on Brad's response. I get what he's trying to do, but the truth of these things has a way of coming out. I guess at least it will allow the girls some time to get to know Livio first.
Heh. He's not fooling Milly. She knows something bad happened.
He has no right and he knows it, but I kinda want Livio to just give Milly a hug right now and tell her he's sorry. I don't know if she'd put it all together from that, but she'd hug him back and they could both use the comfort right now.
The ark isn't looking so good right now. Is that from Vash's backlash in the last volume?
Wooooooorms.
Zazie doesn't look super-happy with Knives right now.
Hahahaha, I was wondering how Zazie got injured.
It seems strange that a world like this would have weird little toy figurines. Then again, Nightow made this world, so maybe it's strange that there aren't more of them.
Awww, it's Vash's old personal effects!
RIP Bernardelli HQ
Oh, goshdarnit. It's Legato's stupid token collector.
I like that Milly was somehow the one who found the two from Hoppered and Midvalley. Good for her.
Hahahahaha, Twolives cameo.
Meryl gets it. Legato's game is dumb. Vash thinks Legato's game is dumb. He's right.
I love the subversion of the trope with the coins. It could have been Villain of the Week, but Vash didn't want to play, and so the coins got brought up here and there, but not because he was specifically hunting them. It's only now, so much closer to the end of the game, that he both realizes their importance and even has them on-hand.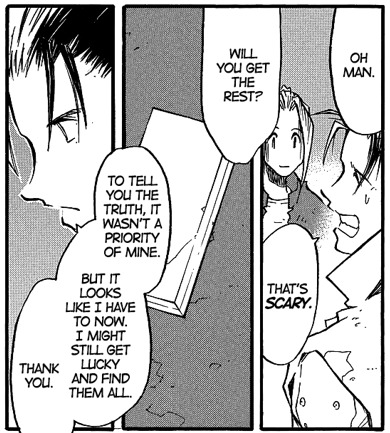 I wonder if perhaps they're important to Elandira and can be used to just… pay her off. She seems pay-off-able, if one somehow were to find something she valued.
Vash isn't wrong. Legato's much too invested to let things happen without being there himself if he has any ability to do anything about it.
Aww, Livio. Please don't tell me you're trying to wash off the marks on your face from Razlo. I get it, but… it's ok, buddy. It's ok.
Oh, he finally noticed his hair is a mess. I think it's cute all sticking up like that, but yeah, it could probs use a comb and such.
Livio… let Brad finish peeing before you chat him up, maybe?
Brad, you're making Livio feel emoshuns. He's probably lived a long time trying to kill them all, and now he has too many. Let's hope what you told him helps him sort a few of them out, gives them some direction.
Livio looks a lot beefier now that he's wearing casual clothes instead of his bondage gear. What's up with that??
Heh, it's not gonna do anyone any good if the people left on Noman's Land go all civil war on each other in this.
Good job, Luida. Tell it like it is.
Vash, trying to not be a burden, getting called out on it by the gunsmith. Good job, gun guy.
It's a nice way of saying, "You're 150 years old, for crying out loud. Time you learned a bit about interpersonal relationships, dumbass."
Awww, he made Vash cry. Vash isn't used to recognizing how much other people care about him… and right now, he's in a mental state where it's unavoidable, and he doesn't know how to process.
Uhhhh… what went boom??
Worms??
Legato???? I swear, this boy always looks sleepy.
Ohhhh, shit. He's graduated from his bagworm state. This is bad.
Chapter 4: Return of the Wicked
Lemme guess; "the wicked" is Legato. Am I right? Do I get a prize?
Awww, Zazie has a giant butterfly worm!
Dang, it looks like it takes an act of willpower for Knives to pull himself up into physical form away from his sisters at this point.
Knives: "I want to be left alone." Also Knives: *probably dealing with the collective consciousnesses of all the Plants he's absorbed and thus never alone*
LOL, Zazie called him out on it. That's what I get for not having read the next panel yet.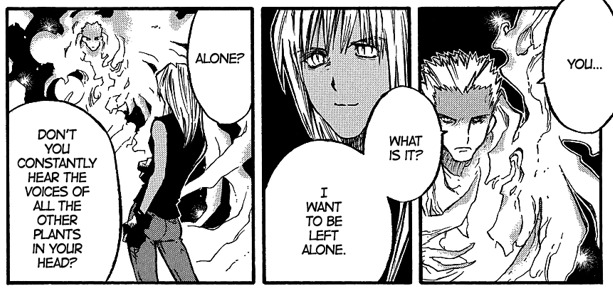 Meh, I call shenanigans. Zazie doesn't want to help. Zazie wants to complicate.
Aww, baby Knives!
Adult Knives looks even more tired than he usually does. Not to be confused with Legato's sleepy look. Legato looks like he just woke up from a nap and is still in that state between sleeping and waking. Knives looks like he's forgotten what sleep is.
Hahahahahaha, see? Shenanigans. Zazie just wanted to distract Knives for a bit so they could screw Knives over. No wonder Legato went apeshit on them.
The keywords to summon forth Legato have been spoken! Or… rather… thought.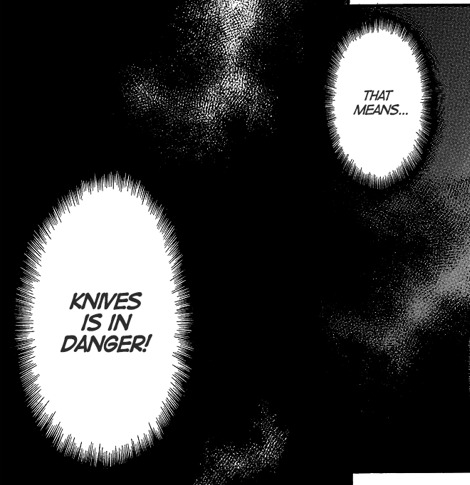 Yep, Zazie's doing Zazie things. Zazie says, "Fuck you, personally, Knives."
Aaaand they're unzipping their pants. I've seen this scene and I'm not ready to see it again.
Ewwewwewwewwewwewweww THAT IS NOT A POCKET FOR STORING MORE WORMS IN, ZAZIE!!! *shuddershuddershudder*
Somehow, I don't think this is quite gonna work out for Zazie.
Ah, there he is.
Wait, are we getting explanation for Legato's powers?
Elandira looks pleased.
Yep, Legato's free of his little iron maiden. About freaking time. Ohhhh, gods, I'm gonna eat those words.
Yeah…. He's definitely terrifying, girl. The scariest thing in this series apart from (arguably) Knives himself. At least with Knives, it's not personal… but with Legato, it's almost always personal.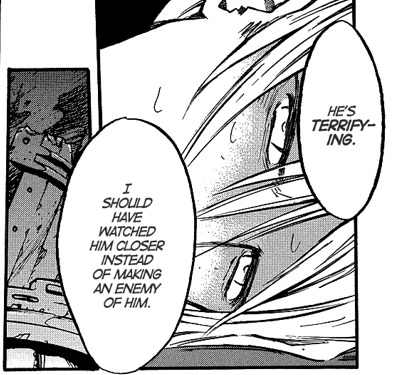 Ah, I was wondering if the scrapes were there for a reason other than aesthetics.
Gratuitous shirtless Legato shot. How the hell did he keep his body fit while in that cocoon? Was he, like, applying little electroshock impulses to his muscles to keep them toned the whole time??
Aww, he's even got his old outfit back.
Is it really Legato if he isn't grinning like a madman?
Ohhh, shit. Looks like Knives is about to join the fight. Or… something.
Vash's twin sense is tingling.
I like how the way he has the bullets and everything set up kinda looks like a miniature city. Maybe he's using them to strategize?
Well, that's one way to make your own bullets.
Aww, man! I knew the haircut was coming, but I kinda hoped he'd just grow it out more evenly instead.
I don't know much about DID. Is it… good to treat the alters as separate individuals like that??
The separating out of the name Chapel. They don't mean Chapel-Chapel. They mean Wolfwood.
Whooooo the crap is this, and how is it that their timing was so perfect? Were they just listening behind the door, waiting for this conversation to come up??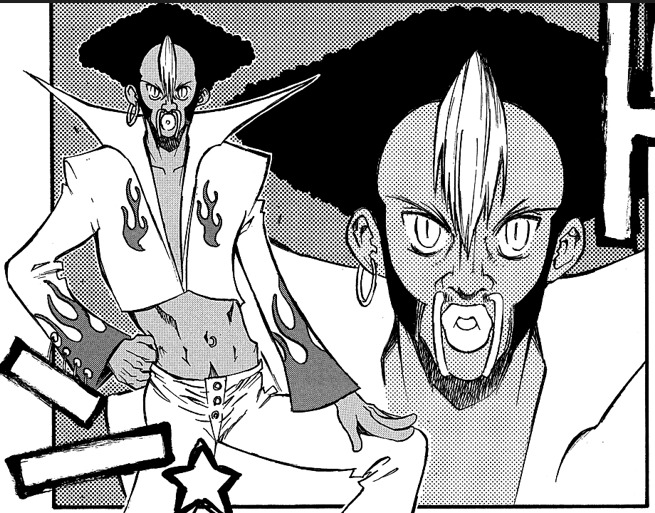 Glad to see Vash is also confused.