Back to the Trigun Bookclub Archive
Trigun Bookclub By Volume
Trigun: Volume 1 | Volume 2
Trigun Maximum: Volume 1 | Volume 2 | Volume 3 | Volume 4 | Volume 5 | Volume 6 | Volume 7 | Volume 8 | Volume 9 | Volume 10 | Volume 11 | Volume 12 | Volume 13 | Volume 14 | General Commentary

Trigun Bookclub By Member: alena-reblobs | aluvian | annaofaza | anxiety-elemental-kay | caffeinefire | deludedfantasy | discount-kirishima | domfock | dravencore | eilwen | fifthmooon | hashtagcaneven | hikennosabo | iwritenarrativesandstuff | lizkreates | makima-s-most-smile | merylstryfestan | mydetheturk | namijira | needle-noggins | nepentheisms | nihil-ghost | ocelaw | pancake-breakfast | rainbow-pop-arts | retrodaft | revenantghost | sunday-12-25 | the-nysh | weirdcat1213
Original Tumblr Post: Crucifixion Symbology
Crucifixion Symbology
In response to a question about this image by gealachros: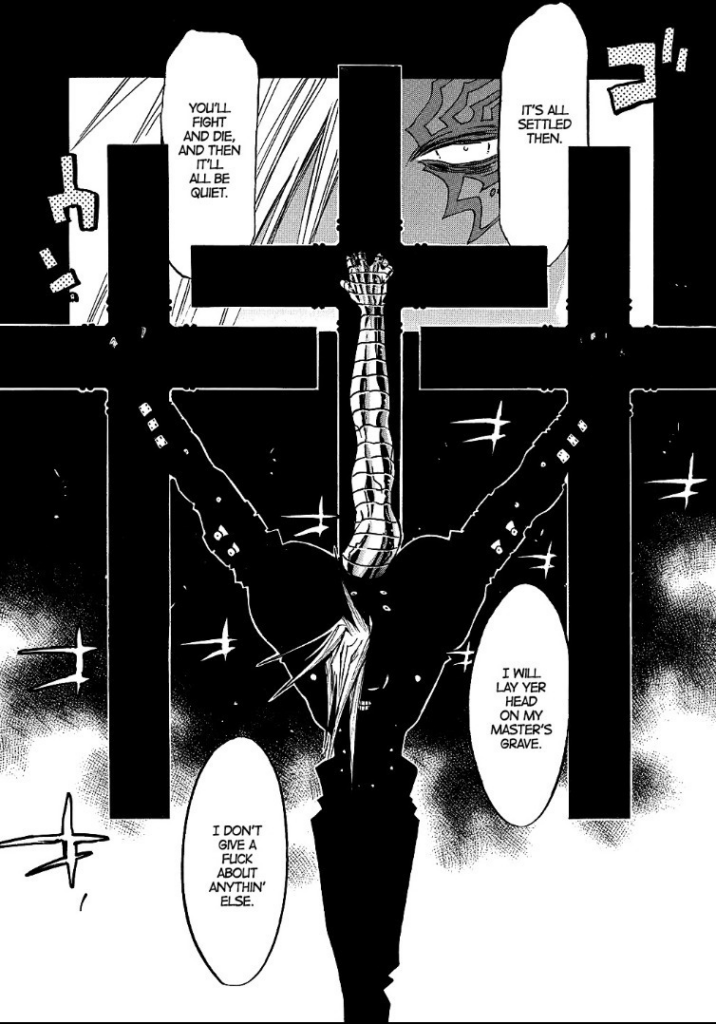 I think this is more of a visual parallel than anything else, since there's nothing in this scene that explicitly calls back to the same biblical story. However, if I'm going to speculate a bit (which I am), then I've got a few potential interpretations.
First, I need to note that, traditionally, Jesus is portrayed as being on the center cross (so the one being held by the metal Razlo arm), with the "good" thief being said to be on his right and the "bad" thief on his left. Since both Raz's right and left arms are the same color and there's nothing else on this page to particularly distinguish them, I'm gonna set that aside and focus instead on the metal arm.
At first glance, one might think that arm represents Razlo himself, but TBH neither he nor Livio are really in a position of authority or honor in this scene (which would be necessary for them to hold the figurative place of Jesus Christ). Chapel brought L/R along to be a tool, and Wolfwood, who only just found out about Razlo, is only concerned about Raz because he's part of Wolfwood's little brother Crybaby Livio. So this position has to go to one of the other characters in the scene: Chapel, Wolfwood, or Vash.
One thing that often gets forgotten in tellings of the Bible story is that when they're first hung on the crosses, both thieves supposedly spit mockery at Jesus.
In the same way the chief priests also, along with the scribes and elders, were mocking him [Jesus], saying, "He saved others; he cannot save himself. He is the King of Israel; let him come down from the cross now, and we will believe in him. He trusts in God; let God deliver him now, if he wants to; for he said, 'I am God's Son.'" The bandits who were crucified with him also taunted him in the same way. —Matthew 27:41-44, NRSV Translation
Eventually, one of the thieves puts two and two together, and despite having hurled insults at Jesus, he has a realization about Jesus's nature and changes his mind.
One of the criminals who were hanged there kept deriding him [Jesus] and saying, "Are you not the Messiah [Savior/Christ]? Save yourself and us!" But the other rebuked him, saying, "Do you not fear God, since you are under the same sentence of condemnation? And we indeed have been condemned justly, for we are getting what we deserve for our deeds, but this man has done nothing wrong." Then he said, "Jesus, remember me when you come into your kingdom." He [Jesus] replied, "Truly I tell you, today you will be with me in Paradise." –Luke 23:39-43
And thus tradition holds that the soul of the thief that asked Jesus to remember him was saved because he chose, even if it was at the very last minute, to follow Jesus's ways.
All this implies that the person on the middle cross should be someone who both the people on the outside crosses initially hold a pretty low opinion of. Which means Chapel is out, since I'm pretty sure the only person in this scene who starts with a low opinion of Chapel is possibly (probably) Vash.
So that leaves Vash and Wolfwood for the Jesus position, and I think you could go either way here. Or maybe both ways.
If you have Wolfwood in the "place of honor," as it were, then the two on the outside crosses would be Livio and Razlo. Both see Wolfwood as needing to die at this point (despite Livio's prior connection to Wolfwood), and see his lack of physical prowess as part of the proof of this. He betrayed someone he shouldn't have betrayed (a big part of why Jesus was killed was various ways he'd supposedly betrayed society), and when push came to shove, Wolfwood's righteous cause didn't really seem to be doing much to keep him alive.
But then this happens.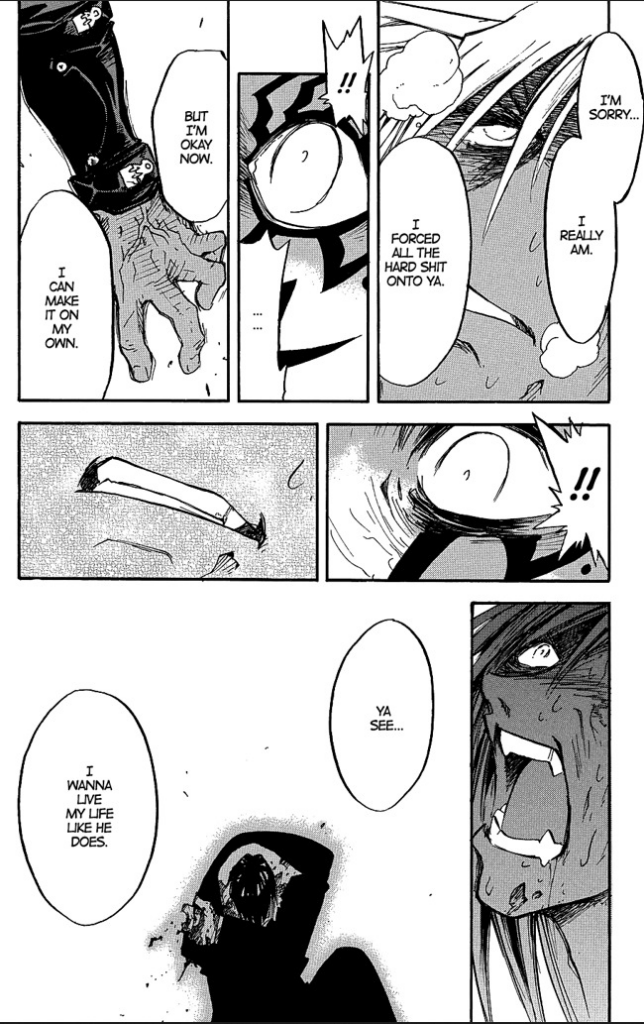 Livio stops Razlo from doing further harm to Wolfwood and gives the justification for his actions as wanting to follow the path he sees Wolfwood following.
But Wolfwood's not following his own path. He's following Vash's. So let's talk about this as if Vash were represented by the center cross.
One of the "nice" things imagery-wise about having Vash there is, like Razlo's fake arm, Vash is distinct from anyone else who might hang beside him due to his nature as a Plant. He also comes off as a Christ-like figure in the narrative overall. (I want to emphasize Christ-like and not Christ himself; Vash is flawed and missteps and fails, and honestly probably doesn't think of himself as the savior of mankind quite the way that, say, the people from Home do.) At any rate, Vash is a very logical choice for this position.
If Vash is on the center cross, then the people on the other crosses would probably be Wolfwood and Chapel. After all, when Wolfwood first meets Vash, he also criticizes Vash's behavior in the same fashion as Chapel.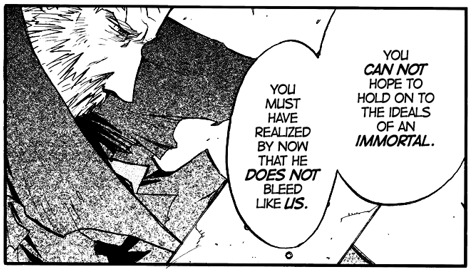 They both criticize Vash's way of life because, relative to them, Vash should be a god. The rules that supposedly apply to Vash don't apply to humans, and so the idea of Wolfwood (or Chapel or anyone, really) following them when the most likely outcome is death is ridiculous. Why choose the harder path when it's gonna get you killed?
But then, of course, Wolfwood comes around to defend Vash's way of life, even going so far as to muster some strength from his broken body to openly defy Chapel's nay-saying.
Between that and all the "bride of Christ" imagery surrounding Wolfwood's death (See @nepentheisms' post for more details on that. Sorry, nepentheisms. I might end up linking your post a lot for these breakdowns.) , it's pretty clear that, potential three-cross imagery aside, Vash is absolutely Wolfwood's Jesus, and he, like the thief on the right, has fully come around to accept that.
Before you go deciding whether it's better to have Vash or Wolfwood be the Christ figure here, let me reiterate: it could be both.
The core of Christianity, what it's supposed to be outside of in-fights about doctrine and socio-political weaponization, is people who are living their lives in a way that imitates Jesus. The thought is there were once living people who knew Jesus, and they should live like him to point others to him, and that should have a sort of ripple effect that passes along tenants of (arguably, I know) serving God by loving those who you find yourself in the company of.
While Wolfwood has been going through the motions of following Vash, it's not until volumes 9-10 that we see him actually take those tenants to heart enough to, rather than simply not kill, specifically take the path of mercy to save someone else… even though it puts his own life on the line. Vash doesn't even enter the scene until halfway through it, and his arrival is a surprise to Wolfwood. Wolfwood's choice to take this path wasn't for the sake of putting up a good face in front of Vash. He took this path because it's the path he chose for himself.
Livio sees this behavior in Wolfwood as Wolfwood and Livio/Razlo fight. Livio doesn't really know Vash, but he knows Wolfwood. The decisions Wolfwood makes, the path Wolfwood chooses to walk… these things mean something to Livio that they wouldn't mean if he were watching Vash do the same thing. He doesn't have that connection to Vash.
Wolfwood is reflecting Vash's ideals, but since Vash means nothing to Livio, Livio mistakenly credits them wholly to Wolfwood. Which would be problematic when speaking in terms of Christianity, except that Wolfwood's actions are ultimately what points Livio to Vash.
Wolfwood isn't the "Christ" image in this story, but before his part in it is done, he's reached a point that is, like Vash, "Christ-like." At the very least, he's enough of a Christ to save Livio's soul when the only other option for Livio at the time was death. So Wolfwood is Christ for Livio as Vash was Christ for Wolfwood.
Then again, I might be stretching a bit here. This is definitely a bit more speculative than some of the more straightforward Biblical imagery in the text, so make of it what you will.