Back to the Trigun Bookclub Archive
Trigun Bookclub By Volume
Trigun: Volume 1 | Volume 2
Trigun Maximum: Volume 1 | Volume 2 | Volume 3 | Volume 4 | Volume 5 | Volume 6 | Volume 7 | Volume 8 | Volume 9 | Volume 10 | Volume 11 | Volume 12 | Volume 13 | Volume 14 | General Commentary

Trigun Bookclub By Member: alena-reblobs | aluvian | annaofaza | anxiety-elemental-kay | caffeinefire | deludedfantasy | discount-kirishima | domfock | dravencore | eilwen | fifthmooon | hashtagcaneven | hikennosabo | iwritenarrativesandstuff | lizkreates | makima-s-most-smile | merylstryfestan | mydetheturk | namijira | needle-noggins | nepentheisms | nihil-ghost | ocelaw | pancake-breakfast | rainbow-pop-arts | retrodaft | revenantghost | sunday-12-25 | the-nysh | weirdcat1213
Original Tumblr Post: Meryl, Vash, and the Pursuit of Happiness
Meryl, Vash, and the Pursuit of Happiness
This panel stuck out to me when it showed up in TriMax Chapter 3, but honestly, I wasn't quite sure what to make of it at the time. Or, rather, I wasn't sure where Nightow might be going with it.
Meryl is trying to defend her time with Vash as not being a that bad, but then her coworker (amazingly named Karen) calls her out, telling her that, as a woman, there's no way Meryl could have been happy having her life constantly threatened while running around with Vash.
My first instinct is to defend Meryl, to shoot back at Karen that what defines Karen's life may not define Meryl's, and Meryl might be the more adventurous type who genuinely doesn't mind the danger. And besides, having one's life constantly under threat is psychologically wearing on anyone regardless of gender. So shouldn't she just shut her yap?
But then these words come up again later in the chapter. For (what I think is) the first time in the series, Meryl finds herself with an actual loaded gun leveled directly at her head by a person who fully intends to pull the trigger. She has no known help in sight, and the gunman calling her foolish makes her remember what Karen said.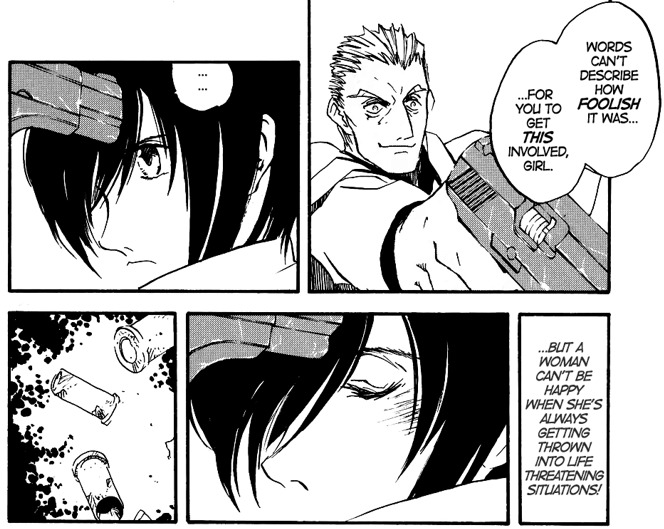 And Meryl just… closes her eyes, and she thinks about all the danger she's been in with everyone from Gosef to E.G. Mine. She thinks about the Fifth Moon Incident. And she thinks about Vash.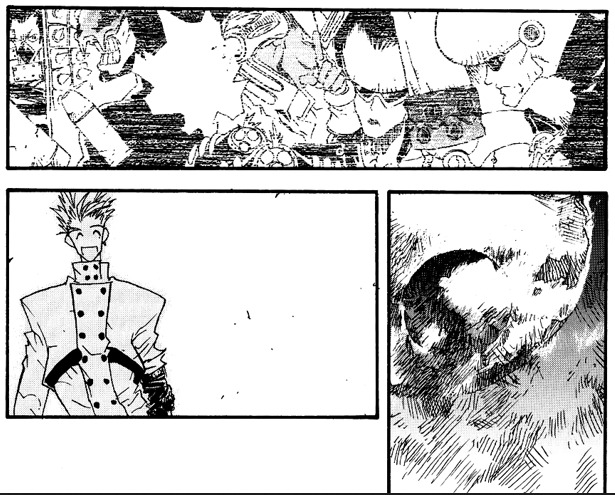 But she doesn't think of gunman Vash. She doesn't think of Vash in a panic telling her to run away from danger, of Vash fleeing for his life over and over and over again.
She thinks of him smiling.
Not only is he smiling, but compared to the darkness and chaos of the other panels, he's a beacon of light in those memories. (You can almost hear the tense, dark music that's been flowing through the scene break into something lighter at his appearance.) And that image of him smiling kindly, still striving for love and peace, grows to dominate her mindscape.
It would be easy to write this off as her growing crush on Vash, or as her seeing him telling her that it's alright and dealing with things like being hunted and having your life regularly threatened aren't actually that bad, that perhaps these things appeal to a sense of adventure and/or what makes life worth living. After all, we've seen similar messages come up in similar fashions in so many other anime and manga series.
But that's not what Meryl concludes from it. Instead, she thinks about Vash's smiling face and concludes her coworker is right. There isn't a way for she, Meryl, to truly be happy when she's constantly getting thrown into these situations.
Her conclusion doesn't end there, though. She doesn't look at the situation and go, "Well, I guess it's time for me, a girl, to throw in the towel so I can pursue a happier existence."
Instead, she concludes that she has to keep doing this sort of thing anyway regardless of any danger or fulfillment.
She realizes that what she dealt with for the time she followed Vash around was crazy and terrifying and, yes, life-threatening. And she realizes that this is how Vash lives all the time. Unlike her, it's not something he has the option to just tap out of when the mood suits. As we were shown in the previous two chapters, Vash genuinely can't just make a new life or career choice or whatever and just… hunt for his own happiness instead. Chaos is going to follow him unbidden wherever he goes.
But he keeps going. And he doesn't just keep going, but through it all he keeps smiling kindly at others, offers them encouragement, and despite all he's seen and been through, keeps trying harder to work for a world with more love and peace. Not because it's safe or happy or appeals to a sense of adventure. It's none of those things. He continues on this path because it's the right thing to do.
Meryl realizes the same thing is true for her. Accepting another assignment from the company to follow Vash around isn't going to bring her the kind of life Karen suggested was ideal. In fact, it's more likely that following in Vash's footsteps (whether figuratively or literally) is going to end up with Meryl in additional stressful situations with her life on the line far more than is truly reasonable for anyone (regardless of gender). It isn't necessarily going to bring her happiness. It certainly isn't going to bring her peace.
But it's the right thing to do, which makes it the only path forward for her, and so she'll embrace it despite all the struggles it brings.