Back to the Trigun Bookclub Archive
Trigun Bookclub By Volume
Trigun: Volume 1 | Volume 2
Trigun Maximum: Volume 1 | Volume 2 | Volume 3 | Volume 4 | Volume 5 | Volume 6 | Volume 7 | Volume 8 | Volume 9 | Volume 10 | Volume 11 | Volume 12 | Volume 13 | Volume 14 | General Commentary

Trigun Bookclub By Member: alena-reblobs | aluvian | annaofaza | anxiety-elemental-kay | caffeinefire | deludedfantasy | discount-kirishima | domfock | dravencore | eilwen | fifthmooon | hashtagcaneven | hikennosabo | iwritenarrativesandstuff | lizkreates | makima-s-most-smile | merylstryfestan | mydetheturk | namijira | needle-noggins | nepentheisms | nihil-ghost | ocelaw | pancake-breakfast | rainbow-pop-arts | retrodaft | revenantghost | sunday-12-25 | the-nysh | weirdcat1213
Original Tumblr Post: Chapter 5-6
Time to finish up volume 1 of TriMax!
Stream-of-consciousness thoughts for TriMax Vol. 1, Chapters 5-6 below.
Chapter 5: Dancing Revolver
Gods, Vash always has to do that little hip jut, doesn't he?
Eyyy, geranium scene!
It's funny because geraniums are seen as almost plain here. They get used a lot in, like, planters for strip malls and such because they're hardy, drought-resistant beasts that need very little care and grow nicely from cuttings so they're cheap AF to reproduce and spread around. (BTW, if you ever want to add some pretty geraniums you see out in public to your yard/patio/whatever, you can just "borrow" a nice stem from that plant, take it home, and probably grow it for yourself.)
Vash is a growing boy. Of course he's thinking with his stomach.
As someone who has tended to them, I can confidently say that geraniums are definitely determined….
I'm sure he's trying to look somewhat fierce here, but mostly he just looks annoyed.
Uh oh. Vash might have the attention of someone who will try to do some damage.
Yeah… don't go pointing guns at people (purposely or no) if you're all tensed up. You might make a regrettable move.
Oh, no. I remember this guy from the anime. Please send him back where he came from.
LOL, this Elena girl is abandoning her duties to check out Vash the Stampede.
HAHAHAHAHAHA, it's the Vash slaughter song!
"Won't leave a single man alive." Vash, you're so full of shit right now, it's hilarious.
Sorry, Wolfwood. Now you have to deal with Vash being dramatic and calling attention to himself.
The funniest thing about this page to me is how Vash goes from screaming, "AAAAAAAA!!!" in Japanese to screaming, "AAAAAAAAA!!!" in English.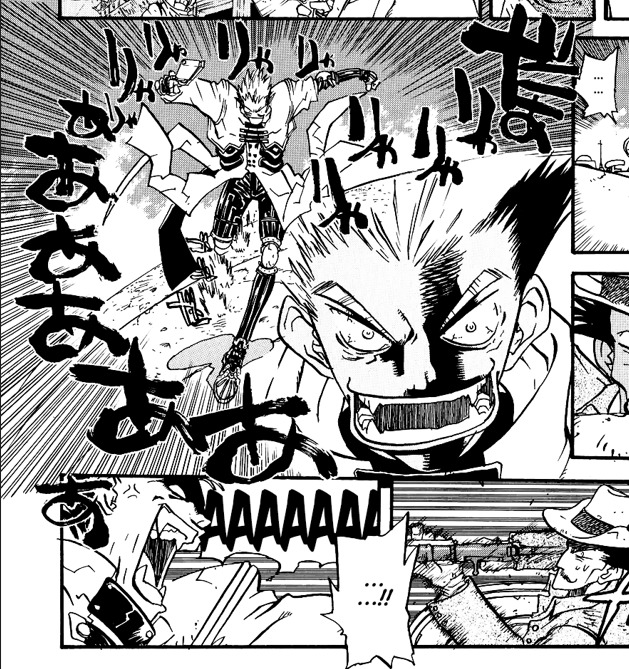 Pretty sure he just turned into a windmill of legs and coattails.
Yeah, from what I gather, bullet-proof vests don't keep you from getting nasty bruises and broken ribs. They just keep the hot lead from entering your body and doing the kind of damage that's harder to recover from.
He's remembering this morning's training session, I see.
Hey, Vash warned them….
Did he miss, though? Did he??
LOL, yeah, he did not.
This is, like, a Vash catchphrase at this point.
Well, if he didn't have Vash's attention before, he has it now.
Chapter 6: Sin
This doesn't have anything to do with the manga; I just want to note the number of times I've tried to navigate these pages by pushing left instead of right on my keyboard ('cause that's the way you read manga) is really, really high.
The contrast between the doctor's optimism and Brad's pessimism. Also, doc's viewing glass.
Wolfwood is having WAY too much fun spectating here. He looks like he's genuinely enjoying the chaos of it all.
Even scum can beg for its life when the tables are turned. Is the regret true and will it stick, or will being allowed mercy only open the door to further atrocities down the line? Do we have the right to decide?
Vash is making a choice, and it's not a choice to do nothing.
Hehhhh, people saying, "What do you know about my pain?" to Vash. Yes, this kind of pain is unique and individual, and Vash hasn't been through anything quite like losing a daughter in such a horrific fashion (that we know of; he is quite old), but he does understand both horrific loss and unimaginable betrayal, as well as the grief, self-blame, and feelings of utter helplessness that can come in its aftermath.
Poor Vash. He looks like hell after that fight. Probably feels like it, too.
Vash gave the father time to not become a murderer, and that's the sort of thing that would be of infinite value to Vash.
This panel, though. Important character notes here. In fact, one might say the only person Vash might not see as family on this planet is his very own twin.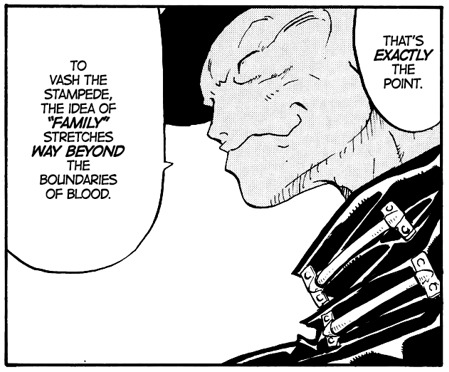 The doctor sure has some trust in Vash getting out of things. And… he probably knows Vash well enough to know Vash would regret if his situation caused trouble for the doc and the rest of the people on that steamer.
LOL, Wolfwood, making a dramatic entrance, ready to bust through everything with hot lead and his beloved bike. He looks like an antihero arriving to save his kidnapped woman.
Hahahahahahaha, he pretty much buried Vash in rubble with that entrance. Mmmmmaybe didn't think it all the way through….
This panel has the same energy as Wolfwood telling Vash that kicking a rocket out of the air was "fucking stupid."
Awww, Wolfie, your heart of gold is showing….
We're just gonna ignore these panels where WW warns Vash that one of these days, pushing his luck won't work and he'll have to choose. I'm sure there's no foreshadowing in that whatsoever. Nope, none at all.
Ok, I tried to ignore it, but I also want to note I think Stampede did an excellent job capturing this running theme of how Vash is walking a precarious path trying not to choose. I don't remember that theme at all in '98. (Not saying it wasn't there; just saying it doesn't stand out in my memory.) Meanwhile, it's not just core to Vash's story in Stampede, but it's core to Meryl's and Wolfwood's stories in Stampede, too, even if in theirs, it's not mentioned so explicitly by the narrative.
Goshdarn it. That stupid Hitler-moustached, too-tall bowler hat guy is still here. Yes, yes, I know he wasn't dealt with so he can't just leave. But I want him to leave because it's better than him being in the narrative.
SEE?!!? GOOD PEOPLE DON'T HAVE PEOPLE PUPPETS LIKE THAT. SEND BOWLER HAT GUY BACK!!!
Uuuuhhhhh…. Look, I get that Legato (like a good percentage of the major characters in this story) likes fetish gear, but wearing a freaking iron maiden is taking it to a whole 'nother level.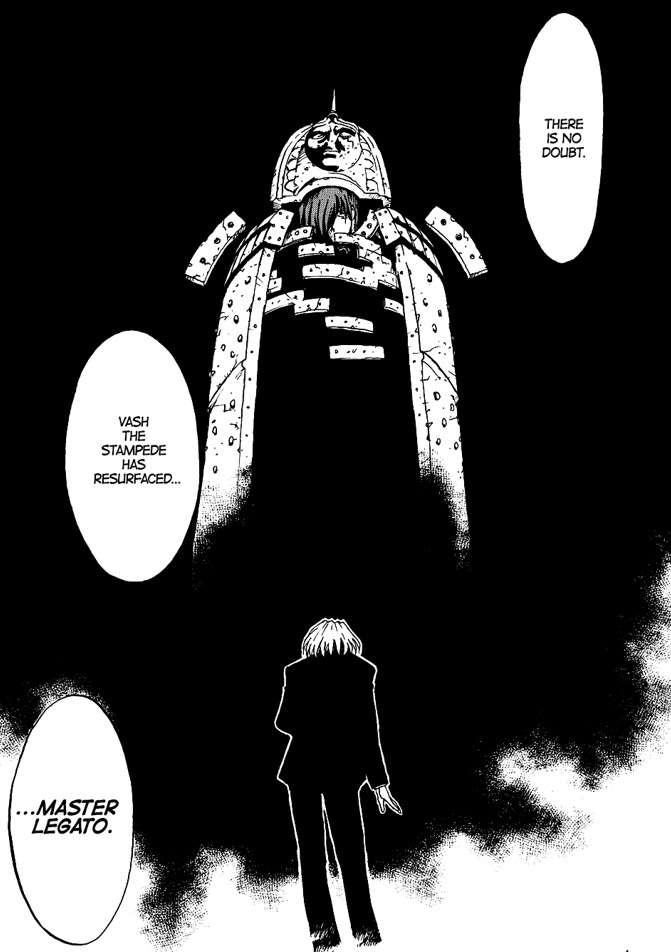 Also, is he really big, or is this new creature person very small, or is the panel just framed weird for weird perspective? Questions….
Author Bonus Chapter: Gun Love Island
SALUTATIONS!!!
If this panel is meant to be the inside of Nightow's brain, it's a… very busy place. I do have a special appreciation for the dragon dissolving into a single sexy fishnet leg.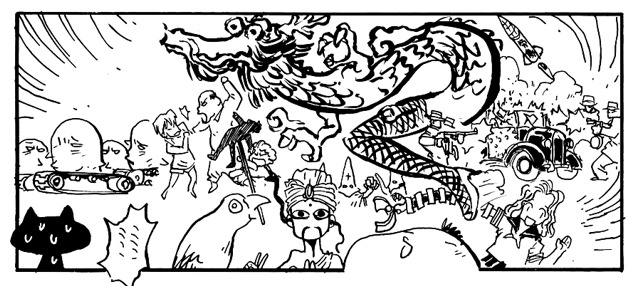 Oh, so the '98 anime had already started by the time this collection came out.
"First half of the story." LOL, half. Lies. But this might be a bit of a translation error. I've seen it elsewhere. Seems like (and I could be wrong here since I'm not a Japanese language expert by any means) the Japanese terms for parts of things don't necessarily mean equal parts like they do in English. To clarify, in English, if we say "a third," we mean 1/3 + 1/3 + 1/3 = 1, but the Japanese term that usually gets translated into 1/3 (三分; literally "three parts") can also mean 1/3 + 1/2 + 1/6 = 1. It's still referring to one part of three out of the whole, but that part is not necessarily equal to the other parts. Then again, the characters usually used for "half" are 半分 rather than 二分, and to the best of my knowledge, 半 does indeed mean equal halves, so maybe I'm wrong in this instance. I don't know, I'm not reading this in Japanese and I've only studied the language for like 3 years, which is nothing for Japanese.
Hahahahaha, sounds like Trigun is a bit of a case of the story running away with the author. It happens sometimes.
I'm also happy that people like Nightow's characters. Thank you very much.