Back to the Trigun Bookclub Archive
Trigun Bookclub By Volume
Trigun: Volume 1 | Volume 2
Trigun Maximum: Volume 1 | Volume 2 | Volume 3 | Volume 4 | Volume 5 | Volume 6 | Volume 7 | Volume 8 | Volume 9 | Volume 10 | Volume 11 | Volume 12 | Volume 13 | Volume 14 | General Commentary

Trigun Bookclub By Member: alena-reblobs | aluvian | annaofaza | anxiety-elemental-kay | caffeinefire | deludedfantasy | discount-kirishima | domfock | dravencore | eilwen | fifthmooon | hashtagcaneven | hikennosabo | iwritenarrativesandstuff | lizkreates | makima-s-most-smile | merylstryfestan | mydetheturk | namijira | needle-noggins | nepentheisms | nihil-ghost | ocelaw | pancake-breakfast | rainbow-pop-arts | retrodaft | revenantghost | sunday-12-25 | the-nysh | weirdcat1213
Original Tumblr Post: Possible inspiration behind Elendira's name
Possible inspiration behind Elendira's name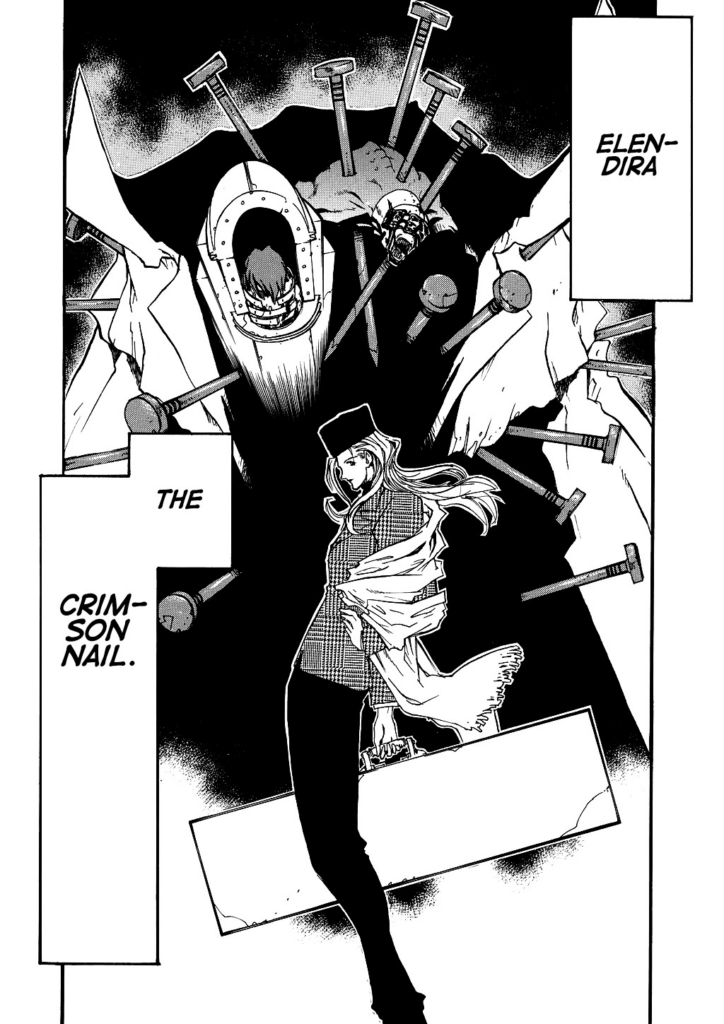 It occurred to me that Elendira's name may have been inspired by Saint Helena.
The historical Helena was Emperor Constantine's mother, and early Christian writers credited her for the discovery of various sacred relics, including the cross on which Jesus was crucified and the nails of the crucifixion.
In his Ecclesiastical History, a History of the Church in 5 Books, Theodoret writes:
"When she arrived at the place where the Saviour suffered, she immediately ordered the idolatrous temple, which had been there erected, to be destroyed, and the very materials to be removed. The tomb, which had been so long concealed, was discovered; and three crosses, the memorials of the Lord, were perceived near it. All were of opinion that one of these crosses was that of our Lord Jesus Christ, and that the other two were those of the thieves who were crucified with him."
The tradition goes that St. Helena brought one of the nails along with fragments of the cross back to Rome. These items are on display at the Basilica of the Holy Cross in Jerusalem.
As for the name itself, the name Helen is of Greek origin and means "shining;" its variants include Helena, Helene, Elaine, Ellen, and Elena. So take the name of the saint, add a twist and an extra syllable, and you get our favorite sharp-dressed assassin with a nail gun.
#standard disclosure that I am an atheist who grew up evangelical protestant #the history of christianity just continues to be a fascination of mine