Back to the Trigun Bookclub Archive
Trigun Bookclub By Volume
Trigun: Volume 1 | Volume 2
Trigun Maximum: Volume 1 | Volume 2 | Volume 3 | Volume 4 | Volume 5 | Volume 6 | Volume 7 | Volume 8 | Volume 9 | Volume 10 | Volume 11 | Volume 12 | Volume 13 | Volume 14 | General Commentary

Trigun Bookclub By Member: alena-reblobs | aluvian | annaofaza | anxiety-elemental-kay | caffeinefire | deludedfantasy | discount-kirishima | domfock | dravencore | eilwen | fifthmooon | hashtagcaneven | hikennosabo | iwritenarrativesandstuff | lizkreates | makima-s-most-smile | merylstryfestan | mydetheturk | namijira | needle-noggins | nepentheisms | nihil-ghost | ocelaw | pancake-breakfast | rainbow-pop-arts | retrodaft | revenantghost | sunday-12-25 | the-nysh | weirdcat1213
Original Tumblr Post: Knives vs Vash on how they obtained their "followers" + fun with the murder music concept
Knives vs Vash on how they obtained their "followers" + fun with the murder music concept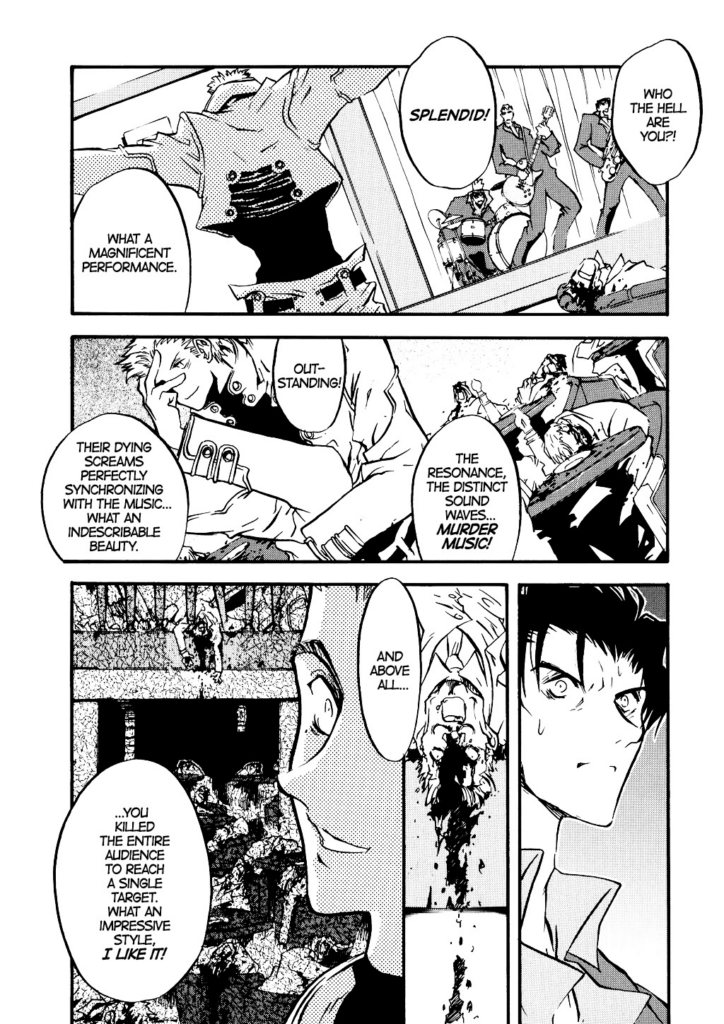 I find it so interesting that Knives is the one who actively goes out to recruit followers. He even has an elite team of 12 like Jesus does.
In contrast, Vash's companions become mainstays in his journey because they're the ones who seek him out. He respects Milly, Meryl, and Wolfwood's decision to follow him because he trusts that they wanted to make that choice. Knives commands his disciples to follow him, while Vash allows people to stay by his side because they demonstrate a willingness to do so in the absence of any commandment on his part.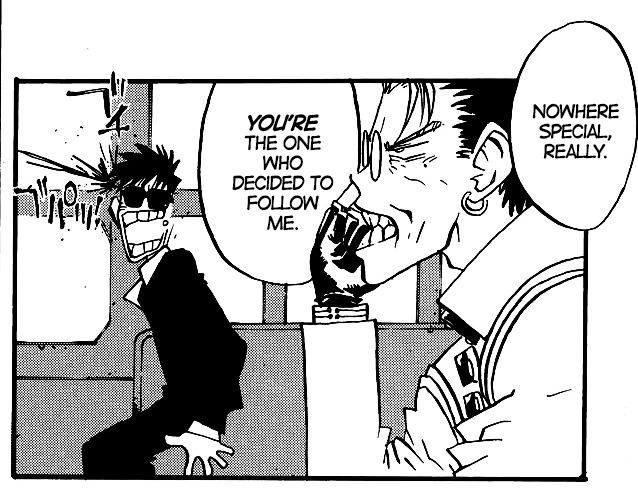 Of course, in poor Wolfwood's case, he's not entirely there by choice. But even though he is following orders from Knives and is, to an extent, using Vash as a means to an end, he's still going above and beyond for him in ways that show he genuinely cares.
Aside: This is how I imagine the visual effects for the musical attacks from Midvalley's Murder Band. 😄