Back to the Trigun Bookclub Archive
Trigun Bookclub By Volume
Trigun: Volume 1 | Volume 2
Trigun Maximum: Volume 1 | Volume 2 | Volume 3 | Volume 4 | Volume 5 | Volume 6 | Volume 7 | Volume 8 | Volume 9 | Volume 10 | Volume 11 | Volume 12 | Volume 13 | Volume 14 | General Commentary

Trigun Bookclub By Member: alena-reblobs | aluvian | annaofaza | anxiety-elemental-kay | caffeinefire | deludedfantasy | discount-kirishima | domfock | dravencore | eilwen | fifthmooon | hashtagcaneven | hikennosabo | iwritenarrativesandstuff | lizkreates | makima-s-most-smile | merylstryfestan | mydetheturk | namijira | needle-noggins | nepentheisms | nihil-ghost | ocelaw | pancake-breakfast | rainbow-pop-arts | retrodaft | revenantghost | sunday-12-25 | the-nysh | weirdcat1213
Original Tumblr Post: Leonof/Knives parallels
Leonof/Knives parallels
TriMax Volume 3 is a real doozy, and at the center of the chaos is this horrible little old man. I must say I enjoy Leonof's design; it's giving The Penguin meets The Babadook, and we get this striking demonic silhouette when he opens his cloak.
LONG POST AHEAD
A realization I had while reading this time around was that Vash's battle with Leonof is a reflection of his conflict with Knives. To begin with some visual parallels, Leonof's puppet chimera has these scythe-shaped blades that look like praying mantis claws. Later in this volume, Knives sprouts curved blades out of his arm.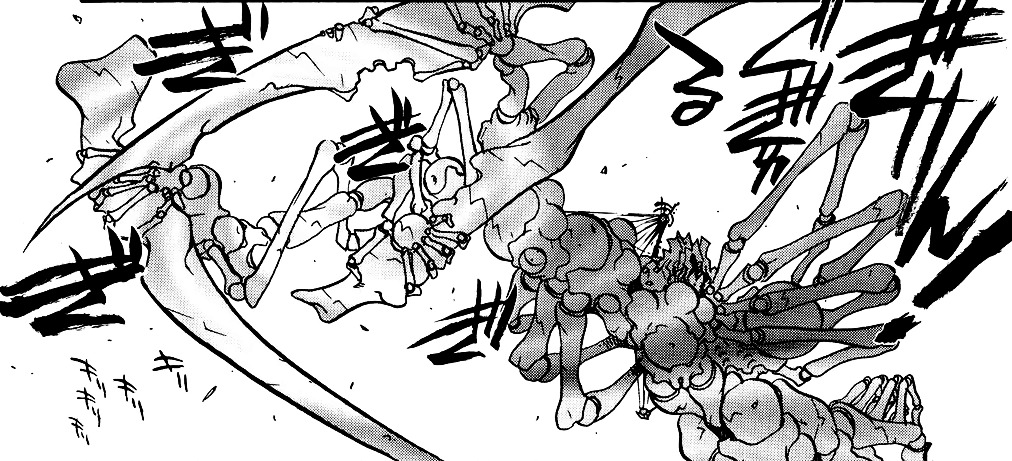 Also, there's this panel that's reminiscent of an iconic shot from the '98 anime.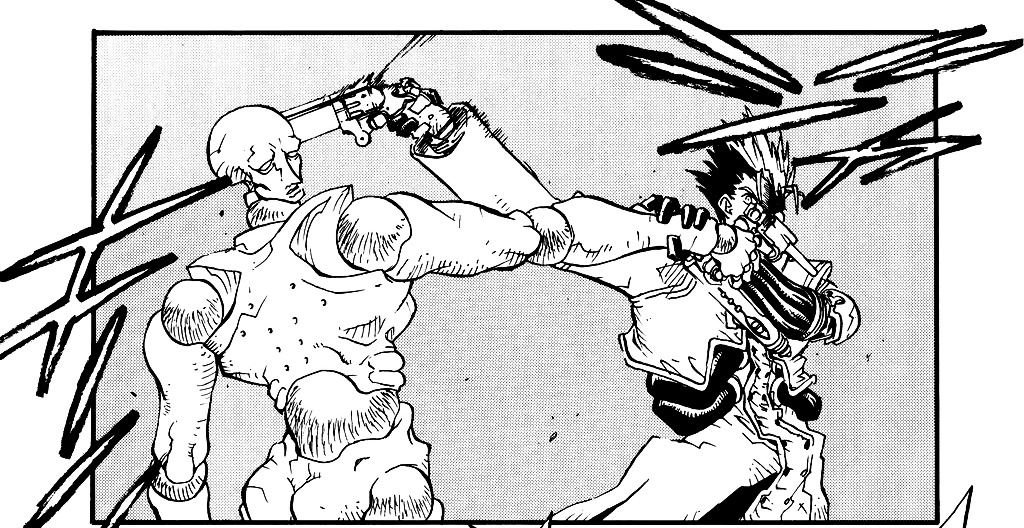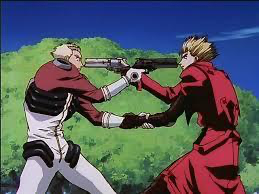 The more we learn more about Leonof's MO the clearer the parallels get. Leonof is the monstrous puppeteer who desecrates people's bodies to create weapons over which he has complete control. After getting a glimpse of all the pain and grief Vash carries inside him, Leonof declares that he wants to make Vash one of these puppets. And hasn't Knives shown that he wants the exact same thing? To destroy every bit of resistance in Vash and erase his autonomy until he's nothing more than a weapon he can use as he pleases?
Out of all the Gung Ho Gun encounters we've had so far, this one most directly gives the impression of Vash battling Knives by proxy. He's up against someone who views his compassion for humans with contempt and who seeks to turn him into their own personal tool of destruction.
But here's the clincher for his fight with Leonof: Vash shares a personal history with him. He'll always remember him as the boy Emilio, and all the way to the end, Vash never stops trying to appeal to Emilio's humanity. With Knives, Vash likewise has a personal history, but at this point in the story, Vash still seems intent on killing his brother. With the way this volume in particular reinforces just how strongly Vash holds onto the interpersonal bonds he creates with people, I think it adds a layer of doubt over whether or not Vash will ultimately be able to go through with ending his brother's life. Vash's anger toward Knives and desire for retribution against him are certainly strong, but are they strong enough to override whatever sense of connection he has with Knives as his brother?