Back to the Trigun Bookclub Archive
Trigun Bookclub By Volume
Trigun: Volume 1 | Volume 2
Trigun Maximum: Volume 1 | Volume 2 | Volume 3 | Volume 4 | Volume 5 | Volume 6 | Volume 7 | Volume 8 | Volume 9 | Volume 10 | Volume 11 | Volume 12 | Volume 13 | Volume 14 | General Commentary

Trigun Bookclub By Member: alena-reblobs | aluvian | annaofaza | anxiety-elemental-kay | caffeinefire | deludedfantasy | discount-kirishima | domfock | dravencore | eilwen | fifthmooon | hashtagcaneven | hikennosabo | iwritenarrativesandstuff | lizkreates | makima-s-most-smile | merylstryfestan | mydetheturk | namijira | needle-noggins | nepentheisms | nihil-ghost | ocelaw | pancake-breakfast | rainbow-pop-arts | retrodaft | revenantghost | sunday-12-25 | the-nysh | weirdcat1213
Original Tumblr Post: Meryl comes in clutch, discussing Mary Magdalene parallels
Meryl comes in clutch, discussing Mary Magdalene parallels
You ever find yourself down and out, going through a real dark night of the soul? Well if your name's Vash, then fortunately for you, you've got a Meryl Stryfe on your side.
She came in clutch, and I'm proud of her. Nightow even conveys the moment Meryl's words of resolve reach Vash as a burst of light in the dark. After Vash kills Legato, we see his soul teetering on the brink. He feels truly lost, boxed inside an all-black space, wondering what reason he has to go on living, "What's there left to see?"
And as if in answer to prayer, sparks of light begin to appear around him. As our eyes follow the flow of panels down to the lower left, we're then hit with the impact of the space around Vash brightening dramatically as he hears Meryl's words. Her faith calls him out of the void, and he gets the answer to his question: Here are the people fighting to realize your dream. Here's the woman who declares that she's among those who will share your burden because it doesn't matter if you broke the vow that defined you for so long – you're still worth believing in. And here, right in front of you is a fragment of your sisters' memories – the key to finally bridging the gap between them and humanity. There's so much left to see.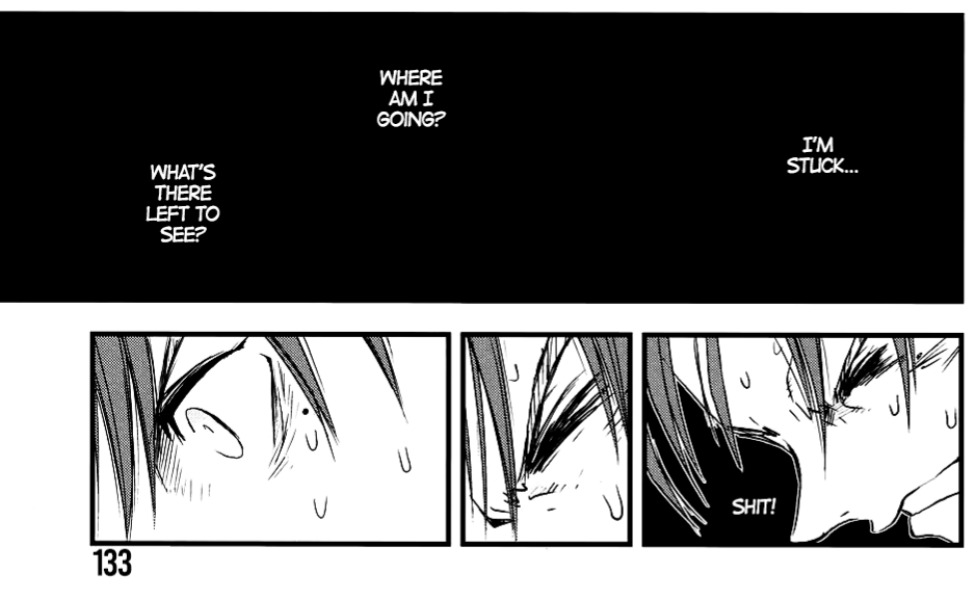 I love how in every version of Trigun, it's the sheer persistence of Meryl's faith that pulls Vash out of his lowest points (I know Stampede hasn't reached this climax in Vash's emotional journey yet, but I think what we've seen with Meryl helping him break Knives' control is a foretaste of bigger things to come). That tenacity and refusal to give up are so central to her character. Once her convictions are set, she's incredibly steadfast in them, and it's this steadfastness that makes the Mary Magdalene comparisons even more fitting.
In Thomas Aquinas' reflection on Mary Magdalene, he calls her devotion "constant," and says "it deserves praise" as a quality that "made her fit to see the angels." Aquinas remarks that while the other disciples left when Jesus was buried, Mary Magdalene stayed because of her "stronger and more burning affection." Thus, she is privileged among the saints as the chosen witness and messenger:
"Notice the three privileges given to Mary Magdalene. First, she had the privilege of being a prophet because she was worthy enough to see the angels, for a prophet is an intermediary between angels and the people. Secondly, she had the dignity or rank of an angel insofar as she looked upon Christ, on whom the angels desire to look. Thirdly, she had the office of an apostle; indeed, she was an apostle to the apostles insofar as it was her task to announce our Lord's resurrection to the disciples."
So how fitting is it that Meryl ends the story as a news reporter and thereby having even more power to tell Vash's story? She has witnessed the most hidden aspects of him (a fact that makes a great point of comparison to the characterization of Mary Magdalene in the extracanonical Gnostic Gospels), and there's so much she could say to help the rest of the world learn to understand him. She now has the resources to share his message on a much greater scale, and in those last few pages we see that the people Vash met in his travels, people like Lina and her grandmother and Badwick's family, are among those watching the broadcast. Meryl gets the word out to others who came to know him directly: He is risen.
"Mary answered and said, What is hidden from you I will proclaim to you. And she began to speak to them these words: I, she said, I saw the Lord in a vision and I said to Him, Lord I saw you today in a vision. He answered and said to me, Blessed are you that you did not waver at the sight of Me. For where the mind is there is the treasure." –Gospel of Mary (extracanonical)