Back to the Trigun Bookclub Archive
Trigun Bookclub By Volume
Trigun: Volume 1 | Volume 2
Trigun Maximum: Volume 1 | Volume 2 | Volume 3 | Volume 4 | Volume 5 | Volume 6 | Volume 7 | Volume 8 | Volume 9 | Volume 10 | Volume 11 | Volume 12 | Volume 13 | Volume 14 | General Commentary

Trigun Bookclub By Member: alena-reblobs | aluvian | annaofaza | anxiety-elemental-kay | caffeinefire | deludedfantasy | discount-kirishima | domfock | dravencore | eilwen | fifthmooon | hashtagcaneven | hikennosabo | iwritenarrativesandstuff | lizkreates | makima-s-most-smile | merylstryfestan | mydetheturk | namijira | needle-noggins | nepentheisms | nihil-ghost | ocelaw | pancake-breakfast | rainbow-pop-arts | retrodaft | revenantghost | sunday-12-25 | the-nysh | weirdcat1213
Original Tumblr Post: Trigun Ultimate 1 (Part1)
Trigun Ultimate 1 (Part1)
With much delay, I can finally join the bookclub with my meagre thoughts and comments. I just try to say stuff that I haven't seen, I think.
Chapter 1: The $$ 60 Billion Double Dollar Man
I thought the city in the establishing story was a small one, like in all those westerns of my youth. Few houses, one mainstreet, that kind of city. But with those numbers of daily casualties (), it has to be a bigger one. Damn, that totally did not register when I read it the first time!
I love how subtly Vash moves. I didn't see in the first readthrough that he puts his finger into the barrel. And all the while his opponents are boasting, he is taking control of the situation! Nice!
Me, when I see all the Trigun theories!

With the knowledge that they are in April and thus in one of the main cities, the whole number of dead plants makes so much more sense.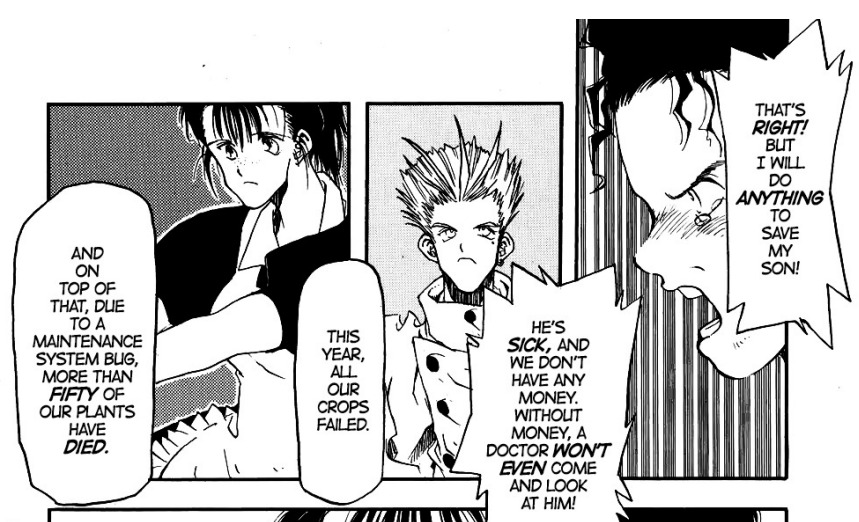 Also, how bad are the conditions that they don't have access to a resident doctor in one of the big cities?! It looks like that woman's personal plight, but then the waitress lady chimes in with the plants, so the whole city seems to be dying?
I still hc that Vash is in April specifically to avoid another maintenance bug taking more of his sisters. For the humans, but also for the sisters on their own.
Chapter 3: Hard Puncher
Thank you, Speedwaggon, for your explanation…
Look! Glasses! He puts them on! Squeeeee!
Again, this is the entire April city. Not gonna lie, I read somewhere that like 20? Million people survived the Great Fall. Somehow I don't believe that, if that tiny city is one of the big ones. But then again, this is Nightow still finding his vibe.
Chapter 04: Bang!Bang!
I love how mindful and in the present Milly is!
Sadly, she never really gets her win. No wonder many people think of her as just a silly airhead, when her mindfulness gets immediately countered by a joke.
Someone needs to calculate by those examples how much a donut costs and then how much a bullet does.
Chapter 05: Assault
A riverbed? There were rivers in the past? It would make sense, since worms and thoma are native to the planet and water is needed to start life. But damn, did No-Man's-Land lose water by twin sun sunstorms?
Chapter 6: Diehards
Somehow I feel like the speech bubbles should be pointing to the other, with Kaite being the one who knows the ins and outs of the ship.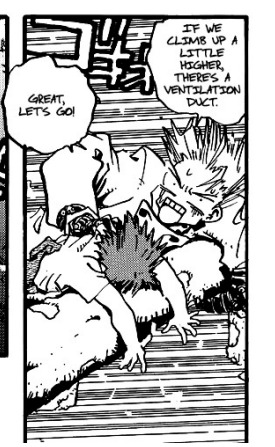 Chapter 07: Rem
Dude's living partly in a fantasy world… Neon being fully like: It's like in the novels!
Well, Vash, buddy. You could explain Kaite afterwards, why you are so weird, but we already know that you won't stay to explain!
Not the first time people mention Vash's arm. Totally not becoming important later.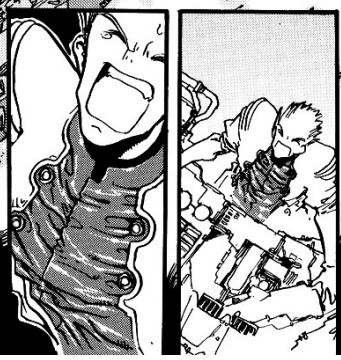 Here he's an adult or at least a teen, not like a kid as shown later. Could it be that he still feels like the time he lost Rem and only his body aged? His mind is still trapped in that moment.
Kaite lost his dad and fell on hard times. This will not be the last time that we see kids' desperation exploited in the manga. It is also an interesting mirror to Vash with how he connects to Rem. We know at that point that she was there when the ships fell and died then, too, and that she rescued humanity. And that Vash made a promise with her (more like with himself… but in her memory). Her memory leads his actions, while Kaite's negative memory of his father led his. Though we see the kid reflect upon them and it more or less boils down to him feeling neglected and left alone for his father's work and then… well, truly left alone. This is his turning point.
Vash is not wrong with telling Kaite to start anew and all, but that also blatantly ignores how much that kid went through and it has a very optimistic view of the future, maybe even naive. But that is the basis on which Vash is able to move on. It also reflects on Rem, but that is something for later.
What I think is interesting, Vash does not look happy or forgiving in the panel, it looks serious, too serious, too burdened for the thing he just said. It is not uplifting at all…
08: Duelist
Hello, Stormtroopers! How do they even miss his nether regions? Vash just stands there, legs spread apart and they miss everything!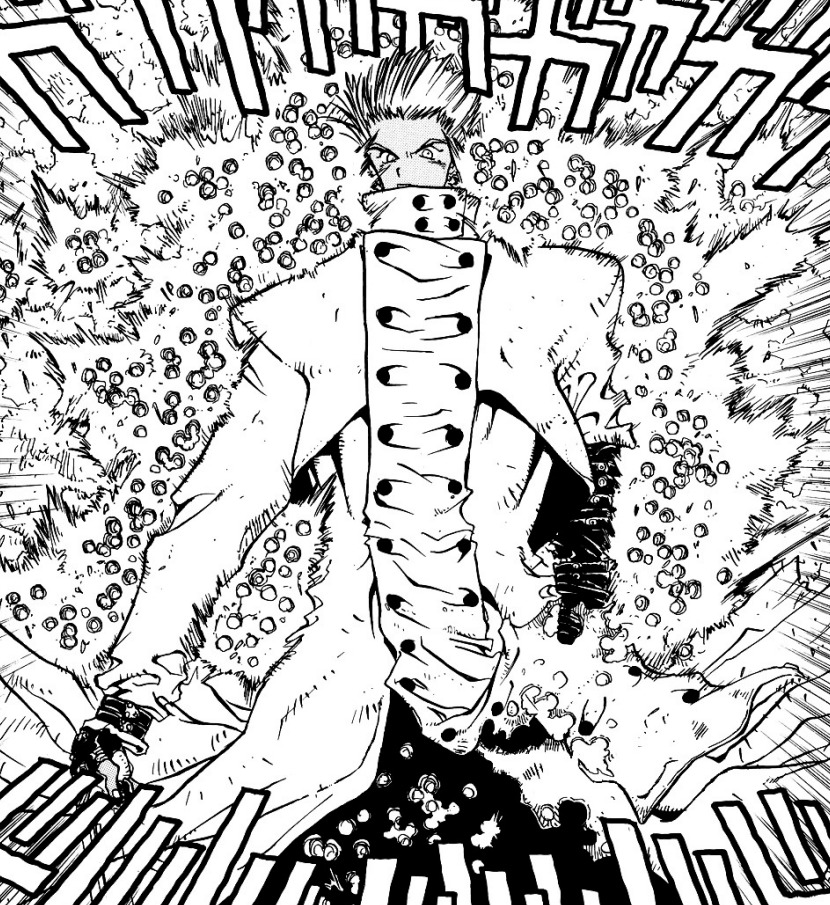 A…hahahahahaha. He doesn't seem to be, does he?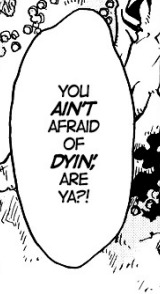 Lol, Milly gave herself the nickname?!
Okay, but this is massively cool!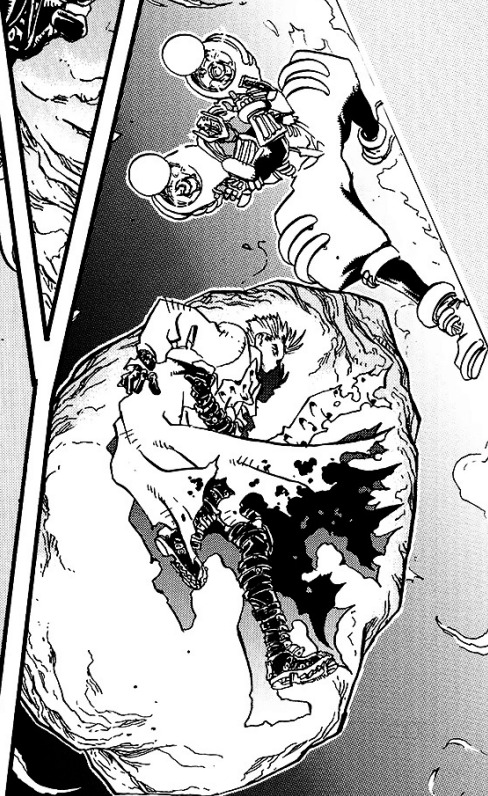 Oh, so Neon was actively looking for Vash to hunt him down for killing his family? And then he lets him just go. Like I said, this guy is not really living in reality. A fucking romantic!