Back to the Trigun Bookclub Archive
Trigun Bookclub By Volume
Trigun: Volume 1 | Volume 2
Trigun Maximum: Volume 1 | Volume 2 | Volume 3 | Volume 4 | Volume 5 | Volume 6 | Volume 7 | Volume 8 | Volume 9 | Volume 10 | Volume 11 | Volume 12 | Volume 13 | Volume 14 | General Commentary

Trigun Bookclub By Member: alena-reblobs | aluvian | annaofaza | anxiety-elemental-kay | caffeinefire | deludedfantasy | discount-kirishima | domfock | dravencore | eilwen | fifthmooon | hashtagcaneven | hikennosabo | iwritenarrativesandstuff | lizkreates | makima-s-most-smile | merylstryfestan | mydetheturk | namijira | needle-noggins | nepentheisms | nihil-ghost | ocelaw | pancake-breakfast | rainbow-pop-arts | retrodaft | revenantghost | sunday-12-25 | the-nysh | weirdcat1213
Original Tumblr Post: Trigun Maximum 8.3
Trigun Maximum 8.3
I am finally done with the volume. And my heart bleeds.
Spin-off: Freed Bird
Okay, when is this? Is this the path to december? Or when Wolfwood is on the way to Juneora Rock? I mean, he doesn't have Angelina, but then again, she would have been left where the Ark started, so is it now? Then again, he wouldn't take up random work to get to December… So, I'd say that this is either Pre-Trigun Ultimate Wolfie on the way to Knives with the knowledge that he has no home anymore or Pre-Trimax Wolfie under the thumb of Knives. The way he thinks about Lina protecting herself could show his growth as a person.
Is Wolfwood the bird or the human or both? He has no freedom, none at all, the Eye of Michael and his responsibilities bind him down. But then there is a point to be made that Wolfwood is desperately trying to find a place to rest, that he is in constant pain from trying to survive. He gets like the worst out of both worlds. I would have loved for that birdmotive to be present earlier for Wolfwood.
Ahhh… good old peak idiot Wolfwood.
A difficult situation. They were right to take a loan, but the father wasn't very responsible with the money, then, was he? They profited from the ownership of the plant and lived a cushy life. He should have constantly put money away for such a situation.
It is not only the responsible and fair thing to do ala you wash my back and I wash yours, but also considering the worth of plants, you cannot take even one death of them. I'd say make plants common property, but even that wouldn't stop people from trying to gain power over them.

WOLFWOOD! YOU WERE SO GOOD WHEN LINA PROTECTED HERSELF FROM THOSE GUYS! And here you are like: "Nah… congrats. I don't care." I partially understand him. Wolfwood grew up in deepest poverty, he would most likely marry Orekano to get that lifestyle (give that money to the orphanage). He may not understand that someone may prefer a life of strife than to be an object in the hands of a weird man.
Again, the bird motive. Lina is a trapped bird. She doesn't know how hard the world outside is, she truly doesn't. She lived a life as an upper class woman.
Haha, wrong person to ask.
Not gonna lie, her saying that she was an orphan and using that as a reason to say that she was dependent on people reads so fucking weird. Everyone is dependent on other people. If Maylene popped out a child and kept it, it would also be completely dependent on her. That's what children are. In the next few pages we learn that she was adopted like at age 2 max. She had next to her whole life with this family, who took care of her as her own from what we get to see. She does not understand poverty or survival at all. She was at an age where you do not remember things. Sorry, but no girl. I understand that you may felt overly protected and maybe suffocated by your parents, maybe your parents actively stopped you from going out and growing up, but your lack of freedom is totally different than that of an orphan of a struggling orphanage.
Then again, that does not mean that she has to marry Orekano to keep her lifestyle. She has the ability and the freedom to decide for herself. She is a bird breaking out of her cage. It is her decision to make.
Wolfwood sounds pretty judgemental, but he also does not understand what Maylene has to expect of her new husband. For him it looks like a naive girl romanticising freedom from a position of privilege. He also projects onto her, what he doesn't/didn't have his whole life. He is the bird that just wants a safe place, but he cannot get it. He cannot imagine giving that up.
I just realised, Wolfwood said he put bullets into Chapel for the name he gave him. But we see him called Nicholas in the past. It was the Punisher. Wolfwood hates Chapel for making him an assassin, but my brain was too soupy in the last volume.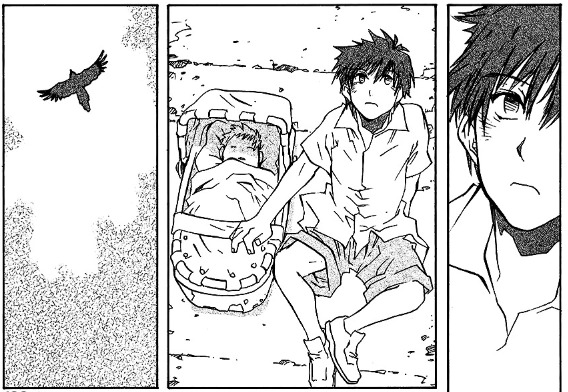 Ah, yes. Wolfwood's old friend. Parentification. How it made him what he is today, the big brother, the caretaker, the protector. So much of Wolfwood can be traced back to this.
I think it is also interesting that we see a kind of neglect/abuse here, that wasn't done with ill intent or anything. The orphanage was too full, the aunties had too many children to take care of and that led to Wolfwood being forced into that role. He wasn't parentified by neglectful parents, but by a society that causes too many orphans and that gives not enough money to adequate care for the helpless and innocent. There was no alternative. Should they have left Maylene alone and crying?
From what we know about Wolfwood, he saw the orphanage as a kind of paradise. It was a place where he could be without having to give something. Wolfwood already came to the orphanage with the ideology of having to be useful, to balance out the debt that occurs from him being there. It was so easy for him to become a quiet helper to the aunties that didn't tell his needs. His basic needs were taken care of and for that he had to be thankful. Everything beyond that was to be used to pay off the debt, to give to the other children.
What did he think then about the bird? Did he want freedom? Or was he okay with how everything is? He was fed, had a place to sleep and was being taken care of, somewhat. Did he ever wish for more?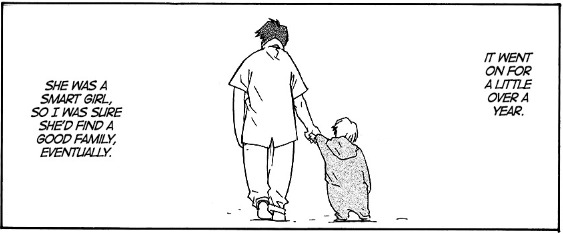 It is about Maylene. Did Wolfwood ever wonder or hope to be adopted? Or did he see himself as damaged goods from the start? Maybe he came in as "too old" for an adoption and resigned himself to be the one that makes sure the little ones get adopted?
Little WooWoo is massively cute. I love this style more than Stampede's.
Why is this… wearing a cross… jumpsuit? I hate him already.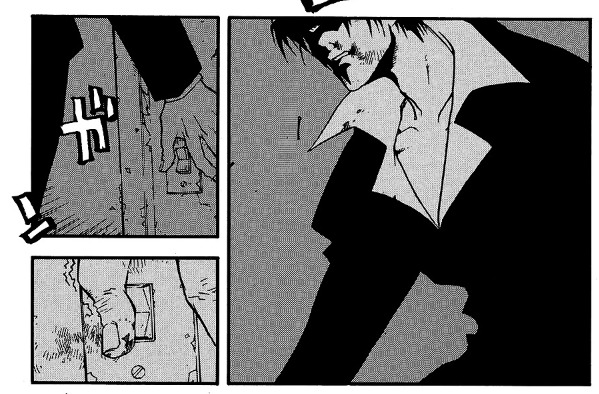 Grati… tude… What the fuck is wrong with this guy? Much, considering Maylene's reaction. But at least now Wolfwood checks WHY Maylene may prefer survival to a cage.
No, he doesn't. Wolfwood! Pull your head out of yer arse! Okay… okay… he was just put through the meatgrinder because Maylene declined and fled.
The only right answer to his incel shit… Why is that icky guy so obsessed with Maylene's virginity? I push aside the train of thought about priests and naughties, because we know how reality looked since before the Renaissance and I do not believe that such a possessive icky, icky weirdo would even have such information.
Call him out, Maylene! Oregano's actions aren't her responsibility. I wouldn't say Wolfwood egging him on made it worse, because I don't think that… I have run out of insults… guy would have believed Wolfwood anyway.
Wolfwood the protector. The Punisher, then his body and then Maylene.
But… Damn, Wolfwood! I wanna root for you. But you say the vilest things. None of these deaths are on Maylene. They are on Orekano. Do you really believe that she would have a good and comfy life under him? Yes, decisions come with consequences, but fleeing from an abusive situation and the abuser acting out is never on the victim. We know how you came to that mindset, but, buddy, that mindset is massively flawed.
FUCKING FINALLY!
How did Orekano get even worse? "Hurdur, I would stain my hands on your defiled body…" Dude believes in fucking cooties.
We know that Wolfwood cares for Maylene. Even if his words are… saying the opposite. He wants her to have a comfy life. He doesn't want her to struggle like he does. His actions show this. He protected her repeatedly from Orekano, he doesn't take all the money offered for his funeral service, he gives her as much as he can so she can start somewhere anew. He doesn't agree with her choice, but he lets her make her own.
And that line from Maylene, I understand much more. Somehow she got into her head that she being adopted is just the family filling some spot with her. That's sad… And hopefully wrong. But it makes her point of breaking off from that legacy and choosing her own path. She heard Wolfwood's warning, but she prefers being a free bird struggling to a caged wife.
Earlier, Wolfwood was sad that she doesn't remember him. But he did leave a massive impression on her in the form of the bird motive. So much so that she took up carving herself. And Wolfwood is stunned, moved. He mattered. For all the blood on his hands, he had a positive effect on someone's life. And he cannot deal with it. That's why he puts it down as a lousy carving.