Back to the Trigun Bookclub Archive
Trigun Bookclub By Volume
Trigun: Volume 1 | Volume 2
Trigun Maximum: Volume 1 | Volume 2 | Volume 3 | Volume 4 | Volume 5 | Volume 6 | Volume 7 | Volume 8 | Volume 9 | Volume 10 | Volume 11 | Volume 12 | Volume 13 | Volume 14 | General Commentary

Trigun Bookclub By Member: alena-reblobs | aluvian | annaofaza | anxiety-elemental-kay | caffeinefire | deludedfantasy | discount-kirishima | domfock | dravencore | eilwen | fifthmooon | hashtagcaneven | hikennosabo | iwritenarrativesandstuff | lizkreates | makima-s-most-smile | merylstryfestan | mydetheturk | namijira | needle-noggins | nepentheisms | nihil-ghost | ocelaw | pancake-breakfast | rainbow-pop-arts | retrodaft | revenantghost | sunday-12-25 | the-nysh | weirdcat1213
Original Tumblr Post: Trigun Maximum 8.2
Trigun Maximum 8.2
Ugh, one day left to chew through Vol.9 and then the bookclub and I can skip hand in hand through Vol.10. Why did the heatwave just hit? Gimme my thunderstorms back.
… I reached 30 panels for two chapters… Part Three comes soon… Why does Nightow have so many banger panels and why do I have to be like: Look! Look! I like this and this is why! And blabber on?
04: Escape
I read that in Chapel's voice.
And he still hesitates. Maybe hesitates because he had to work with Chapel in all these months and had to do repeated senseless slaughters. Wolfwood may just not be able kill anymore. Even Legato.
Just the thought of your body moving not only against your explicit will, but in an active attempt to kill you. Legato IS scary. It says so much about him that his power (wherever it comes from) is about robbing other people of their ability to act.
And Nightow draws movement and poses so godly. I wanna chew on his art.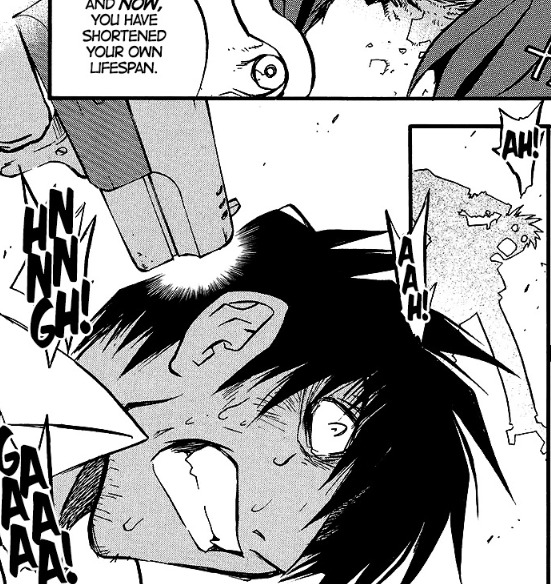 Wolfwood seems to have run in without a true plan. His face reminds me so much of little WooWoo when he was shot the first time. He is scared for his life and does not want to die. But he still has nowhere else to go, he has to do this. No one else could do this.But at the same time, it shows his absolute trust in Vash. He can only survive if Vash has prevailed like he did over the months.
This I do not completely get. Has Legato made Wolfwood miss? Or did Wolfwood miss unconsciously? Or did the other Eye of Michaels somehow interfere?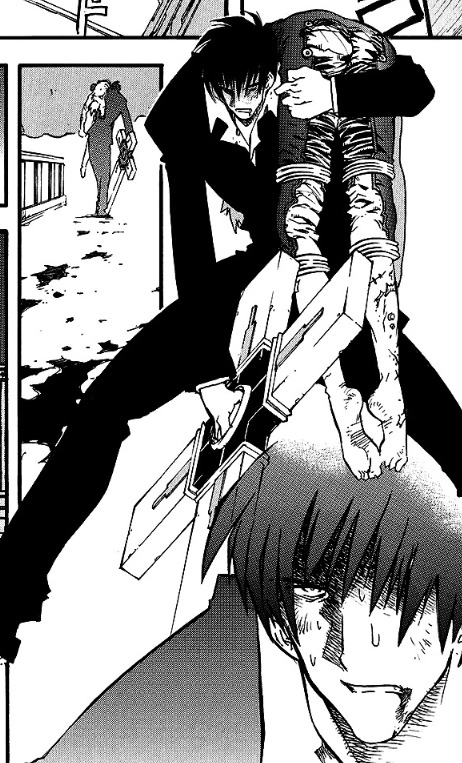 The blood splatter reminds me so much of 98' Ep 23.
Wolfwood has put his life on the line to get Vash out, again. And he paid a massive price for it, again. But again, he had to, necause he knows that only Vash can stop the ongoing genocide by undoing Knives (with whatever methods. I don't believe Wolfwood trusts that Vash could kill Knives.)
This says so much about Wolfwood. He is so used to transactional relationships, but the orphanage didn't take anything from him, it just gave him a home. That's why it is his paradise. That's why he needs to protect it, because he still feels indebted to it. That's why he so easily fell into parentification (last chapter of the volume). Outside of the orphanage, Vash and the insurance women may be the first people Wolfwood has met where it wasn't about him being of use and it may be why he harbours an comparable guilt towards them as to the orphanage, because he benefited from the betrayal against Vash.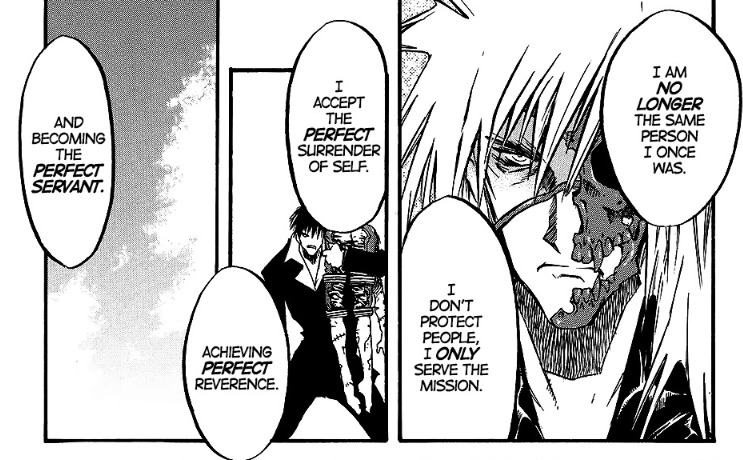 Brainwashing 101: Take any personality from the to be brainwashed, erase his personhood, give him a goal that aligns with your wants.
Perfect, Perfect and Perfect again. Why does Livio want to be perfect? Because in Chapel's eyes, Wolfwood's betrayal came to be because he was not perfect. And Livio as his replacement thus had to be perfect, better than Wolfwood the perfect pupil in any way. This is not Livio speaking, it is Chapel's indoctrination.
There is much to be said just about that, but also that Wolfwood was indoctrinated like this, too. But his love and "debt" to the orphanage was in the end greater than the indoctrination. But we still see him struggle so much with being a person.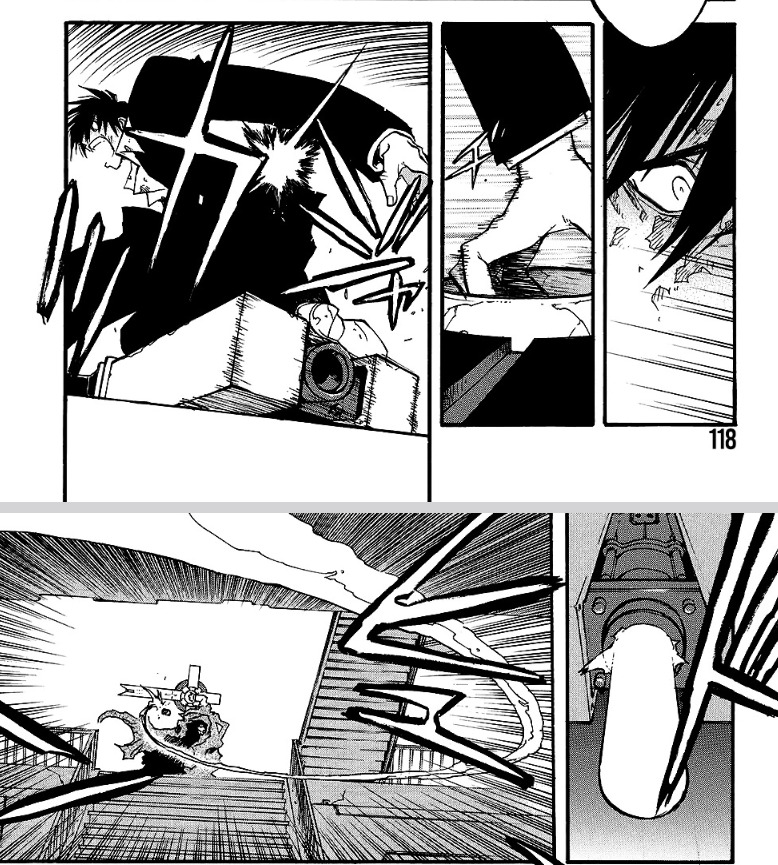 I love how the drawing style of Livio changes infight. His face disappears behind the mask covering half his face. A skeleton face, a person ground down to its bare bones, something missing humanity.
And I just love how Wolfwood is drawn fighting. He is so quick to think and react, even with this unhandy weapon. It is so quick and fluid and fast. Truly a god of battle, in the best and worst meaning of it.
I snickered at the panel of the explosion behind Chapel and him hopping/jumping awayffrom it with his wheelchair.

B… Batman? Is that you?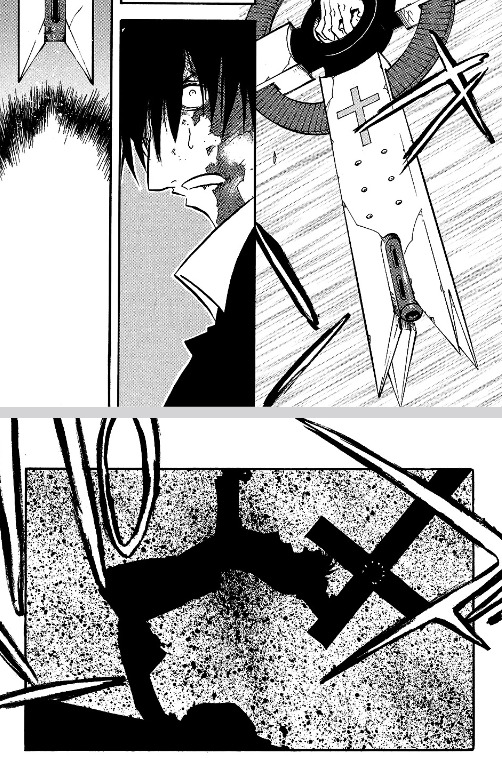 The closeup to Wolfwood's face gives me the impression that he could have avoided the critical hit, but then Vash would have been hurt (more). So he shielded him with his body.
And Wolfwood cannot shoot Livio. He could shoot Legato in the end, but he cannot shoot Livio. Livio is a symbol of the orphanage. Wolfwood, as the caretaker and protector, cannot shoot Livio. It would be equal or even worse than Vash deciding to kill someone in cold blood. It is against the very core of his person. If he kills Livio, Wolfwood ceases to exist.
Livio was such a cutie… and then he got this mob of a hairstyle.
This injury is just so… uh… physical? How Wolfwood's state of body is shown, the blood just flowing freely from his mouth like his mouth istself was the artery cut. And how it comes back to the attackers looming and coming closer all in black. And then it gets countered with this dreamlike looking panel of Wolfwood's and Livio's childhood, how they moved together, how they were happy at each others side and content (even though they seem to be working at that age). Chapel corrupted Livio, he corrupted Wolfwood. He is the difference between these panels, the thing that separates Wolfwood and Livio from their past relationship.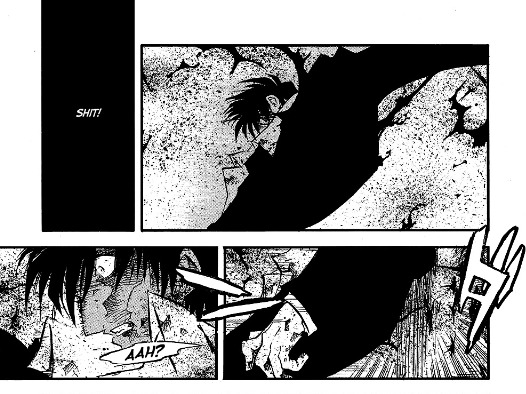 And that's it. Wolfwood falls. It looks so simple and not "that" bad. But we know from his expression, from the one "Shit!" that Wolfwood has reached his limit. It changes from Wolfwood successfully fleeing with Vash to Wolfwood dying while trying something. These four panels are for me one of the most impressive ones from the manga. It just feels so real. You just know… And that is just… damn… Fuck… I need a minute.
We, the readers, have seen Wolfwood's complexity from the start. We saw how he grew, how he constantly reflected upon his actions and how hard he judged himself.
But Wolfwood never does. Like Vash, Wolfwood is unable to forgive himself. He is unable to realise that he is a victim of Chapel, that he did so much good and that he can continue to be better, that he has already gotten into a better place. There is no forgiveness for Wolfwood in himself. Even as the one who protects, he is not enough.
Say that to yourself first, Vash!
Can Vash hear people's thoughts when they are near death? Or just people he feels close to? While the scene is so awesome, it also confuses me so, so, so, so much. Answer me, Mr. I-go-by-vibes-Nightow!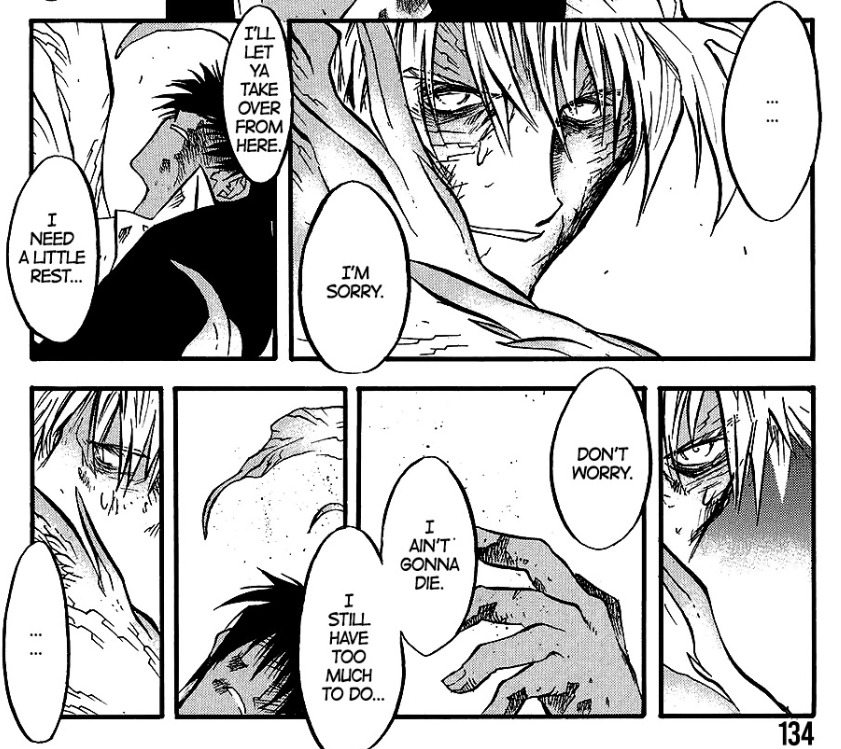 Even being at death's door, Wolfwood is not about himself, he is about comforting Vash. And that's, again, just sad. Even when receiving protection, most likely for the first time ever, he cannot stop being the protector.
Oh, you just realised, you selfabsorbed butt! Vash, I love you. But Wolfwood truly has done so much for you. Kiss him when this is over and say it to him when he is not actively dying! Give him the appreciation!
Yeah, typical abuser behaviour from Chapel here. No surprise. Now that his revenge has not only failed, but it was actively stopped by some"thing" that he has to revere, Chapel shows himself as submissive. Or… if he only reveres Knives, since the Eye of Michael has never had any contact with Vash and it is exclusively under Knives, Knives put out the rule that Vash is a) to be unharmed and b) is not allowed to use his powers, no one should dare to make him use it. I really despise him more for it.
I think it is interesting that they still think that Knives has any hold over Vash or humans as a whole. The thing that Vash protects, humanity, will die if he stays. If Knives kills him now, he at least tried to prevent it instead of letting it happen. Same reason why Wolfwood acted, he knew that Knives is unstoppable for humans, but not for Knives. Knives means no future for the orphanage or himself. So why sit by and let it happen, waiting for death that will come anyway? They are helplessly underpowered, but a death by letting gruesome things happen or a death by trying to prevent it. Vash and Wolfwood would choose the latter.
While… it is nice that Vash has a reason to fight, Wolfwood would truly like for Vash to care for his life… I mean, he made Vash point his gun at his temple to make him understand that one day Vash cannot avoid the trolley problem. Wolfwood cares about Vash' life… But Vash care cares not for what Wolfwood cares about, but about Wolfwood's life. (Because he doesn't understand the complexity of relationships and connections, since he runs from them since forever)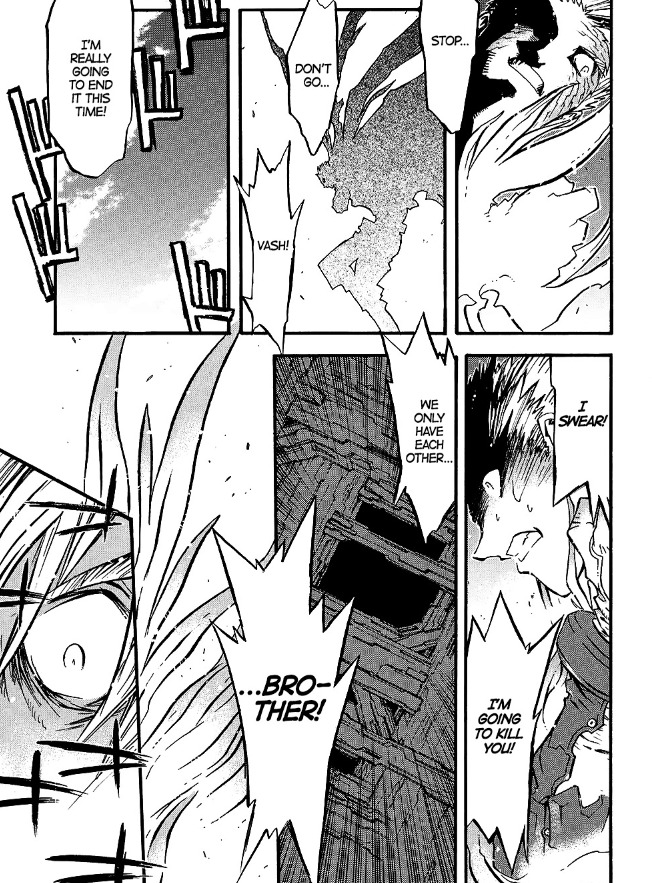 *surprised Pikachu face* If I constantly abuse my brother, he will leave me at the first true chance he gets?!?
Vash is going BECAUSE you are really going to end it this time!
Oh, Knives… Knives and his weird obsession with Vash. He still does not recognise that Vash has not only another opinion about the continuation of humanity, but that he himself is acting actively against it. Vash does not exist to Knives beyond being a body that has to be there for him.
That is just a "GOTCHA!"-Smile! And how he got them!
And the hit every deck on their way down. As if they weren't hurt beforehand.
*insert Hercules-meme of Hdes: "Okay, okay, fine, I am cool. I am calm" while his fire hair explodes*
NOT THE PUNISHER! HELP HER!
I still love that we next to never (beyond the introduction) see Wolfwood talk preacher-like or do churchstuff, and still everyone is like: Yeah, priest, preacher! It is the guilt, isn't it?
05: Parting ways
NONONONONONONONONONONONO! Have you learned nothing from horror movies?
Deus ex machina, uh… deus ex phiala.
Ah, yes, the way to make a lesson stick… Child abuse.
I am unable to not think about Tesla here.
A kid, experimented on, unable to say no or safe themself. Well, Wolfwood survives, but does he really? Physically, he does. But the rest of his measly childhood dies, the rest of hope he had for himself, hope he may have had for a future for himself. From then on, he is a tool, a weapon. And his only choice has been to be a shield for the orphanage and not completely Chapel's weapon. From then on, his body is not his own. Nico has died, crucified to protect the future of the orphanage children.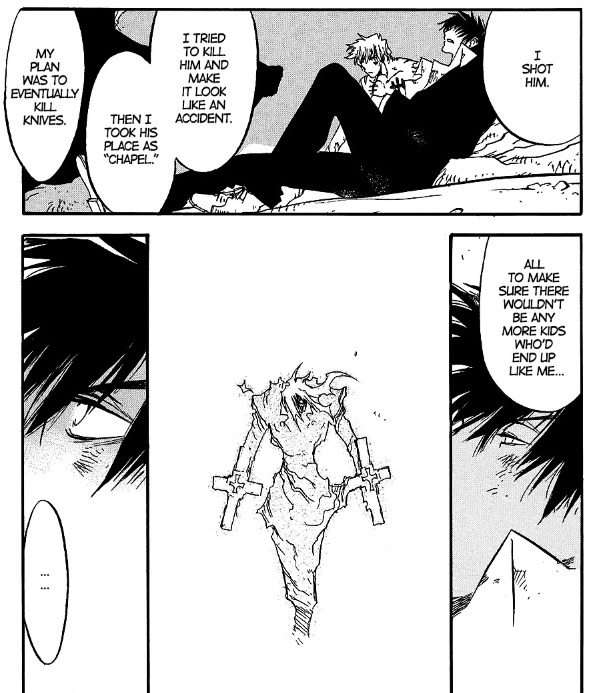 But another kid ended up like him. This is the moment Wolfwood decides to leave Vash. He goes from relaxing to determined.
Wolfwood killed Chapel not only to get Knives, but mostly to protect the orphanage. Wolfwood followed along until he found out that Chapel still procured children from the orphanage to use as weapons. That's when Wolfwood broke out.
Nightow mentioned somewhere that the ageing up and the vials were something spontaneously added. And you feel it when reading this. I still like it, but I know that if the vials were planned, they would have been introduced earlier, making other fights either shorter or more brutal (*stares at Midvalley or at Ninelives*). I mostly like them, but they come so out of left field. Same with the experimentations.
I'd love to have that more explored, because the comparison between Tesla is a big one. (I like what Stampede does with it.) Tesla is a being without agency whose existence gets used for horrific acts as Wolfwood. But Wolfwood still has a voice and dreams, unlike Tesla had. We see the results in his psyche, how he completely fixates on one part of him, his usefulness as protector, how that makes him up and what his dreams are after all he has lived through. And that is, in the end, to prevent other children from going through the same and, maybe, "if he could be selfish" to not having to kill anymore. And that makes the answer to the question of: "What would Tesla think about Knives' actions?" at least for me, much less vague.
Same with the comparison Knives/Wolfwood. Knives received a massive amount of trauma by adults and has been on a revenge trip since then. Wolfwood's trauma is somewhat different and much more personal, but even when killing his (then) main tormentor, he didn't kill out of revenge or hate. He killed out of the need to protect others like him. Knives so often declares how he is protecting his sisters and Vash as justification for his hate, but Wolfwood protects so without declaring it and still owns up to the responsibility of his actions and is hurt by his guilt.
He is not talking about his encounter with Knives. He is talking about Livio. Killing Livio means Wolfwood's own death. Letting Livion stay like this means Wolfwood's death. Being the protector of the orphanage and ALL the children there is Wolfwood's one main motivation to exist, it is the one thing that kept the guilt and the self hate at bay. There is no peace or future for Wolfwood, if he cannot get Livio out.
This is also the farewell. Because the orphanage and Livio is a bigger priority for him. This is the second time ever that Wolfwood decides the path on his own. First was killing Chapel/Knives and the second was rescuing Livio. Since getting the orders from Knives, Wolfwood was back to following orders and Vash' whims. (Remember how often Wolfwood tried to point Vash to the goal of Knives and Vash was like: Yeah, no, I wanna go there instead.) Wolfwood leaves the big future to Vash, the big problem, Knives. He trusts Vash with the planet's future. But it doesn't read like Wolfwood considers his own future being part of it.
And Nightow's modus operandi: Interrupt heartfelt openness by sillies so no other questions can be asked.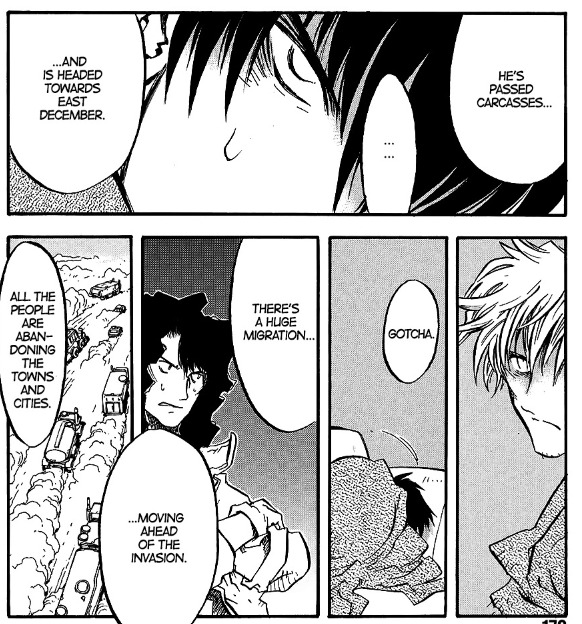 Burrito Wolfwood just gives me life. I wanna hug him so badly.
Does Vash get that Wolfwood plans to leave? That Wolfwood is zoning in on December? After the closeup of Vash, Wolfwood hides his face. And he hides his face when he has something to hide. And just from the positioning from the panels it looks like he understands it. WHY DOESN'T HE TALK TO WOLFWOOD AFTERWARDS!
The ships from earth truly mean hope, but since the resistance now know about Knives' sucking up his sisters, the researcher is right in pointing that danger out. What I also think is important, Knives is breaking apart by all the power. He broke apart in front of Vash when he trapped him seven months ago. Shouldn't absorbing more plants accelerate that process?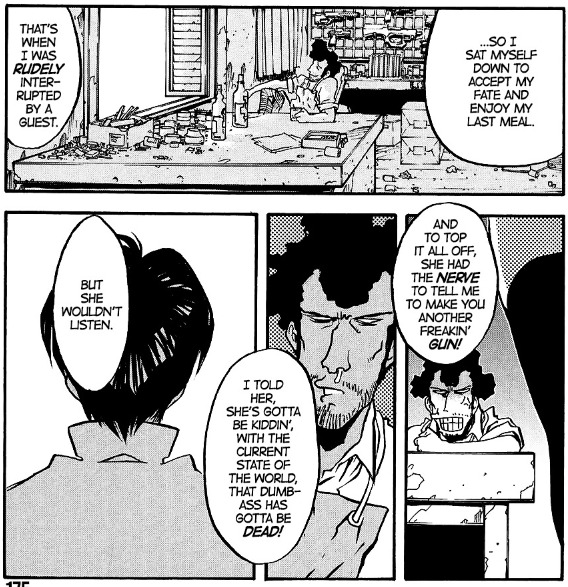 Protect Meryl! Meryl still had hope and her hope infected others. People need to fight for a future and not just leave it to Vash or give up.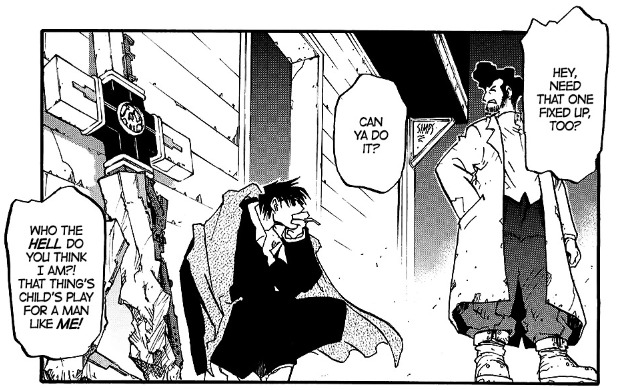 That's so nice.
It also means that Brandon knows that Wolfwood is not just an alpha-dude that has a big pistol for "Biggus Dickus"-reasons, but uses it responsibly.

And this… Why would Knives do this? More power? Nah. Knives absorbs his dead or nearly dead sisters to absorb as many bad memories of them as possible, so the plea to stop from his sisters stop, so they finally agree with him and do not hinder his deeply "rational" actions.
NOOOOOOOOOOOOOOO! *sobs* Stop carrying your burden alone!
One little detail. We do not see Wolfwood's eyes. This has become such an important visual cue for Wolfwood if he is lying or not. Wolfwood is lying. He doesn't leave to protect himself or anything. He feels guilt for leaving and tries to avoid it by giving these reasons… That he'd be useless in the final battle anyway, so he can allow himself to betray Vash like this, his work is done here.