Back to the Trigun Bookclub Archive
Trigun Bookclub By Volume
Trigun: Volume 1 | Volume 2
Trigun Maximum: Volume 1 | Volume 2 | Volume 3 | Volume 4 | Volume 5 | Volume 6 | Volume 7 | Volume 8 | Volume 9 | Volume 10 | Volume 11 | Volume 12 | Volume 13 | Volume 14 | General Commentary

Trigun Bookclub By Member: alena-reblobs | aluvian | annaofaza | anxiety-elemental-kay | caffeinefire | deludedfantasy | discount-kirishima | domfock | dravencore | eilwen | fifthmooon | hashtagcaneven | hikennosabo | iwritenarrativesandstuff | lizkreates | makima-s-most-smile | merylstryfestan | mydetheturk | namijira | needle-noggins | nepentheisms | nihil-ghost | ocelaw | pancake-breakfast | rainbow-pop-arts | retrodaft | revenantghost | sunday-12-25 | the-nysh | weirdcat1213
Original Tumblr Post: Trigun Maximum 7.2
Trigun Maximum 7.2
Outside is a nice thunderstorm. There was a lightningstrike up close that was so strong I felt it rumble in the ground. *happy lizard* Sadly, I cannot stand outside to get peltered by those thicc, heavy raindrops. *somethingsomethingbeingasaneperson*
Much babble, but hopefully less heavy than the last post.
04: Bastards and the blues
What a title…

Considering where Wolfwood comes from… cynicism is a coping mechanism… He doesn't hit the nail on the head, but at least he cares about Vash, he tries to egg him on to talk about it. Not that Vash would ever take him up on it…
I just like this panel of Wolfwood. He looks so roughed up. Cutie.
Others have already talked about Vash. But how is Wolfwood coping? He is like so often all about Vash, but what about him and his needs? He got massively hurt in the fight with Midvalley, got fried by Vash' power, tried to at least get Meryl&Milly out, because he himself can't. His orphanage is still at stake. And he, like Vash, does not open up and takes it all upon himself. But unlike Vash, whose end goal is vaguely saving all of humanity from Knives, his goal is so much clearer but is absolutely dependent on Vash. Who is like this… And not a help at all.
Vash and Wolfwood vibes. The upbeat idiot and his himbo follower.
What can I say but mob mentality, again? These are humanity's worst. How can people be so feral about killing an innocent and then turn around calling Vash a monster? Hypocrisy at work. Seeing this and still keeping onto his goal of saving everyone…
Vash feels different here. This is Vash staying peaceful out of spite. He is hurt, he is at a loss, but he is unable to stray from his ideals. This Vash may even feel like he agrees with Knives, though he knows better than to act upon it. It would help talking about it with someone… Like that weird priest with the portable confessionary. I am sure you get a discount.
Correction, the guy is Vash with more selfworth and less selfhate. Vash just puts himself down and suffocates any talk about himself. This guy really wanted to get to know Vash as a person. But Vash denies him that. Sure, he answers truthfully, but it drowns the conversation. Vash does it intentionally. And that guy zooms in on why.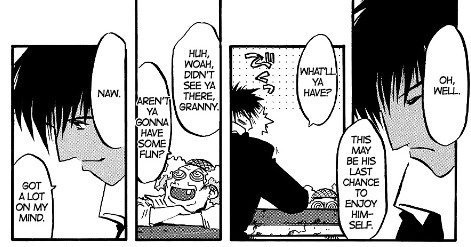 I love how soft Wolfwood looks in these panels. With "Double Team" this chapter is one of my favourites, just for the expressions. But he also looks like he is about to break down, too. But he is all about Vash.
While Vash is basically coping with alcohol, Wolfwood is swallowing his guilt and pain about his mission coming to an end soon, and the situation he will lead Vash into. I feel so much more for Wolfwood here.
Vash is coping badly and denying any help and closeness, most likely also due to the aftermath of dragon's nest district and Colnago. He was shunned for what he is. But at the same time, he has people at his side and Vash doesn't seem to value them. That is new people, like the two outsiders who make their living at the edge of society and known people, like Wolfwood. And I am starting to grow more and more miffed at Vash for that. Vash is so much about his difference from humans that he is unable to see the humans that reach out to him, that want him at their side. But he seems only aware of those that don't. Talk about Vash ignoring what he preaches.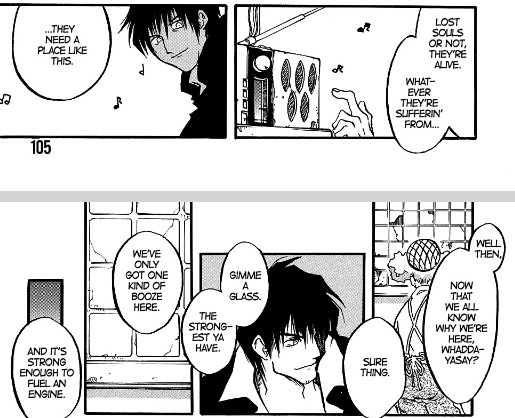 Vash doesn't appreciate or understand the meaning this little place has, he is too occupied with drinking away his pain. But Wolfwood does and he looks extremely grateful. Grateful enough that he chooses to let down his mask a bit and relax. And I am emotional about this. Vash is lonely in company, while Wolfwood is truly sidelined, truly the caretaker and truly alone with all the responsibility. But at least the old lady gives him some kind of respite. Heck, I am grateful for the old lady, too! I love her. Bartenders can truly be angels.
Vash is at a lowpoint. His true regret and depression shines through. One-eye is the same. Granny's summary puts One-eye and Vash both on the same level. I take back my words that he has less self hatred than Vash. They are the same, they mirror each other. Both are outsiders with regrets about the past that are shunned again and again by society. But they keep on trying.
Forgetting your hurt and moving on… But in the end coming back to the same coping mechanism called alcohol. I do not truly agree, but I don't think I truly get what One-Eye is saying, either. It sounds like the depressed kind of nihilism. But I think he gets Vash' feeling of loneliness and hopelessness. That he will always return to being alone. It's just that… I don't think Vash is truly alone. Home, Meryl, Milly, Brandon, Wolfwood… those people know him and they stayed. (Okay, Meryl needs a break, but that does not mean she is gone forever).
First, panels! I love how Wolfwood is positioned here. Like cerberus at the gates of hell, he stands at the entrance of the bar, shining from behind. He guides Vash to his fate.
Secondly, other things about the page. Vash feels Knives doing his pissing contest in the sky and runs out. But I think, this question here means so much more than that. It is Vash reassuring himself that Wolfwood is not there for Vash, but there against Vash. That the friendship they have is fake and that he is truly lonely. That even the person that stayed truest at his side isn't there for him. In his depression Vash does not see Wolfwood for who he is. He can't.
His question is there to hurt himself. Vash is coming more and more undone. He looks for reasons to affirm his bitter feelings towards humanity. And the affirmation that Wolfwood is his enemy is enough that his control over himself slips.
And Wolfwood is honest as always. I wanna slap him for the: "I told ya from the start…" He is not completely wrong, but fucking eurythmics is really not the way to spell that out! But Wolfwood did not hide this, not really. And I have to give him credit for that. Lying wouldn't make anything easier, it would make things worse. At least like this Vash is able to act with full knowledge. And he looks so pained.
I wish both would say more. I wish they would clear the air between them. I wish Wolfwood could tell Vash that he is on his side, even if he started out as Knives' minion. I wish Vash would ask Wolfwood for more. Because Vash knows Wolfwood, he knows his priorities. And helping a genocidal maniac does not agree with him trying to protect an orphanage. We know that Vash is able to put two and two together. But Wolfwood sees himself as a burden and cannot step out of his stoic position and Vash never learned to communicate feelings.
Tearing down all the satellites is an intelligent move. Now the human settlements cannot share information easily and thus the human population is split into smaller groups that are thus easier to eradicate.
"This"? This as in that his brother is decaying? And he is the cause for it? That he know feels like a gun is pointed at his chest and he needs to act now before his brother uses up all his power?
Elendira is so sure that she will die in the fallout of Knives' tantrum. And that is sad. She doesn't budge, though. She will stay at his side. Did she hope to stay til the end with Knives? Why? She likes non"-suicidal men". Does she like Knives? It doesn't look like infatuation. I still think of her as a nihilist. But now the whole "making smores while the world burns"-feeling is gone. She looks sad. I wanna know more about her! D;
It feels by stressing that he will remember their shared time together, Vash disagrees with One-Eye. Be it with everything One-Eye said or just with parts of it, like ending up alone again. If that is what Vash disagrees with especially, then it would mean that Vash knows that Wolfwood is on his side despite being his guide, that he is not alone. Which would mean he at least starts to get out of his crunch and start to appreciate his companions again. Yay?
05: Late arrival to the end of the world
LIAR! Sorry, but that is such a big lie. Vash is only ready for this, because he has no other choice. Knives forces Vash' hands. Vash is so much about avoidance!
But saying that would mean he would open up to Wolfwood, who is visibly worried about Vash. And we cannot have that! Others caring for him.
And as "prepared" as Vash is, just the presence of his brother's aura makes his skin literally crawl.
Wolfwood is the same. He puts his own needs and pain on the backburner so Vash can do his best. He wants Vash to succeed. And we can't have Vash being distracted just because Wolfwood just had a death vision.
How about both are careful?
And still, being warned and all, Wolfwood doesn't want to leave Vash. He is ready to run after him to help him in any way against his brother. Until Elendira reminds him that he cannot.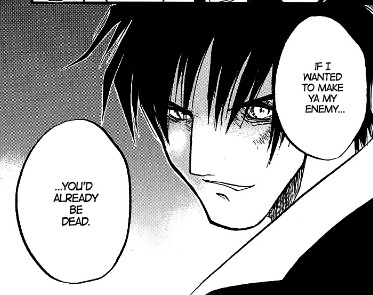 I love the double misdirection. We as readers are led to think that it is Elendira he will fight for Vash, but NOPE, it is Double Fang and Tripunisher of death. And at the same time in the story, Wolfwood avoids lying to Elendira, he avoids telling her where his loyalties lie.
Only Elendira brings a BOW to a gunfight. And she wins!

So, who caused the death aura? Was it from the old arsehole or from double fang? The old arsehole has more reasons to want Wolfwood absolutely dead, with him having been shot by Wolfy.
What shitty name? Did the old bitch name Wolfwood? The whole name? Is oldie Wolfwood's old master? He knows his full name and, well, Wolfwood said he put him full of lead. The only EoM we know of that Wolfwood did that to is the true Chapel. Does anyone else know that the wrinklebell is the true chapel?
Elendira's word is enough to make them stop. No one wants to fight that woman. *swoons*
Also, Wolfwood recognises Double Fang as Livio. How does he do that behind that stupid halfmask and the fucking mop of hair?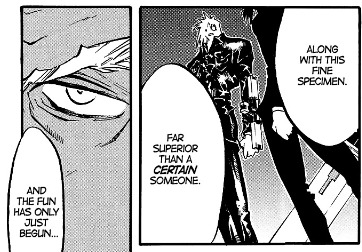 Ah, yes, my favourite. Old churchmen dehumanising children as weapons. Can I kick him? I shove him out of his wheelchair and run away with it. Then I gift it to someone in need. :3c Pwease?
But it says also much about Wolfwood. No wonder Wolfwood has trouble seeing himself as human, as being worthy of softness, when he was used as a weapon and completely dehumanised by his master.
Elendira's look. *chef's kiss* Also, that's what you do if you accidentally misgender someone, correct yourself and move on.
I love this. Elendira has blind faith in Knives' capabilities. (Next chapter tells us more). Wolfwood calling her out on it gets rebuffed, but his faith in Vash is not without merit.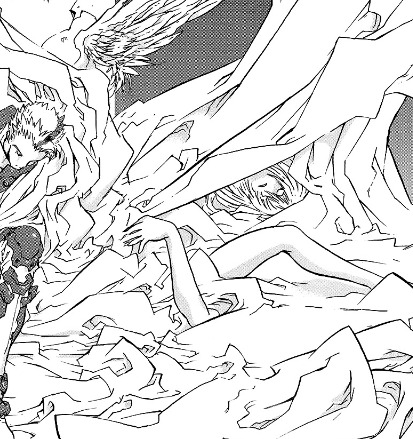 That looks so comfy! (When it is 30°C outside, but you need a blanket to fall asleep.)
06. Conflict
I mean, yeah, this is a conflict.
Uff, Knives is so very aware that kid Vash shared his opinion. He is not without reason to assume that current Vash may agree, too. But Knives also ignores that Vash has met so many good humans. And that he himself is kinda part of the reasons the humans are exploiting their sisters.
Knives only sees his way of thinking, for the worse. He is unable to empathise with others' experiences. He even uses the idea of Tesla to give his hate more credibility. Tesla would agree, wouldn't she? We don't know, but more importantly the twins do not know. Tesla had no agency when the humans tortured her and now her memory itself gets distorted and abused. She truly has no voice.
Knives is literally breaking apart. He cannot really contain his sisters' energy. His fear and anger is destroying himself.
Well, you just met your crazy brother after 2.5 years and he just told you he is the reason you are dying. Btw… you're dying. Now fight!
Back to taking any agency from Vash again. Knives is the reason why Vash has started decaying. Without Knives, Vash would never have been able to activate his angel arm. He would never have lost control in July and then in Jeneora Rock. Knives' hate bleeds his brother dry. If Knives just stopped now, Vash still had much time left. He wouldn't have to use his power. He only uses his power because of Knives. But Knives is unable to even think of that. Everything is about humans, if humanity wasn't Knives wouldn't be forced to act and thus he is not responsible for his actions, humanity is.
Legato feels something that no one else does. And he shall join his master one little hop at a time!
I just love the sass Elendira gives him. I'd dislike him, too, as a coworker. Nothing about him is sane, but the boss likes him, so you gotta swallow your dislike.
I just love Elendira with Wolfwood. I love her sass and how Wolfwood is like totally apathetic towards it.

Not untrue, but look at that… Vash is leaving a blood lake because of you, Knives. Are you truly better? So many of Vash' scars, mental and physical, are a direct result of Knives' action. But how can you get that into his head? He twisted his mind into such loops, that his actions seem justified for him. Behind all that, he is scared for himself. The safety of his brother is just a sign for himself that he himself is safe. So he has to bring Vash onto his side and save him from himself. At all costs. Even if that would mean tearing him apart limb from limb, breaking his mind, maybe even absorbing him. Vash is not a person for Knives. Vash is a trophy-
Vash' counter idea is… not the best… It is silly and naive. I understand that Knives is a bit frustrated at that. If you had a century's time to find a solution and it is such a silly one… I'd be angry, too. Imagine doing a fucking murder game to show your brother the light and he says: We can just run away :3
Interestingly, neither of them can imagine that they could settle down somewhere and live in peace. Even Vash thinks that they will need to run away and need to try again and again. (Not like he could settle down in fucking HOME?!?!)
Vash breaks through Knives armour, but in the end it only hurts his sisters that have been absorbed. Which is telling, Knives hides behind the sisters that he protects. But in the end they are means to an end.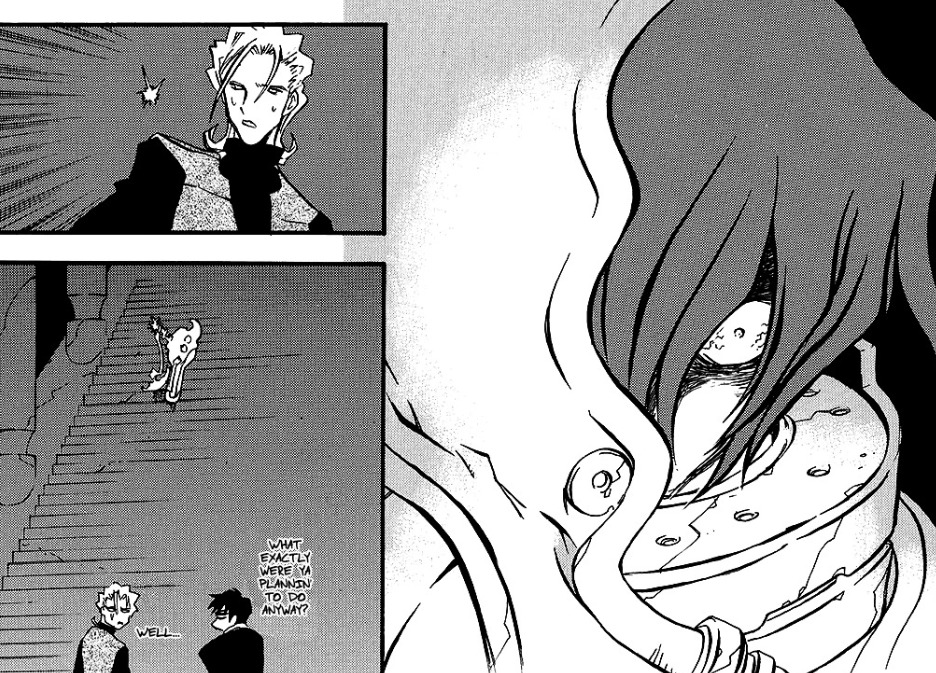 Creepy Legato is creepy. He gets more and more unhinged. I have no words. No, seriously, this panel fucking scared me. It really does.
I want so much more of those two being disturbed by Legato. I love them.
And in the end it comes to this. Knives being so unable to see Vash as his own individual with his own faults and reasons that he tries to take the rest of his agency and autonomy. Vash is just a trophy. Knives just needs to have him, he doesn't need the person.
Vash uses suck…
Back to the former chapter… Elendira's reality is shown as blind faith. She was a big benchmark for us readers to see how things are going, but we realise now that she has been wrong. Things could still turn, Knives is not as powerful as he seems. He swallowed all his sisters and, still, if Legato hadn't intervened… We would get a happy ending.
Is Knives that unable to read people that he doesn't see how fucking done Legato is? I wouldn't trust him to take care of a grape! Much less my so important brother whose continued existence was the reason I did a murder game!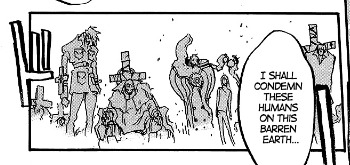 So, Wolfwood did not jump the ark? He stayed while it got off the ground? So, he is with Vash the whole time?