Back to the Trigun Bookclub Archive
Trigun Bookclub By Volume
Trigun: Volume 1 | Volume 2
Trigun Maximum: Volume 1 | Volume 2 | Volume 3 | Volume 4 | Volume 5 | Volume 6 | Volume 7 | Volume 8 | Volume 9 | Volume 10 | Volume 11 | Volume 12 | Volume 13 | Volume 14 | General Commentary

Trigun Bookclub By Member: alena-reblobs | aluvian | annaofaza | anxiety-elemental-kay | caffeinefire | deludedfantasy | discount-kirishima | domfock | dravencore | eilwen | fifthmooon | hashtagcaneven | hikennosabo | iwritenarrativesandstuff | lizkreates | makima-s-most-smile | merylstryfestan | mydetheturk | namijira | needle-noggins | nepentheisms | nihil-ghost | ocelaw | pancake-breakfast | rainbow-pop-arts | retrodaft | revenantghost | sunday-12-25 | the-nysh | weirdcat1213
Original Tumblr Post: Trigun Maximum 3 Part 1
Trigun Maximum 3 Part 1
01: Reservoir Dogs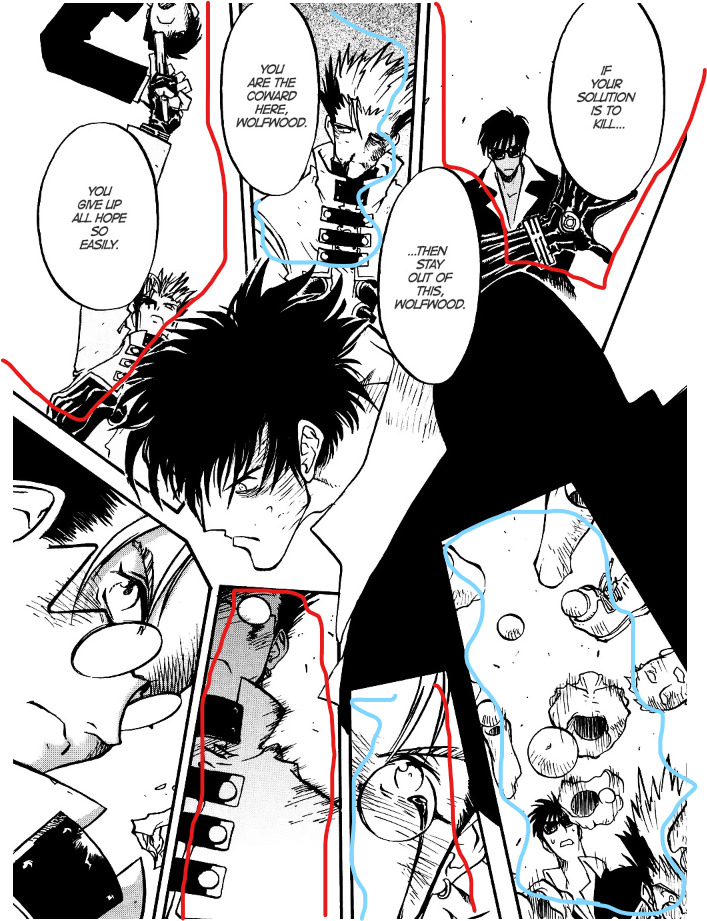 Oh, this page! The situations with Vash that are the most impactful for Wolfwood, the ones where he felt with him (blue) and the ones where Vash was explicitly inhuman/above human to him (red). All coming down to the panel in the lower left where both of them share a nonverbal quip, in which Vash most likely appeals to Wolfwood to not kill the people who made him suffer so much. And Wolfwood has to make a decision! Again. From how Wolfwood starts the fight, yeah, he tries to keep Ninelives alive by disarming him. He tries so hard to find a compromise between them. All while being in fucking freefall, btw.
Ew, human body parts scorpion puppets! (The grammar program wanted to desperately change this outcry to "human body parts are scorpion puppets…" Thanks for making it worse!)
I think it is interesting that nearly everyone around them has problems dealing with the twin's humanity. But still the glaring difference between Knives and Vash is obvious to them.
I think it is also interesting that Leonof's point of view is based on how they deal with suffering. He suffered in the past and broke from it. His real body starts to inflict self harm upon itself at the mere mention of that, while the puppet he controls states the plant's resilience as a glaring example of their inhumanity. And he reasons that he wants Vash in his collection for that very reason. Maybe to learn from him how to be that resilient.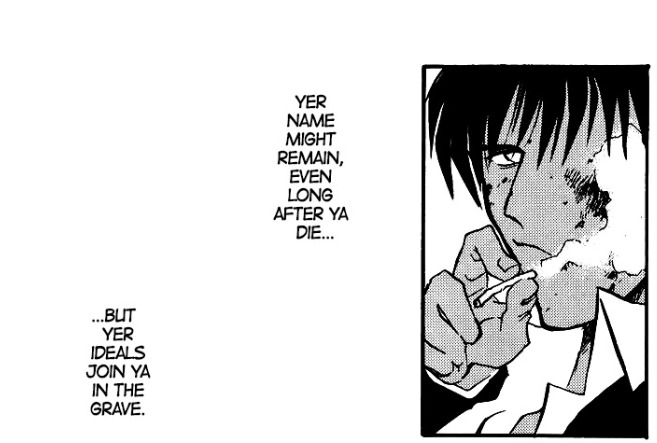 Such a bitter outlook. While Leonof has his little ideological crisis just by Vash existing, Wolfwood fights for his life, again, and again internally against his deeply rooted cynicism.
I love how so much of Wolfwood's inner beliefs are directly contrary to his existence. The nihilistic bastard says nothing changes, all good is for naught and ideals don't matter. Without giving us much context, we can confer much about his life. He had no one to really look up to, even if he was in a safe place it was in constant danger of disappearing or he had experience with that just happening, he has seen good people die and their goodness being for nothing in the long run. But then here he is, still willing to dirty his own hands so he can make sure that orphaned kids have that safe place that he didn't have. He changes their future. But he is completely unable to see it.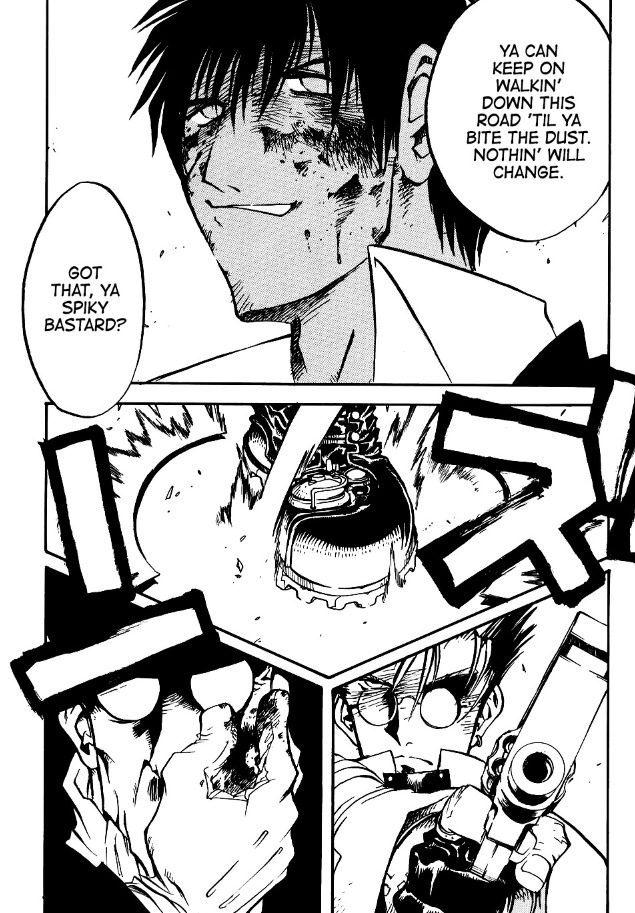 And Vash does. I love how the panels drive that down. Vash is not deterred by Wolfwood's cynicism. Vash is not deterred by his own experiences. If it is the right thing or not remains to be seen.
WHY ARE THE TOMA CRYING?! QQ BABIES! NOOOO! Meryl, what did you do to them? (And while they are the horses of No-Man's-Land, we now know they can barf. I'd like to see the No-Man's-Landers reaction to the German idiom: "Well, horses have been seen throwing up." Which kinda means: You never know. All is possible. And I just want to know their reaction to it! They don't know horses and they don't know the idiom and they would know even less likely that horses are unable to vomit. *cries* I am suddenly emotional about this scene. AHHHHH! I wanna see Meryl and Wolfwood being completely confused, Milly just accepting it and Vash being like: Huh? But Horses can't vomit…)
02: Cement
"This is my business." What do you mean, Wolfwood? Your decision and you standing by it? Or you being unforgivable?
*sees Ninelives opening their mouth* I am not gonna say the whole thing but it ends with dentata… Thanks, Freud.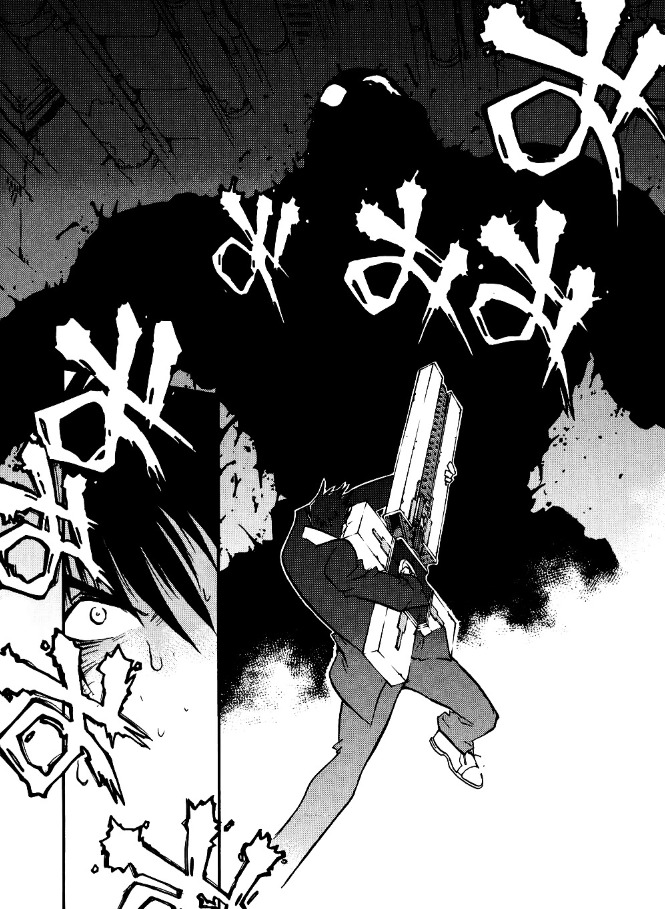 I have problems following the whole action, but damn. It is bloody, gory and feels so personal. And it fits Wolfwood's state of mind, battling with the feeling of dread by Vash, his own mortality and his struggle being trapped in a No-Win-Situation. All odds are against Wolfwood and are towering over him. David against Goliath. Wolfwood is so small.
Nightow is able to give us that sense of Wolfwood being small and a punching bag. But he still is able to add those moments that show how fucking quick Wolfwood's deduction is and how fast he acts to it.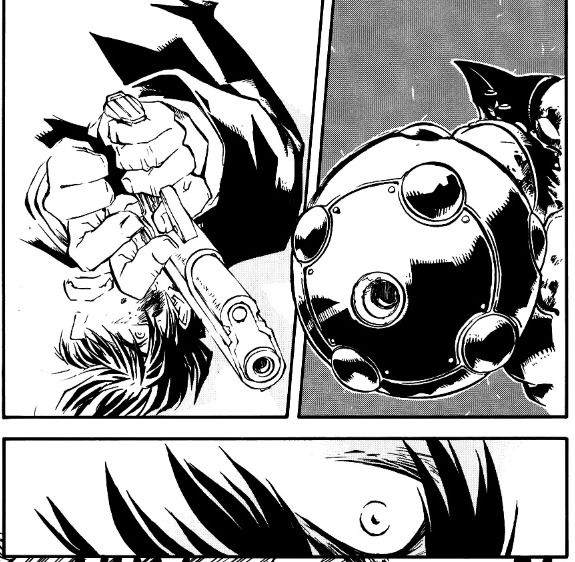 I love the way Nightow draws Wolfwood here. He seems to be less there than Ninelives with how part of his body is not drawn. And it reminds me so much of the page of Wolfwood's past where he was shot the first time.
"I don't want to die!"
And that is what it comes back to again and again with Wolfwood.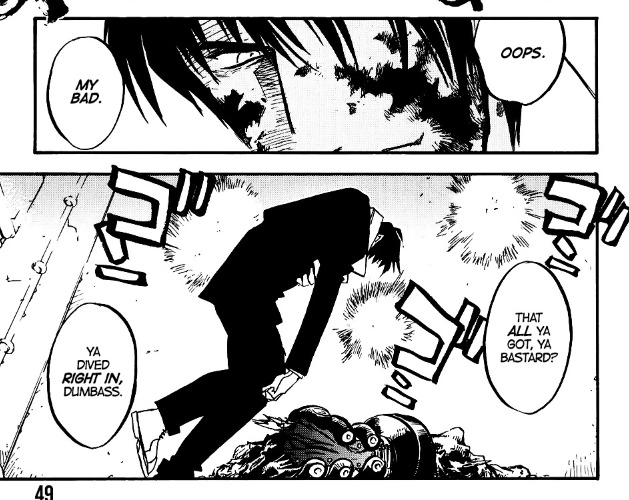 Sassy!
Did I mention that I love the way how Nightow draws body language? You really do get the feeling that Wolfwood is barely able to stay on his feet.
Well, Wolfwood said he'd disarm him. And, look, that way he didn't have to kill Ninelives! Even though Wolfwood desperately fought for his life, he was able to hold up Vash's ideals here. He tries so hard, man. I feel for him.
"The rest of them will come… That's for sure… Like demons risin' from hell…" While Wolfwood enjoys his (earned) victory (too early), he is already thinking about the consequences of his decision and what further strife it will bring him.
Oh, fuck, I didn't realise the arm was moving! I needed to take a double take when I saw it holding the up button in the next chapter. Ew! Ew! Ew! Maybe it is me not being able to take in all the detail that Nightow draws. Good that I am reading the manga in discussion mode.
3: No Escape!
Damn, the chapter title. No escape from what? No escape for Nicholas from his fate? Is it an omen that Nicholas' struggle to escape his bloody lifestyle is doomed and that he has to kill again and again? That though he tried his best to upkeep Vash's ideals that he has to decide between Ninelives' and his own life? Is this foreshadowing that he will be unable to escape his place between a rock and a hard place and end up squished?
Nicholas' third gun, the fucking rocket launcher.
Vash hears Wolfwood's struggle, but we don't get any insight into what he thinks. Worry for Wolfwood? Surely. But what more? Does he reflect upon their talk here? Is he considering that Wolfwood is risking his very life for Vash's home right now? For him? How that explicitly contradicts Wolfwood's very reason to be at his side? As a traitor to be and follower of Knives.
As another user said, Wolfwood's fight is a close combat one, all dark and claustrophobic. It is David against Goliath. Vash is in open space. His struggle is not for his life, not really, his struggle is to reach Leonof and get through to him. By switching between their fights, Nightow stresses the difference. That's such a brilliant way to story tell.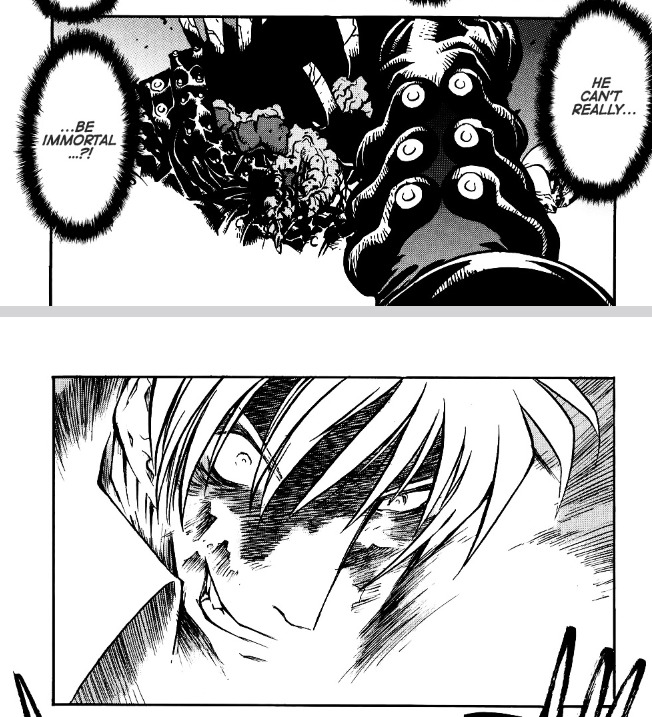 Please correct me. I have a really big problem reading Wolfwood here. Why is he grinning? I read it as defiance and a dare against the thought of something being immortal and thus being unable to be reached by a mere mortal like him. It is as much a challenge towards Ninelives as it is towards Vash. But I am not sure and I need other perspectives!
And just a quiet, little panel between Wolfwood spearing and shooting Ninelives, shows him being drenched in blood, looking weary and tired. And the way the blood smears under his eye, looks like he is crying. The panel is so full, you barely see it and you barely see it on the page. You need to pay attention to see it. And damn, if that doesn't summarise Wolfwood's plight and arc perfectly. I think it is my favourite panel out of the volume, there are so many cool ones, but this is so quiet and sad between all those loud and cool fighting ones. Wolfwood is drowning, someone please rescue him!
And while Wolfwood's fight is bloody, explosive and incredibly loud, Vash's is quiet and dreary. It plays with our feeling of foreboding and your knowledge that what he fights is the corpses of close ones.
Baby with a gun!
"I see beneath that cold, calculative expression of yours." Interesting, Leonof. A chapter ago you said that his cold stare hides a void full of suffering. What more do you want to see? Are you mocking him? Or are you trying to relate?
And the chapter ends with Vash declaring Leonof's real name and that the game ends. No escape for Emilio, either!
04: Emilio the player
Hi, Brad! Those aren't only puppet parts! :3 Those are body parts of the people you grew up with. Joy!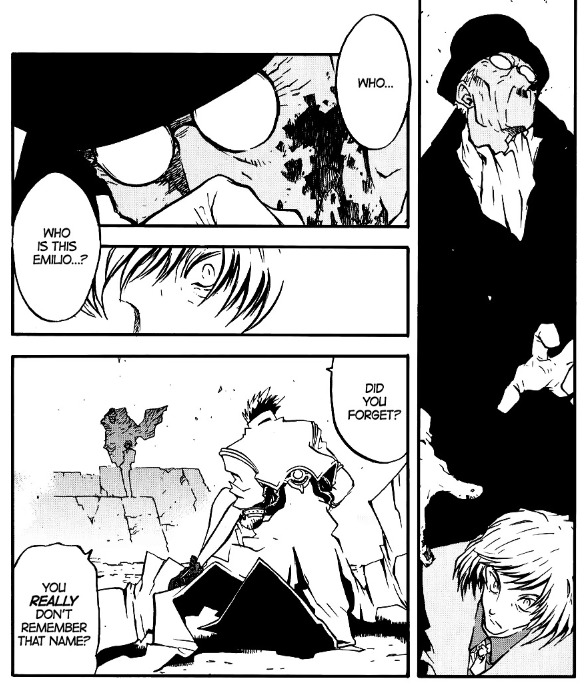 The puppet master reacts to the name. Leonof registers the name as his own, but his puppet seems to deny it! His puppet is his way to keep a distance from himself and reality.
Vash knows the name of everyone he has met. (I cannot even remember the name you just told me. Vash superpowers! Well, that, but it also makes him so incredibly inhuman for me. He knows everyone, but connects to no one. It reads like such an artificial bond. He loves humanity, but like I love Pokemon. (without the fighting system)) But damn, Leonof's breakdown is so creepy. 10/10 sleep paralysis demon. Good work, Nightow.
Hi, Doc. ;C
"All according to keikaku!," is what I think about when reading that sentence.
But seriously, I read up guignol and was kinda shocked that it is comparable to the German Kasperle theatre and had a bit of a culture revelation. *hugs their French brethren*
The same page has Vash connecting the dots and forming a plan on how to defeat Emilio without killing him. I love how we get the foreshadowing without realising it.
Gosh, I have a thing for wet hair Vash. He just looks so much better with his hair down!
I know that No-Man's-Land doesn't have the best dentistry, but, Emilio, your teeth shouldn't shatter like this.
Sorry, Brad, but that is no puppet. :/