Back to the Trigun Bookclub Archive
Trigun Bookclub By Volume
Trigun: Volume 1 | Volume 2
Trigun Maximum: Volume 1 | Volume 2 | Volume 3 | Volume 4 | Volume 5 | Volume 6 | Volume 7 | Volume 8 | Volume 9 | Volume 10 | Volume 11 | Volume 12 | Volume 13 | Volume 14 | General Commentary

Trigun Bookclub By Member: alena-reblobs | aluvian | annaofaza | anxiety-elemental-kay | caffeinefire | deludedfantasy | discount-kirishima | domfock | dravencore | eilwen | fifthmooon | hashtagcaneven | hikennosabo | iwritenarrativesandstuff | lizkreates | makima-s-most-smile | merylstryfestan | mydetheturk | namijira | needle-noggins | nepentheisms | nihil-ghost | ocelaw | pancake-breakfast | rainbow-pop-arts | retrodaft | revenantghost | sunday-12-25 | the-nysh | weirdcat1213
Original Tumblr Post: Trigun Maximum 1 (Part 2)
Trigun Maximum 1 (Part 2)
*me rushing after the bookclub timeline* My brain does not work in summer heat!
*continues to waffle about the smallesT details* And I will only get worse, nyehehehe
Chapter 03: Bravo Girls!
Meryl!

Uh… Neither can a man?!? Karen, what kind of sexist logic do you have there?
Everyone should be capable and independent, that's how you avoid landing in abusive situations. (It also does not mean that you shouldn't rely on people. That's how communities work.) Knowing your worth and loving yourself is the key here.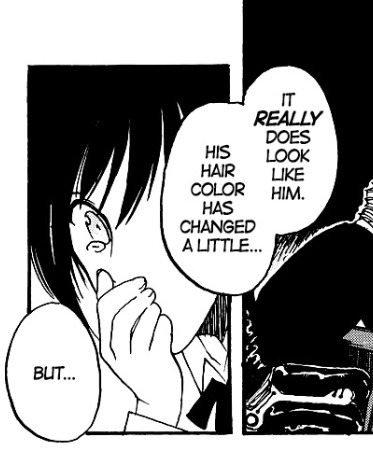 Those who know, know -_-
This is the first time that Meryl got any lifesign from Vash for about 2,5 years. She must have thought he died until now. No wonder she is near tears. Her friend is alive! She must feel so relieved! Boyo survived whatever the fifth moon incident has been!
Oh, I immediately dislike Mr. Keele. Keele = Kill, did anyone else zoom in on the phonetic similarities?
Again! Mr. Keele is a tradesman! An Assassin! I didn't imagine it! Somebody tell me that I didn't imagine it when I said that Wolfwood literally advertises he's a trained killer in Ultimate 2! Karen gives Meryl all the hints! "Yeah, I would not want to be there, even if I was you, with Mr. Keele being a killer. Y'know, the ex-elite-military-dude." We see the penny drop on Meryl's face!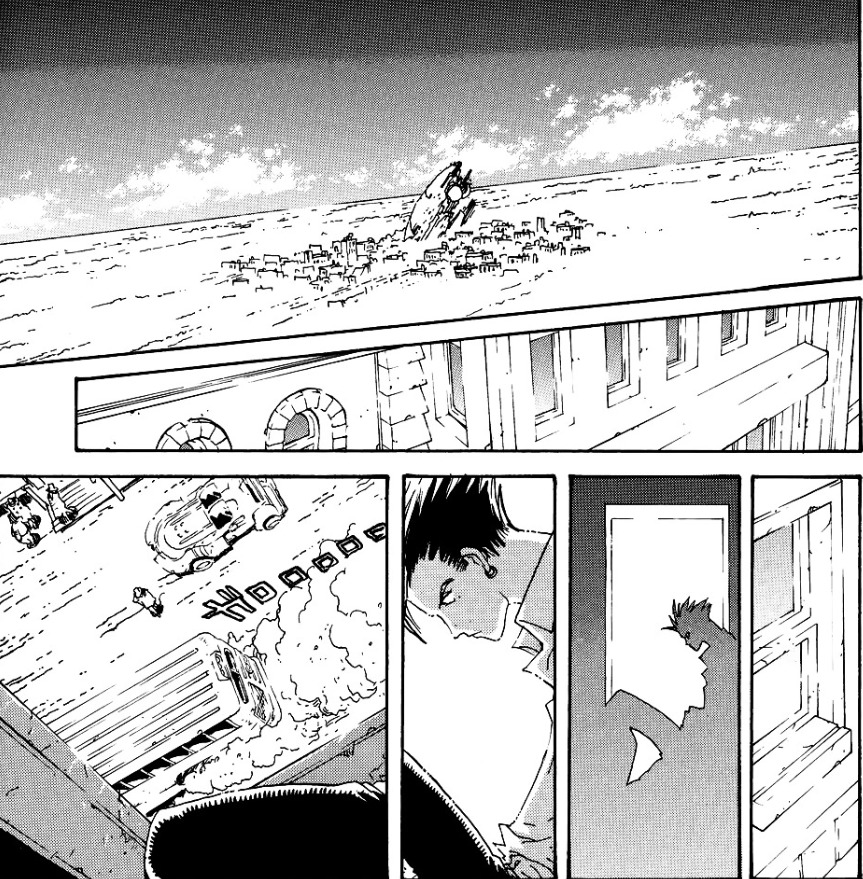 This has to be one of the bigger cities, since it was build around a ship. But it looks so small. Like 1.000 people, maybe 2000 max. I read somewhere that like 20 Million humans of 100 Million survived the fall (correct me if I remember that incorrectly). But with such small settlements… I cannot believe that. There was surely a second Great Dying in the aftermath, but this… this is so small. And it is a big, well-established city. If Vash is able to run around without people realising who he is, there need to be more people for that anonymity. Big cities offer anonymity, small communities do not!
I like this shot of Vash. He looks like he is Batman, all brooding and watchful. Through that establishing shot, we, as readers, aren't really surprised when Keele is busted immediately. How exactly, besides Vash being careful, I don't know. Is it the body language? The way he carries himself and his weapons? Does he hear them talking at the reception desk?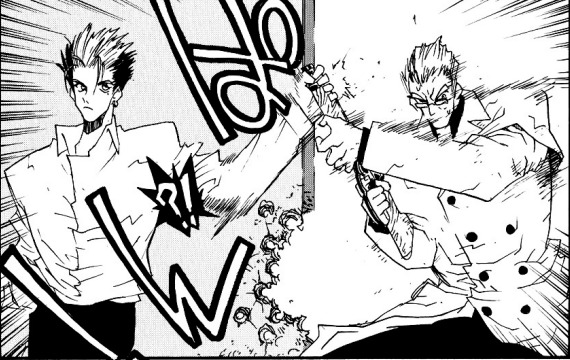 I like this whole scene. Vash is not naive. He knows of the dangers, he knows he is still hunted down, even without the bounty.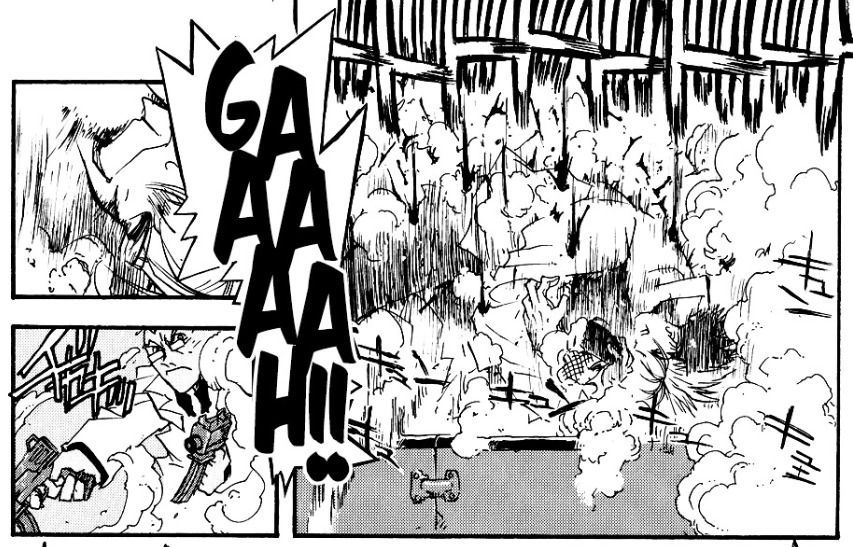 Keele is ruthless! To get to his target, he is willing to kill innocents. The woman in the car is an innocent bystander. Vash needs to shield her with his body. While the other assassins until now also killed people, they didn't use them to get to Vash. That's a key difference and makes Keele so much more coldblooded.
How much pain tolerance has he? He is smiling and joking after it. Yes, he is showing pain, but he is more obsessed with making everything seem less dire. Of course, Wolfwood sees through it and gets help. I am not sure, he may even carry Vash, since it is highly stupid to let Vash lay there in the open with a fucking hitman on the lose. I wonder how Wolfwood feels when being confronted with that kind of hit man. While we know that Wolfwood is able to "easily" kill, he does not seem like a person who would use innocents to get to his target. He is too direct and honest for that. You could also use the word too ethical, but that is… *looks at the killer for hire part* Well, even professionals have standards?
I love Meryl's cool speech, but… Keele was hired by her boss. Her boss would have known that Keele is a hit man. Even Karen commented on it. What does that say about her organisation as a whole? I want consequences for it! Be it structural changes or anything, but we never get any. Please, if you have something like this in the story, Nightow, please, do something with it. What are the consequences about this for Meryl and her job, what are the consequences for Milly? Do they report this? It would be in character for both of them! And if they don't… SHOW IT TO US! PLEASE! What is their reasoning then!
I'd say, Keele is not without logic, but it is not insurance logic. It is the logic that the state works with in "The minority-report". The idea of a self fulfilling prophecy is also present here, too. Though, it is unethical from the perspective that it infringes on the human's agency. Another little thing that is important for me (and most likely for Meryl, too) is that Vash is not the disaster! Things happen to and around Vash, but he is not the one who decides to go bat-shit crazy, he runs, he flees and most importantly, he keeps the casualties low! There is no intent there! She would have put that in her reports! Keele didn't care, her boss didn't care.
Can you punish someone for something he doesn't do? It would be punishing his existence.
Keele goes to threaten Meryl with a gun, intending to kill her. He is not only a hit man, he is a murderer. His reasoning is greed and covering his own tracks. You could say, in this chapter, he is somewhat the antithesis to Vash. Vash brings destruction without intent and does his best to avoid it. Keele kills for personal gain without care for anyone other than himself. Who is worse? The answer is easy, but somehow from a purely capitalistic view the insurance agency came to another result.
Meryl thinking back to what Karen said, but I don't think she thinks about herself in that position. She thinks about Vash and how he is thrown into life threatening situations again and again (at least that is my interpretation) and how he cannot be happy like that. His smiling picture contrasts what they have been through together. Yes, it is a shitty position that Meryl finds herself in, but she chooses to stay at Vash's side. And damn, that's fucking nice of her. She is his friend. She is brave. And she has ethics!
Milly to the rescue! I love the whole framing of that pic. Her smile and then the close up that shows it is an angry one!
It's subtle, but does Meryl help Keele to fly by tripping him? Her position changes so much from the former page. She looks so completely unimpressed by Keele. Also, isn't it nice that people other than Vash get panty shots, too?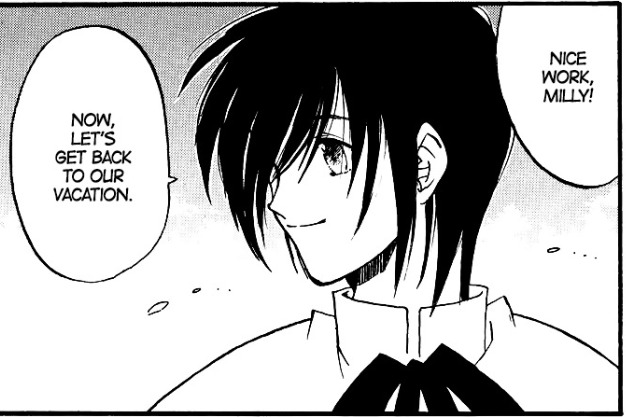 WHY?! You smoked Vash out! You followed him! You literally got into a life threatening situation! Why don't you go to him? AHHHHHHHHHH
Gosh, Wolfwood is so petty. Yes, he keeps Vash's ethical standground and does not kill his fellow hitman, but Vash never said something against torture… And I didn't get why his face is so bloody, I thought that was the sauce, but no, he skitted on his face due to Milly's hit. Dayumm.
Meryl's reasoning reads so weird. She used the vacation to look for him, but now she says that they will deal with him through work… Is it her being shy? And Keele never got busted… Nothing changed at her workplace even though it did something so unethical. I… really don't like this plotpoint.
Chapter 04: Hero returns
Knives! My second best worstie! New readers still don't get to know his face! Though, this is a memory from Vash. His brother is distorted to a monstrous being, inhuman with crazy eyes and a smile with so many teeth, it is a threat. Knives is not human, but Vash, his brother, is not human, too.
"Forgetting brings too much sorrow, remembering brings everlasting pain." That's grief and it makes Vash's whole being. Sure, if you forget the person you lost, your pain may be gone, but you also lose what made you you. But now, every memory is tainted with the loss. Time should heal those wounds, pain becomes bearable and now painful memories become bittersweet. But I don't think Vash ever reached that point. Rem is still a sore spot for him, he can't even talk about her, but she haunts every step. Every scar on his body is a sacrifice to her godhood. Vash is less his own person and more a priest to her existence. While I am sad for Vash, I also feel for Rem. If she was able to know how her son idolises her to his own detriment, she would despair.
Vash having nightmares due to trauma, confirmed.
Damn, that contrast. Wolfwood, the black smudge, between all that white space and all the coffins hanging over his head. We already know that he deals with death at this point, being a gun ho gun and all that shebang, but it also evokes something claustrophobic in me. Wolfwood watching as more and more coffins -corpses- pile up, ready to crush him under their weight. And he just stands and stares.
Wolfwood, the town gossip. "Thank heaven you asked! It's a long story, though it is kinda a short one! Anyway-"
Eh, the town going all Montaque and Capulet, just without the lovers and more sexual assault. Kinda sad, but that is greed working. The planet truly brings out the worst of humanity. And Vash is still able to be sad about it. Because he knows humanity can be better. And Wolfwood is his bitter, contemptuous self, not without reason. I don't see him saying that as misanthropy, though. Wolfwood said in his introduction chapter that he has an orphanage to care about. While Vash cares about the whole of humanity, Wolfwood cares for his smaller circle and he needs to stay alive to do so. He cannot allow himself the risk.
And damn, Vash just plainly calling him out for having secrets and Wolfwood again, not denying it and just falling silent. They know. And it hurts.
Brad!
He is 17. Why do 17 year olds in manga either look kawaii or like the worst Jojo-delinquents
His hair reminds me so much of Ryu (or Josuke mixed with Jotaro)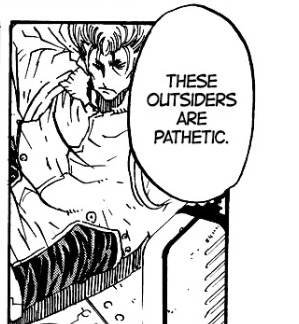 Damn, Brad, you are such an arrogant arsehole here. Oh, yes, the people who are trying their best to survive daily on a planet that is unable to really accommodate their needs are not the nicest around… Dude, you are living at a place that guarantees that your basic needs are taken care of. Brad lived with a priviledge that other people literally would die for. I know Brad will grow on me, but damn, his introduction is always… I wanna kick him! At least you are not as bad as '98 Brad.
What conversation? The one about plants? The one about having to kill to protect your close ones? Are you trying to make him understand that you, Wolfwood, need to stay alive to keep the orphanage going? Or the one about you hiding stuff? Are you going to confess? Why you are here, Wolfwood? What is it? It is open to interpretation.
But I love this! This shows what a truly honest and open dude Wolfwood truly is. Yes, he goes so easily on the defensive and, damn, he speaks in absolutes and thus can be seen as condescending. But he reaches out to Vash again and again. He literally runs after him to talk! He tries to go by Vash's rules. He didn't kill anyone with his fucking machine gun cross, because Vash asked him to, and that is a feat in on itself.
Oh! There is a new coat in the suitcase, too! Didn't see that in the first readthrough.
Brad: "I don't think we have a choice, do we? Lost technology for lost technology." I read this in my first readthrough as Vash trading stuff with the colony, most likely because I still had the scene with Kaite in my head, where Vash just pulls out a radio in the form of a pen. But now it reads as Brad putting Vash down as a plant and dehumanising him.
No! Vash, you are the fucking gun! Yes, you have dangerous powers, but you did not pull the trigger! I know it feels like it! And damn, your body must feel foreign and hostile to you, but you did not chose this, the responsibility lies not on you, however much you put it onto yourself.
"We have no choice but to depend on him"
"The only one who cannot flee or surrender, who will even return from the dead is that nice man right there."
Damn, that hurts. I know the doctor has a better relationship with Vash than Brad has, but it reads like they are only using him and that only because there is no other option. It mirrors how Vash treats himself.
Brad struggles with Vash seemingly being immortal and inhuman. His hissy fit kinda fits what is brewing in Wolfwood. But with the Docs explanation of Brad being a fucking brat that has a temper trantrum because his age mate Jessica has a puppy crush on Vash… He is just a fucking hormonal teenager. Brad the brat. And that makes Vash's bout of hating his plantness immediately less dire. I love Doc. (I wanted to write like, but my hands wrote love, so love it is.)
Wolfwood can never eat in peace part two electric boogaloo. He looks so cute, squatting down and just eating XD. It is one of my favourite Wolfwood panels. He just looks so innocent and curious. Annnnd… the softness is immediately gone with his scowl returning. Interesting, how Wolfwood takes the police/army force intervening as something that can go either way and not something purely positive. We don't see much of them in the manga anyway, so how much power do they truly have? Not enough, considering Knives is scheming in the background with the whole of the gun-ho-guns.
Also, Brad, just go away with your prejudice. I'd like to see how you would have come out living not in a safe space but a world in which you can be shot just for looking stupid.
Kinda hypocritical of Wolfwood. He wants to go away and not interfere. While that is a choice, it is a passive one. His action is nonaction. But nonaction is also an action. He wants to avoid having to make this decision of life and death. But that also tells us, the readers, that while Wolfwood is capable of doing so, he hates taking a life, he hates this part of life and himself.
And his decision is to decide which conflict he interferes with, because his main goal is to keep the orphanage afloat. Wolfwood has to decide for himself who is worth saving and who is not. No wonder he calls himself a demon. But it is also very human.
He does not have the capacity to help everyone and if he dies here, the orphanage would suffer. His life is worth something for that very cause. While Wolfwood is right that you cannot not make a choice, he doesn't seem to completely understand it, either. Surely, he breaks the choice down to kill or let live, but there are myriads of other choices that have to be decided before it comes to this. His choice right here is not to kill or to kill, but avoid interfering so he does not risk his own life at the detriment of the orphanage.
And Vash is… Not understanding Wolfwood or humanity. From Vash's perspective every life is important. He cannot fathom that for some people some lives are more important than others and that alienates him from humanity. From his position it seems unimaginable for him that he does not jump into the fray to rescue the hostages. And it reads a bit patronising or judgemental that other people are unable to do so. It reads like: I can do it, why can't you? Wolfwood has a point, but Vash slaps it away by telling him it is just talk. Vash is not human here, he is far from it.
For me, this also opens up another question. Is Vash using this unconsciously to avoid Knives? By concentrating on helping the locals, he gets distracted again and again from their real goal, smoking out Knives. While Vash said that he wants to kill Knives, it goes against his ideals. Rem also died for Knives, not only humanity. And Vash still loves him, even though Knives did something unmentionable to him. Considering that Vash is also latently suicidal… is there an unconscious hope that he could die before having to meet Knives? It also makes his position of I can do it, why can't humanity do it, kinda sad. He can't imagine people wanting to live and considering staying alive a priority.
I… just love this very interaction. It feels a bit jarring that they had such an intense argument just a page ago and now they are back to silly nillies.
Chapter 05: Dancing revolvers
Hehehehe, Baby Vash immediately wanting to eat the geranium. Geraniums are also used to repel mosquitos. How does Zazie feel about them? Do the plants smell of geraniums? Imagine Zazie meeting Knives and having to retch.
Interestingly, I mostly found geranium meaning protection and warding off evil, even as a promise to meet at a specific place. Only after a deeper search did I find the meaning of determination. Rem's face in that scene. She takes strength from that meaning, her own determination to leave behind something or start anew. The woman has a deeply seated regret or two.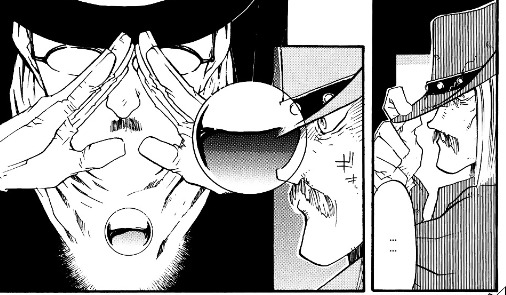 We learn later what this exactly means, but Luraude not losing a drop of sweat… HINTS! It looks like he was controlled somehow.
Vash, that can kill a person… A pacifist, you are…
Then why are you bleeding from the mouth?!
I love the framing of Vash's shooting scene and the aftermath. How his training comes to fruition and how much of his fighting is like high level mathematics. We also don't know why the storage is shown in the aftermath until we get the resolution of them having been shot open.
Chapter 06: Sin
I love that framing. It shows the sin and the grief that follows it. It doesn't show the act, it shows the victims! That makes it much more poignant for me. It is about how innocent people are forced into such situations, how much loss there is from ONE wrong act.
And while it makes a full circle back to Wolfwood's words and gives them much needed human context, it also opens up the idea of Wolfwood being a victim that had to take up arms, too. His expression is also important. There is no: "Gotcha! Spikey! There is not his angry stubbornness or this neutral, stoic facade that normally accompanies him trying to make Vash understand. It is just absolute sadness and, maybe (I am really bad with faces) apathy by helplessness. I like that we get a callback to the scene a few chapters beforehand, because this close up tells us a whole different story and frames Wolfwood's position much more as a position made by need and not by want. As much as Vash cried in that scene, Wolfwood looks like someone who wants to cry, too, but has no tears left.
Wolfwood says that Vash is foolish and stubborn. He looks kinda like a devil, enjoying Vash's plightful situation. Could it be misguided care for Vash's survival, because Wolfwood himself had to learn the hard way how to survive? Or does he want confirmation that Vash is someone who reacts and thus is in the end human? There is the hint that there is more to Wolfwood joining Vash's travels. Our man is sus.
There are other questions that I have as a reader. How often does Vash regret the outcome of these situations? Does he only regret those where he couldn't save everyone? Or in which people choose to be greedy? How does he keep up his hope towards humanity after those situations? Every life is holy for him, so the life of the murderer and the life of the daughter has to be on the same level. Doesn't how we fill our life's make a difference? Vash needs to say no to this due to all encompassing love for humanity. And that makes him inhuman.
I love how the panelling kinda says two completely different things. By lowering his gun, Vash takes a step back and lets the father decide how to punish his daughter's murderer. Framing Knives in the middle could be read as Vash's own acceptance of his hypocrisy. If he is willing to kill Knives for what he did, why should he stop the father. But it also shows Vash's inner fight for me. He lowers the gun, while we are presented with Knives's portrait. Vash is unsure if he even can kill Knives.
You can't save everyone, but you should at least try. And Vash acts upon it. Not putting the father in danger by using his gun, but by trying to save the rapist with only his hands. It is about not burdening the father with being a killer. And… it is an end that makes Vash keep up his promise, but it also feels hollow. The girl was tortured to death and her killer lives. It is unfair. The father's grief won't lessen, he may even feel like a failure. And everything about this is just sad.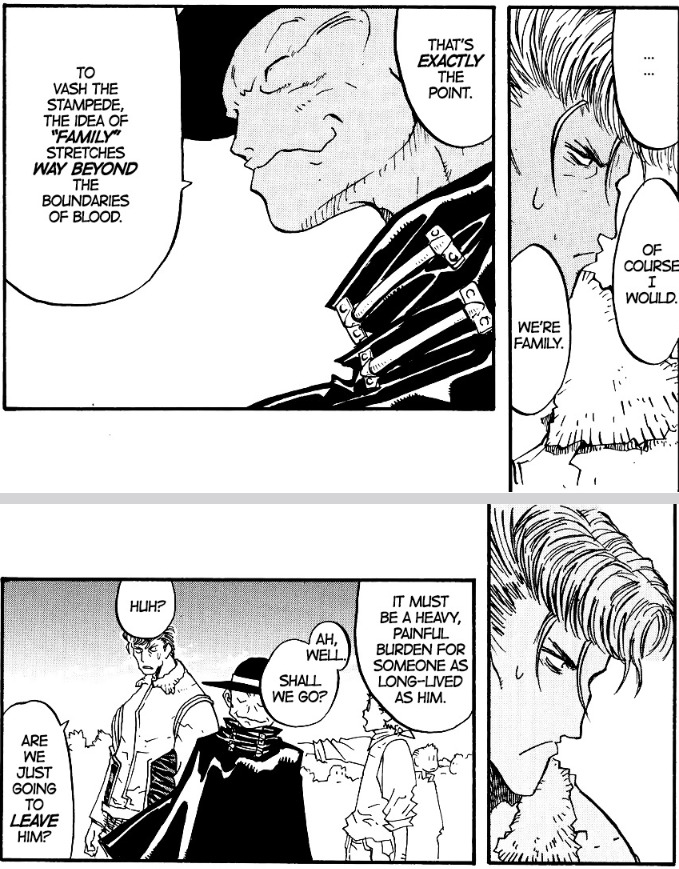 Another point for Vash being decidedly inhuman and separated from humanity. How would I feel if I saw my family that I put under my protection tear themselves apart. I look down from far above and their scuffles would seem so menial to me and I still lose family members to it, other grief and take more lives in revenge. But also, if everyone is your family, no one is. Family is that important because it is our in-group. But an in-group automatically has an out-group. Vash is ripping himself apart with his point of view.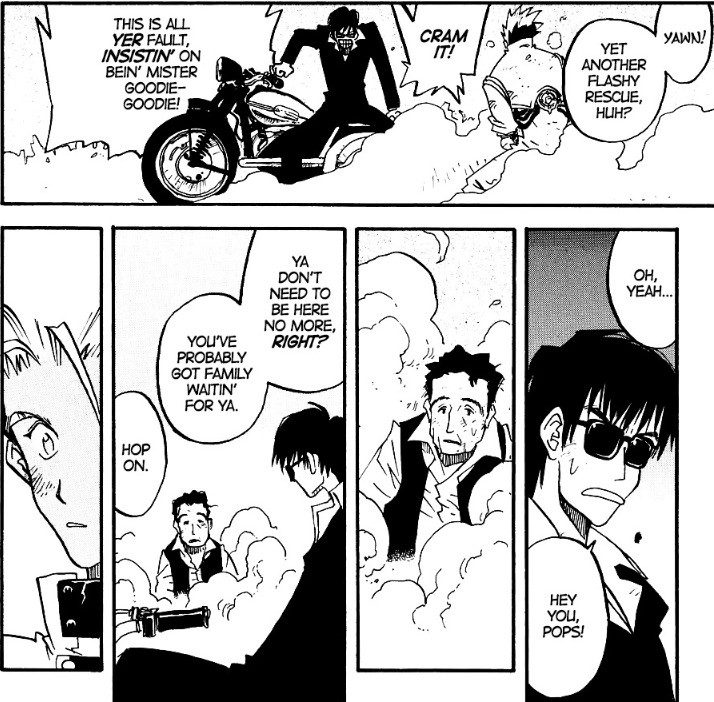 Yeah, I would also yawn if my boo bombs up my holding cell and gets me with his cool bike. As if Vash expected Wolfwood to come to his rescue.
I like this little tidbit of Wolfwood showing empathy to the father and offering him an escape. Our boy is a softie! Even though he immediately grows defensive when Vash calls him out on it.
I also like Wolfwood stressing to Vash that Vash's luck will someday run out. And Vash knows it. Vash knows he has been lucky til now. Wolfwood means it in a Vash's life or the other person's. Wolfwood wants Vash to chose his own life.
Annnnd Luraude was a puppet and no one knew. Even Vash with his supersenses didn't sniff or hear him out.
And I lov…hate… love… Legato. I mean, it is a planet full of bdsm-gear-wearing cowboys shooting each other up and he walks up like from a HIM concert all in a fucking iron maiden. Damn.