Back to the Trigun Bookclub Archive
Trigun Bookclub By Volume
Trigun: Volume 1 | Volume 2
Trigun Maximum: Volume 1 | Volume 2 | Volume 3 | Volume 4 | Volume 5 | Volume 6 | Volume 7 | Volume 8 | Volume 9 | Volume 10 | Volume 11 | Volume 12 | Volume 13 | Volume 14 | General Commentary

Trigun Bookclub By Member: alena-reblobs | aluvian | annaofaza | anxiety-elemental-kay | caffeinefire | deludedfantasy | discount-kirishima | domfock | dravencore | eilwen | fifthmooon | hashtagcaneven | hikennosabo | iwritenarrativesandstuff | lizkreates | makima-s-most-smile | merylstryfestan | mydetheturk | namijira | needle-noggins | nepentheisms | nihil-ghost | ocelaw | pancake-breakfast | rainbow-pop-arts | retrodaft | revenantghost | sunday-12-25 | the-nysh | weirdcat1213
Original Tumblr Post: Trigun Maximum 1
Trigun Maximum 1
Hahaha, I am getting closer to the others. Soon I'll catch up to the book club. This goal is both normal and possible to achieve! And I finally got how to do more than 10 pics… So less parts. MWAHAHAHAHAHAHA, I have all the power now! Edit: Hahaha, I failed. Too much to waffle about and too many nice screenshots. Help me…
Chapter 01: Hero Reborn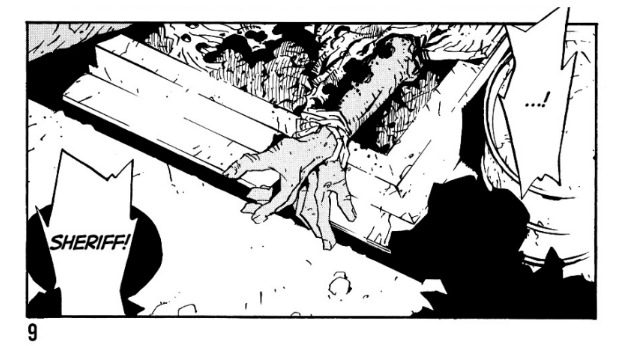 And the sheriff was killed off on the first page. New readers get an immediate taste of how No-Man's-Land works and we old readers get reminded that the world is extremely gritty.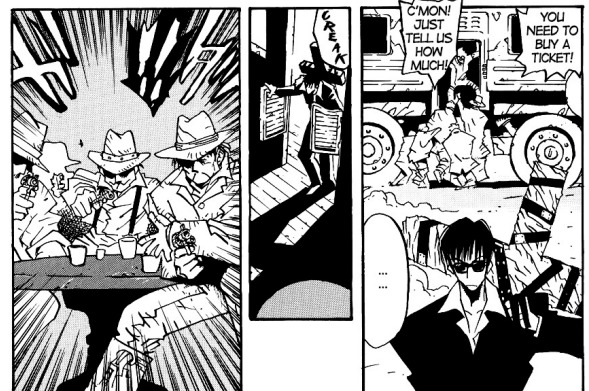 WooWoo! *squeals* He is our point of reference again. I love how he just takes everything in when he gets off the bus, keeping his distance from the trouble around him and just going for his goal. He is a passive observer, like us! We don't know his angle or his motivations yet. He is as much a stranger to us as to the rest of the world.
Again, just by his style, he is something we are very used to (typical japanese salary man), but at the same time a total outlier to the wild west design of the world. Especially with how he is framed like this, just a black colour compared to the other more western clothes style of the cowboys. Old readers may read him with more of a bit of distrust, but new readers see him with curious eyes.
Okay, correct me if I am wrong, is his titwindow smaller in the earlier volumes? Or did BLR just totally screw me up? Because this is not a titwindow for me! That is just an open collar.
Gosh, Woowoo has the best faces.
Ahhh… the good old "Ey, bartender, tell me the newest rumours"-trope. Every DnD-games needs it!
Nightow just randomly blew up many innocents, including babies, who urged and pushed to get to leave the town with the bus. And everyone just sits there and does nothing. Damn. Well, the sheriff just died, but damn. People really grow apathetic with all the violence around. As long as it doesn't hurt them or their closest. I have to be honest, I wouldn't be much different, I think. :/ People just endure.
New readers do not know what happened and they don't get much exposition, especially the crucial Knives' scene. I wouldn't say that this is a good move by Nightow. It shifts the tone a bit. But they get to know the gist of what supposedly happened. It tells us how the whole world sees Vash. Old readers already know, but new readers soon will learn about the blatant discrepancy between Vash and The humanoid typhoon. And that point, I feel, is really well done.
I think it is a little bit sad that I don't see anywhere implied that Wolfwood knows what truly happened. I don't think we ever get reminded of that little part though it is such an important part for Wolfwood's characterization. It is the reason he knows so much and the reason why he is struggling so much with his perception of Vash.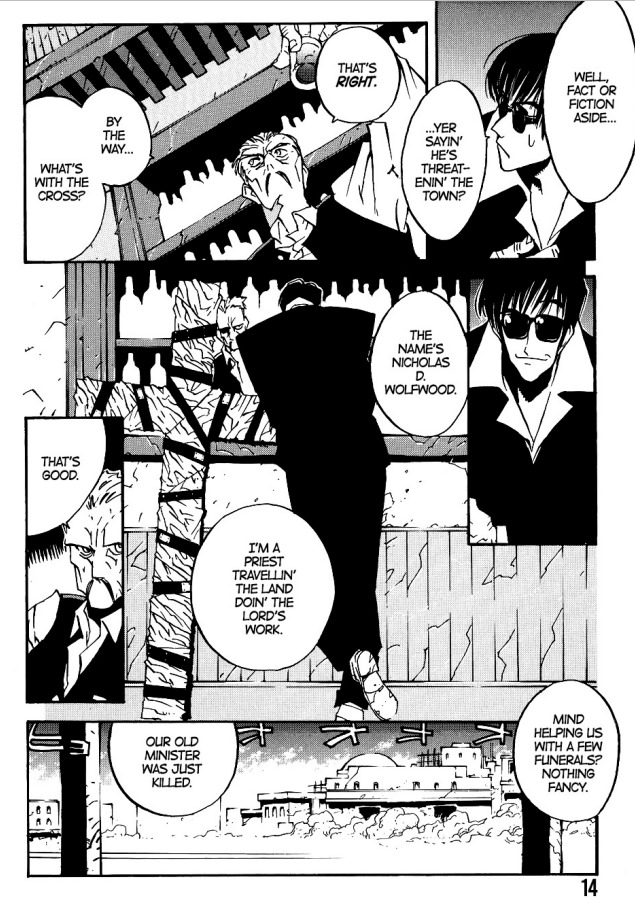 Sorry, but that smirk. That has to mean that being a priest while carrying his cross machine gun is a fucking joke for Wolfwood. Only he is privy to it. His own running inside joke that hides the pain that comes with it.
Was the sheriff the minister, too? Or did they both go to placate the evil Vash? Or was he just a random bystander/on the bus on the way out?
This… Is what I headcanon how Wolfwood mostly gets his money from, next to hunting possible bounties and his "tradesman" skill. (I am not over my tradesman perception and I never will, fight me on this, please) He goes from city to city and helping out where no priest is, giving last blessing, first blessing and all the shebang.
Immediate recognition! It's your dream man, Wolfy! Go get him! Have a lifechanging journey! Find a good place to rest together and find yourself and each other!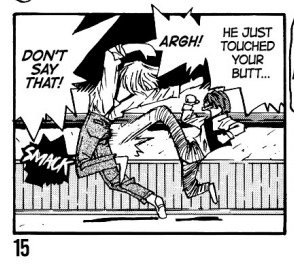 I feel Lina on a personal level and Vash… sorry, just no. Really JUST NO! How about you let your body be used against your will for the enjoyment of oth… Oh… VASH, THAT IS EVEN WORSE NOW! (He makes me so angry in this scene that I could only react with sarcasm…) I know this is Vash at his weakest, but still. Bodily autonomy is something very important in this manga (something I will come back to in 9 volumes), Vash regularly gave up his right to his physical integrity, but that was (except with Knives) by his own choice. Lina didn't have this choice. Should she really be forced to decide between her life and her bodily autonomy?
I think there is at least one other instance where Wolfwood cannot eat his food in peace and… I love this gag. Let Wolfwood eat in peace! But gimme 20 more of these! Please!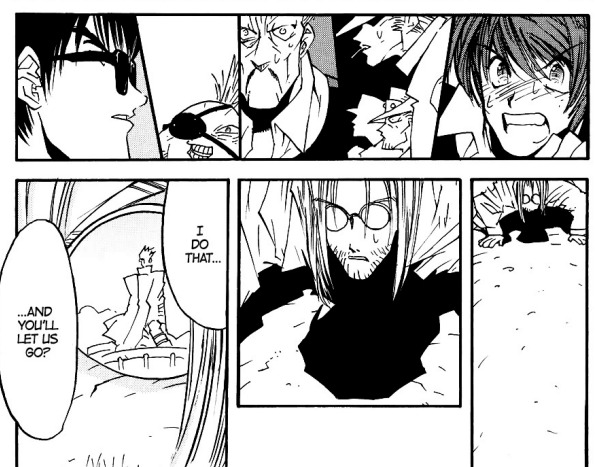 Vash has truly lost himself. Someone who makes such demands, isn't interested in holding his word. This is a sadist who wants to kick someone already down. Even worse for Vash, while abusing his image to do so. And Vash still complies! The image of the humanoid typhoon is so strongly connected to his trauma, that Vash just gives in with the hope that if he just puts his head down, everything will be fine. But it won't. People just trying to leave get shot up in a bus, the dutiful sheriff got killed. Someone with the firepower to do so needs to stop these people. If you give in to bullies, they will continue and get worse. The image of the humanoid typhoon and his presence won't leave, if you ignore it, Vash.
Wolfwood and Vash seem too familiar in the way they act. It feels a bit weird, when the last thing we saw was that Wolfwood was scared shitless by the fifth moon incident where he barely came out with his life, cursing Vash. I know our babies had this immediate bronection, but it is such a strange change.
In this scene though, I understand. The guys are pisstalking. Putting down Vash and building up their own bravado in doing so. "Hurgh, yeah, I am so cool, I wouldn't beg for my life, much less for the life of a loved on, fuck yeah." And they needed to be put down a peg. It takes courage to humiliate yourself. As much as a miserable display it was for the Vash we knew, it took courage!
I truly love when Wolfwood uses the Punisher as a blunt weapon. He used it in Ultimate to put down the controlled Slavers and I just love it. Use that Mega Stake Machine Gun as a blunt force weapon! (I hope someone gets it… I am old… Please.)
New plantpower shown! No wonder Vash can treat himself so haphazardly… I feel it blinds his perspective on humans and their decision quite a bit. A human would have most likely died, being shot like that.
Huff, this scene… Is Vash calling his situation/predicament that or is he calling Wolfwood a hound of hell (funny… Wolf… Hound…) or is it just his name that follows him in the form of the false Vash? All three possible.
And Wolfwood giving him the revolver. He looks so serious there. Maybe even remorseful. Wolfwood knows what he is doing in that moment. He doesn't like it.
Doesn't Wolfwood just outright tell Vash that he was either there when Knives took over or has something to do with them in that scene? He never saw the gun in his time with Vash, as far as we readers have seen ('98 on the other hand knows the gun personally). The only time Vash had his gun out was in his fight with Knives. WHY DO I REMEMBER WOLFWOOD AS THIS GUY WHO KEPT HIS MOUTH SHUT WHEN HE IS SO FUCKING OPEN ABOUT EVERYTHING?! HE IS JUST NOT SPELLING IT OUT…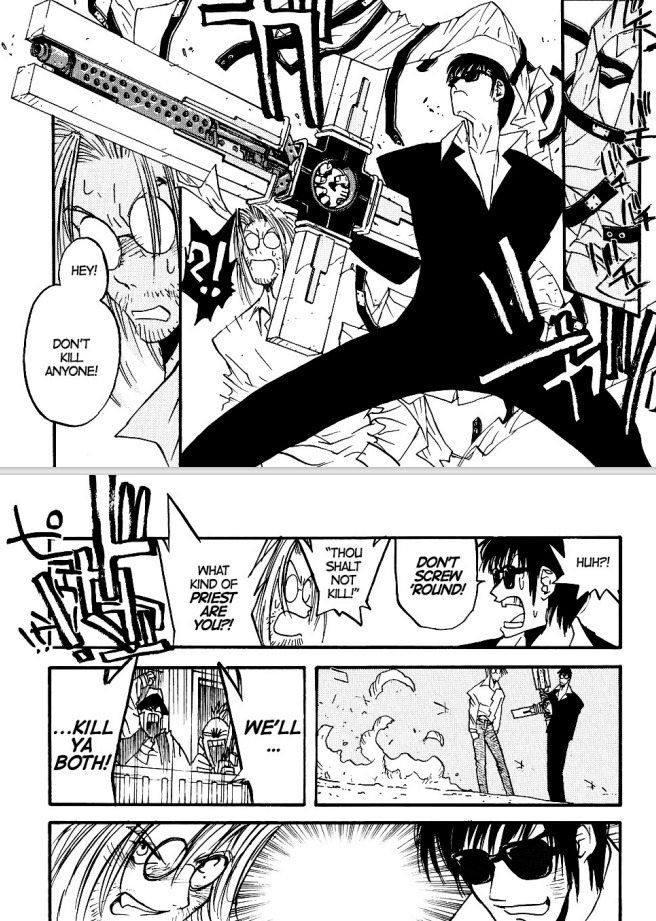 The reveal, this over the top kick arse stance, it is so silly. I love it. Wolfwood must feel very cool in that moment and then Vash goes: "Yeah, but no killing, priest."
I've seen some confusion about Vash maybe knowing about the gun, but he looks seriously surprised. But I have a middle ground. Vash was able to smell gun oil and powder on Meryl (in the '98 anime, I don't know if that was in the manga, too.), so I propose that Vash knew that Wolfwood was carrying a gun in some form or the other, he may have even pegged the cross as somehow holding the gun, he just didn't know that the whole cross was a machine gun torpedo thrower gun.
I love how they immeditaly start bickering. While they massively vibed in Ultimate, this is the true start of their bromance/romance. Two idiots being able to be themselves around each other. And they deserve it.
I love how Wolfwood holds cigarettes. It's so gender. Which one? How? Dunno, it just is.
These will never not be funny. Wolfwood is so cute in them and just a childish dude. I love those pics. They are with my favourite ones.
Chapter 2: Lina
Worm birds! Wormbirds! Worirds! Words! Wait… that doesn't work. Bird worms! Birdworms! Birrms! Eh… Borms? BORMS! BORMS! BORMS! BORMS!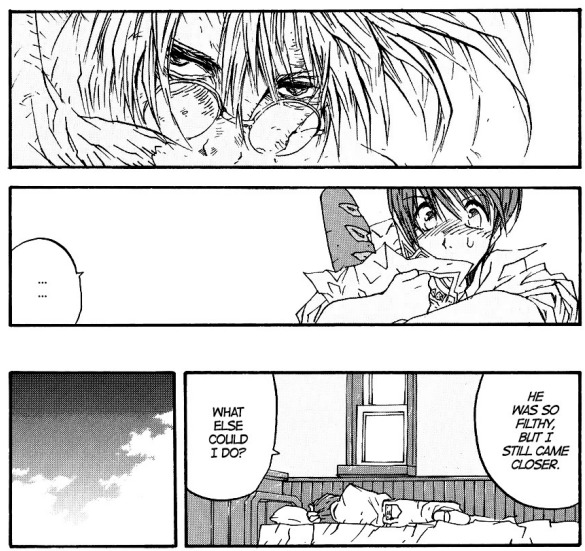 Lina and Granny are one of the few reasons why Vash still has hope in humanity. Two people who don't live the easiest life being an old woman and a girl of (then) 10 that only have each other. They took him in and took care of him when he needed it the most. He barely survived his body being taken over against his will, losing all his agency and being used to kill countless humans. He looks like he is barely there at the moment, just a hull of a human. And they took care of him. Lina and Granny are good people.

Aww, look, they are playfighting! Bickering as always, but Wolfwood gives Vash important info and tells more about himself than he maybe even realises.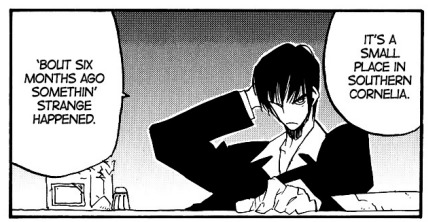 Wolfwood says that he looked for Vash for two years, but the reason he gives is the town from six months ago. He is contradicting himself. Sure, there could be other reasons given, but Wolfwood does not give them. He is completely sus.
I love the composition. Knives is angled towering over Wolfwood, his chest? Spike dangling over Wolfwood like a damocles' sword. Just one movement and Wolfwood dies. Foreshadowing? Or symbolism for Wolfwood's position as an agent of the Gun-Ho-Guns as someone with morality, but being forced into a position that goes fully against it. Wolfwood, the man without any agency, indeed.
But Stop it, Knives! Griffith from Berzerk did the BDSM-getup first.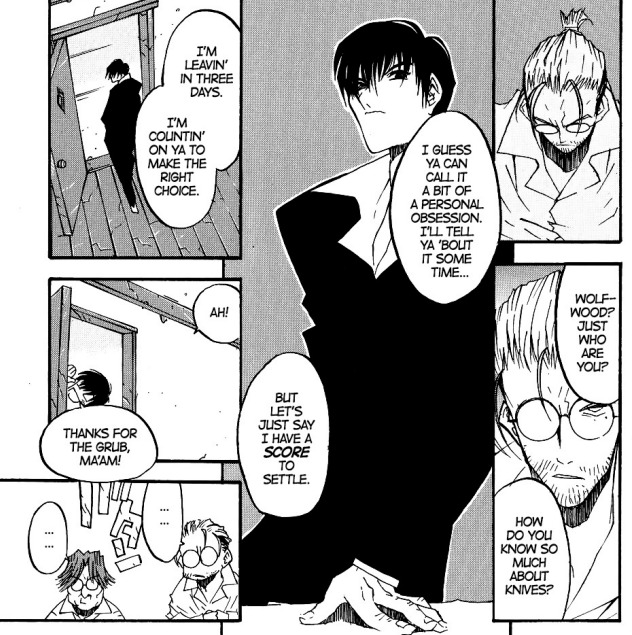 Again, Wolfwood being crystal clear, but avoidant. It is just so weird to read. Vash knows, he has to know it by that point. But as long as either speaks it out loud, they can pretend. They can still be on friendly terms.
Three days? Surely not only a deadline for Vash to take his time with his goodbye for his family, but also time for Wolfwood to bless all the funerals as a priest.
How easily the town turns on Vash. It is easy to other people instead of trying to reflect on their previous notions. Vash may have shot a hole into the moon, but Eriks undressed and played a dog so his little adoptive sister may be spared. All the while, these same people watched and did nothing. Witch hunts are easy, aren't they?
I also like to stress the point they make. Wolfwood is not normal, either! As much as our favourite priest clings to his humanity, what he did with Vash shows an inhuman level of skill. He would hate it, but people group him in with the plant man. Even more important, they did not even kill 60, they incapacitated them with guns! A much more difficult feat! Especially with a machine gun! Our focal point to bench a normal reaction to Vash is an absolute outlier in this world. What does it mean? Is it a reminder that we as readers from the modern time deal with Vash through a different lens than the people of No-Man's-Land? What does that mean for our judgement? Or is this the beginning juxtaposition to steer our focus on Wolfwood's arc, too?
Vash. Let. People. Make. Informed. Decisions. This is an ongoing shonen/seinen trope. I despise it. "OoOOOOoooh, no, I cannot tell my (most likely) female companion the whole story. It could put them in danger!" How? They are alone in the room (Sure, worms, but would Zazie care about that? Is Vash even aware of them at this point?) It reads like a chauvinistic deflection so he does not need to open up. He takes her ability to decide for herself with that behaviour. It is patronising and infantilizes his companions. What he really says is: "I can't tell you my whole story. It would make me feel vulnerable and opens me up to get rejected." And I know, this is about not spilling the whole backstory to the readers and it is also a point of Vash's character arc to learn to open up to other people. Vash is by no means the worst offender and it is not without reason that he acts this way. But what is his fear here exactly? That Lina and Granny would go around and tell other people the truth? That they decide to follow him? Or just that they may throw him out and deny their connection? His fears are larger than his trust in his chosen family. And that stings.
Granny is at least not wrong with her assumption that cutting himself off from his peers and close ones makes Vash vulnerable to get into such a situation again, to get hurt again…
Also, hehe, Lina's leggy!
I am thinking about Lina's and Granny's backstory. We get none. They take in a complete stranger that stumbles in completely exhausted and beaten up. The two women don't live together just for jokes. Where is the rest? I assume that they both lost Lina's parents in the past, leaving Granny being her only caretaker. Lina is an orphan. She doesn't have it the worst, having still Granny around and both of them being able to live comfortably. But that does not mean she has no scars on her soul. In this village/city, she seems to be the outlier. We don't get to see other children, even less so other girls. She is lonely and only has Vash and Granny.
And that's how Vash was able to fit into the village. A new (male), (somewhat) able bodied caretaker for Lina.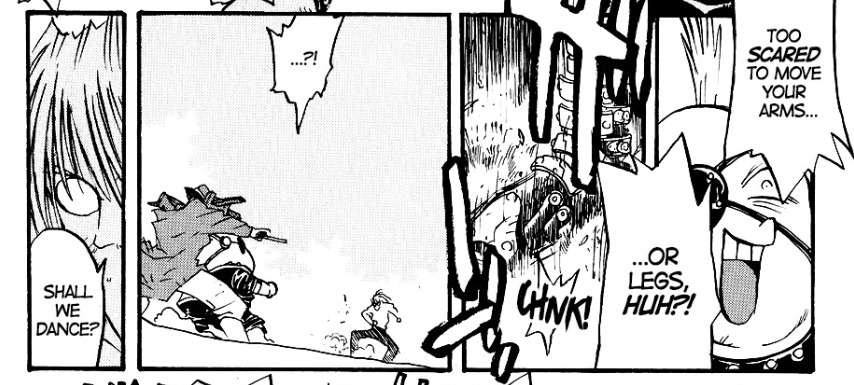 At the start of the last chapter, Eriks was a complete pushover. The little dude abused Erik's mental state. But now, Vash has found himself again. Not completely, but he is not willing to risk his loved ones wellbeing for that little twerp. Twerp is about to get a rude awakening. We, the readers, get a beautiful scene, where Vash's actions counteract the things just said. Love it! We the reader see Vash's developement back to his nearly old self and reap the spoils from it in this scene!
Everything about this is just so fucking hilarious. The energetic circling of Vash, Wolfwood's whole body, the hair, the eye, the speedlines on everything! It looks so stupid, but it is art anyways.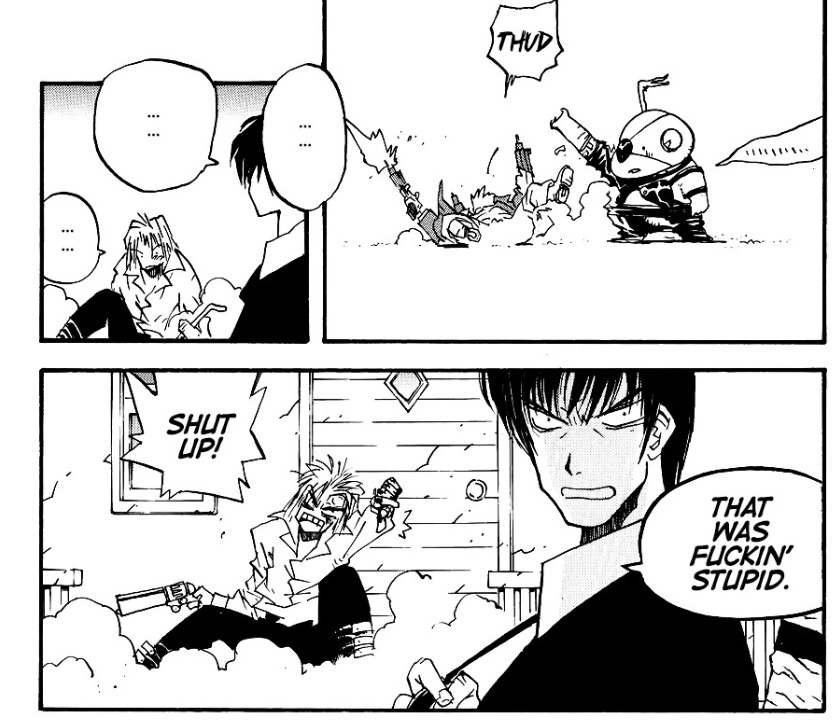 When your buddy does something so stupid, you need to take off your sunglasses to see it better!
I love Vash's threat that follows. It brings the point home of how dangerous he really can be. I don't believe that he'd kill the tiny man, but…
The duality of Wolfwood, dumbass by Vash, a reasonable, sensitive adult by grieving people. As much as he tries to deny it, he has a conscience and a strict moral code. Sadly, reality forces him often to not abide by it. And it burdens him every day.
Vash leaving is heartbreaking. I hope he reconnects to them in the aftermath of Trimax. They became part of his family and he is right that they saved him. He should cherish them.